How to Use the Knife Tool and Fancy Edges in Silhouette Studio Software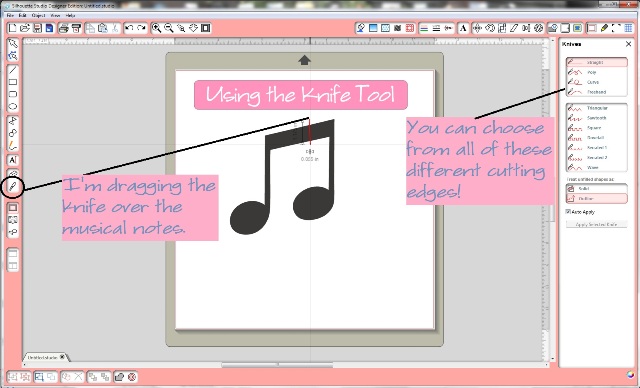 The Knife Tool is useful and cool!  It allows you to alter images by cutting away pieces you might not want to use.  This is especially helpful if you want to use only a part of an image.  Let's work with the notes above.
The software I'm discussing in this post works only with Silhouette brand cutting machines.  I am using it with the Silhouette Cameo but it also works with the Silhouette SD.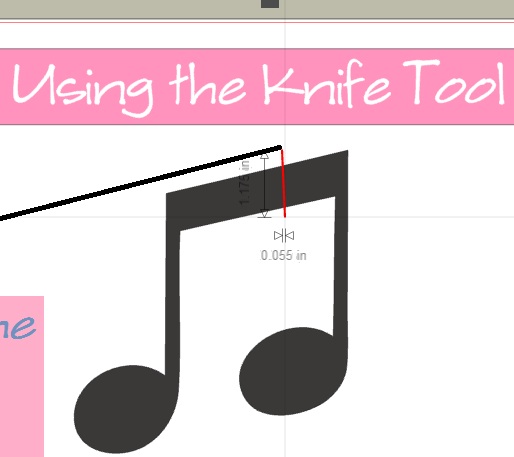 Say you need a single note but all you have are these two notes together.  (Go on, say it….SAY IT!!  Thank you.)  You can use the Knife Tool to split that one note into two!  SWEET!  It's very easy.  Just click on the knife tool (see the first photo for a quick guide) on the left of your screen.  After you have it selected, you simply drag it across whatever you want to cut.  See the red line in the photo above?  Well, that's where I'm cutting.  When you cut, you'll see a red line appear showing you where you are making your cut.
 These notes are now separated.  I saw it coming a long time ago.  They were always arguing about who sounded better and who was thinner.  It was awful.
Now you can separate the notes and use them independently in your projects.  Woo hoo!
AND NOW FOR THE SUPER COOL THING…
The VERY COOLEST thing about the knife tool is the ability to use all the awesome edges on the right!  DUDE!  SO COOL!  You're going to have so much fun trying all of those out.  I gave my reunited notes a zipper hat.  Pretty awesome.  Now it's time for you to go get your craft on and try a bunch of these fancy edges.  You use the knife just like I showed you earlier but this time just choose a different edge.  SO FUN!
Have a Super Day!