Your Story Family Bingo Game 12 Days of Christmas DAY EIGHT GIVE AWAY
It's Play Time!!
I've had a Your Story for about a year and I finally tried it out!  You know what?  It's super cool AND easy to use.  I used it to laminate these Family Bingo game cards that I created using my Father & Son and Mother & Daughter stamps.  Let me show you how I made my game.
If you don't have a Your Story and you'd like a laminator, this Scotch laminator is another great option!
First, I picked family and friends stamps from my Mother & Daughter and Father & Son stamp sets.  You can mix and match words from those sets to make a lot of combinations too.  I punched out the pieces for the Bingo board using a 1″ circle punch and I used a 1-1/2″ punch for the larger game pieces used to call the words for the game.  The "I heart You" stamp is the "Free Space".
Use the Your Story in a well ventilated area. It is smelly and probably best aired out.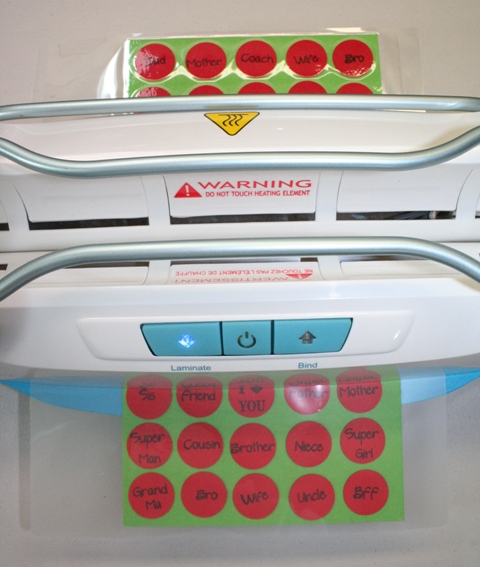 It's really that easy.  You put your item inside a lamination pouch and when the Your Story is ready (after about 5 minutes) then you can push your item in through the front.  It comes out the back all nicely laminated.  I used pouches I bought on Amazon.  Here's a link to the ones I bought: 100 Clear Laminating Pouches. I'm really happy that I have a lot of those laminating pouches because now I want to laminate some more things!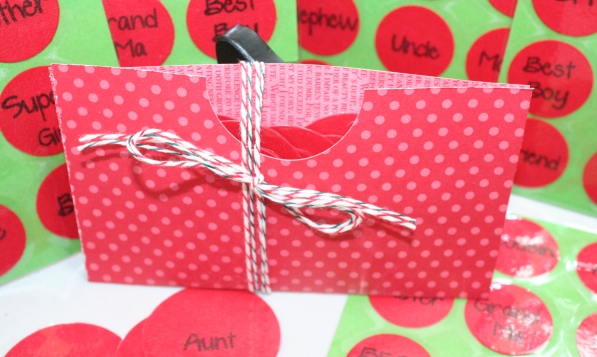 I made this little holder for the Bingo pieces used by whoever calls the game. This was SO EASY. I just folded a piece of paper over, taped each side and then I used a circle punch to make that little opening so you can more easily pull out the pieces. It doesn't need the twine, but I like it and felt compelled to wrap something with it. LOL!
Lastly, I forgot to take a photo of the dry erase markers I had for each person to use so they can mark off the words that they have on their Bingo card. Rest assured, those markers wipe right off of the laminated Bingo cards. I'm pretty happy with my fun little game. I hope you like it!
TIME FOR A GIVE AWAY!!!
On the 8th Day of Christmas Joy (that's me!) Gave to one Winner….
a set of Father & Son stamps AND….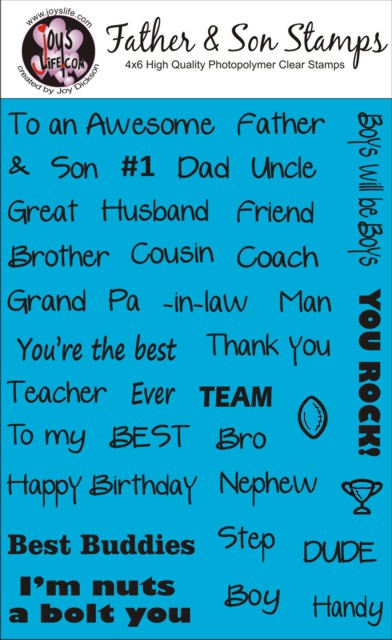 a set of Mother & Daughter stamps!!
FUN! To be eligible to win please leave a comment on this post. The winner will be chosen by Random.org on December 13.
SEE YOU TOMORROW FOR THE 9th Day of Christmas and a Crafty Post & Give Away!!