Plan Ahead for the Holiday with Nestle Family Size Meal Ideas
I am a member of the Collective Bias® Social Fabric® Community. This shop has been compensated as part of a social shopper amplification for Collective Bias and its advertiser.
With a family of five, I need to plan ahead for the holidays.  If I don't then we're eating way too late or scrounging around at the last minute for something that resembles dinner.  It doesn't have to be that way though!  You can be ready for surprise guests, have food available after attending all those events and be festive too using Stouffer's Party Size Entrees (Macaroni & Cheese and Lasagna), Digiorno Rising Crust Pizza, and Edy's Limited Edition Slow Churned Ice Cream.  Want to see what I mean?  Just check out the way I served this family size lasagna.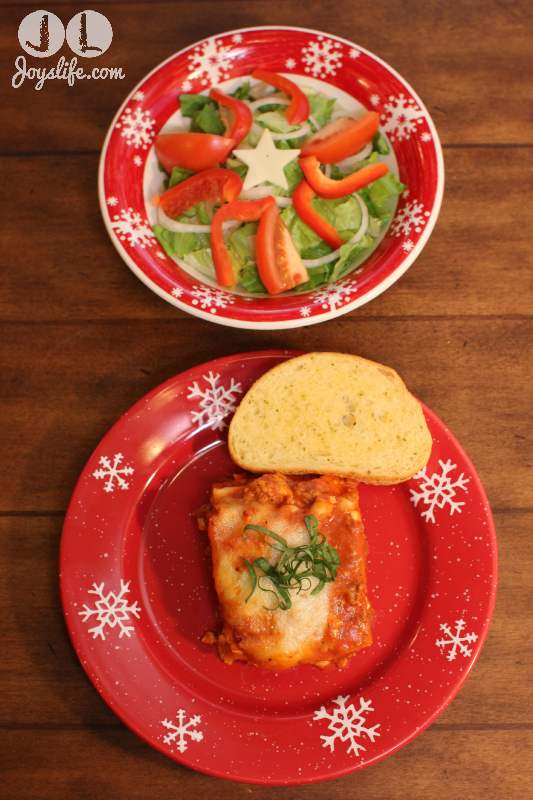 I'm using Stouffer's Party Size Entrees: Lasagna with Meat Sauce to feed my family and putting it on winter plates to help set a festive tone.  I also added some sliced basil to the top of the lasagna for a bit of holiday color.  Check out that salad!  A few well placed peppers and tomatoes bring in bright color and flair.  Cut a shape from provolone cheese using holiday cookie cutters and your meal is festive as well as fast!  I use that same cookie cutter trick on the Digiorno pizza below!  Don't miss it!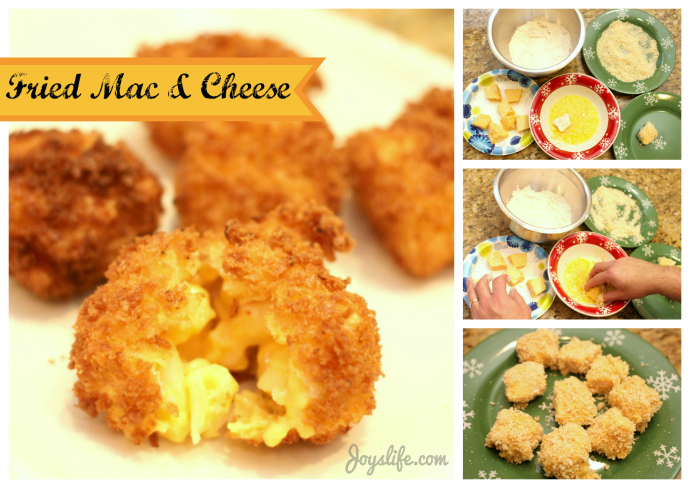 I've been a fan of Stouffer's Macaroni and Cheese for as long as I can remember.  Here's a fun appetizer you can whip up for guests quickly.  Just keep Stouffer's around and you can make it whenever you'd like!
Fried Mac & Cheese Balls
Great way to serve mac & cheese as an appetizer.
Print Recipe
Share by Email
Share on Facebook
Share on Twitter
Pin Recipe
Ingredients
Stouffer's Macaroni and Cheese

frozen

1

cup

all purpose flour

2

tsp

cayenne pepper

1

teaspoon

salt

1

teaspoon

black pepper

4

eggs

beaten

1

small box of Panko

Oil for frying
Instructions
Only slightly thaw the Stouffer's Macaroni & Cheese, just enough so it can be cut.

Cut macaroni into bite sizes.

Beat eggs in bowl, set aside.

Mix flour, 1 tsp of cayenne pepper, salt and black pepper in a bowl, set aside.

Mix 1 tsp cayenne pepper with Panko, set aside.

Coat macaroni with flour mixture.

Dip coated macaroni into beaten eggs.

Coat macaroni with Panko mixture.

Fry until golden brown.
Let's Talk Pizza!
You have GOT to try this! It's so easy and quickly makes your Digiorno Rising Crust pizza ready for the holidays. Grab those holiday cookie cutters and some provolone cheese. Cut shapes out of the cheese and lay them on the pepperoni after you've cooked the pizza. Don't put them on the pizza while it's cooking or the shapes might spread too much. Easy!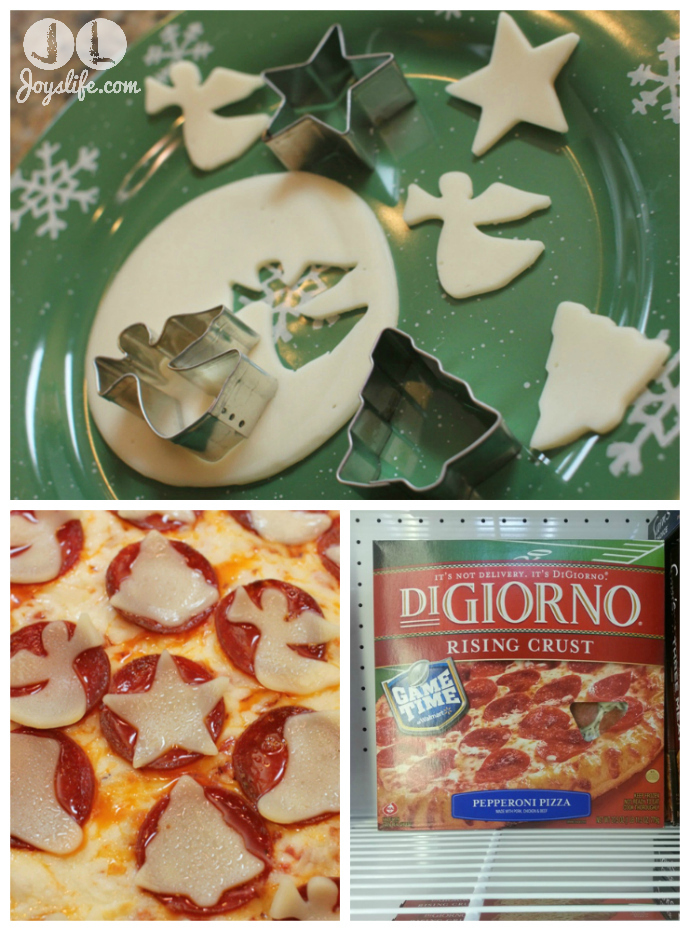 Are you ready for the big reveal? Ok! Here it is: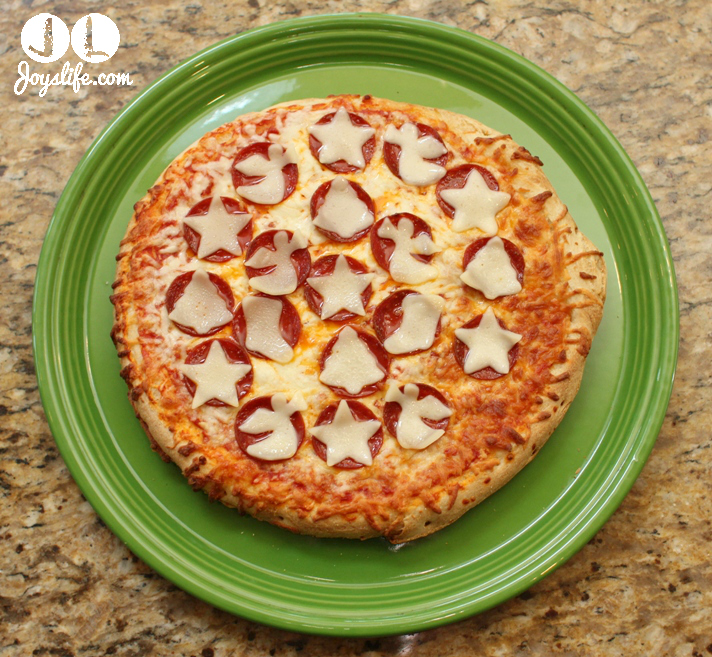 Ta Da!! That awesome pizza impressed my whole family and it was delicious. I have to say, I was so glad I had this pizza on hand because we'd been gone for hours taking each kiddo to a separate school event and this hit the spot! Plus, it looked super cute too. You can cut your cheese shapes out in advance so you're ready when the pizza hunger hits.
Have an eggnog fan in your family?  I have 4 of them.  Use Edy's Limited Edition "A Very Merry Eggnog" Slow Churned Ice Cream to make a milkshake!  But wait…there's more!
Use Edy's Limited Edition "Peppermint Wonderland" Slow Churned Ice Cream to make a peppermint ice cream pie with a chocolate cookie crust!  The best thing about making this pie, besides the great taste,  is that it can stay in the freezer until a guest drops by.  Nice!  Now that's planning ahead!  Here's a peppermint ice cream pie recipe from Nestle Kitchens (sad, recipe no longer available).  I made a few changes to mine.  I used 1/2 of the peppermint ice cream with all of the whipped topping.  I also used 25 cookies and 4 tablespoons of butter.  Either way, you're going to LOVE this pie!
Happy Holiday Cooking Everyone!