Easy Salmon and Asparagus in Foil Packets
This shop has been compensated by Collective Bias, Inc. and its advertiser. All opinions are mine alone. #NatureMadeVitaminD #CollectiveBias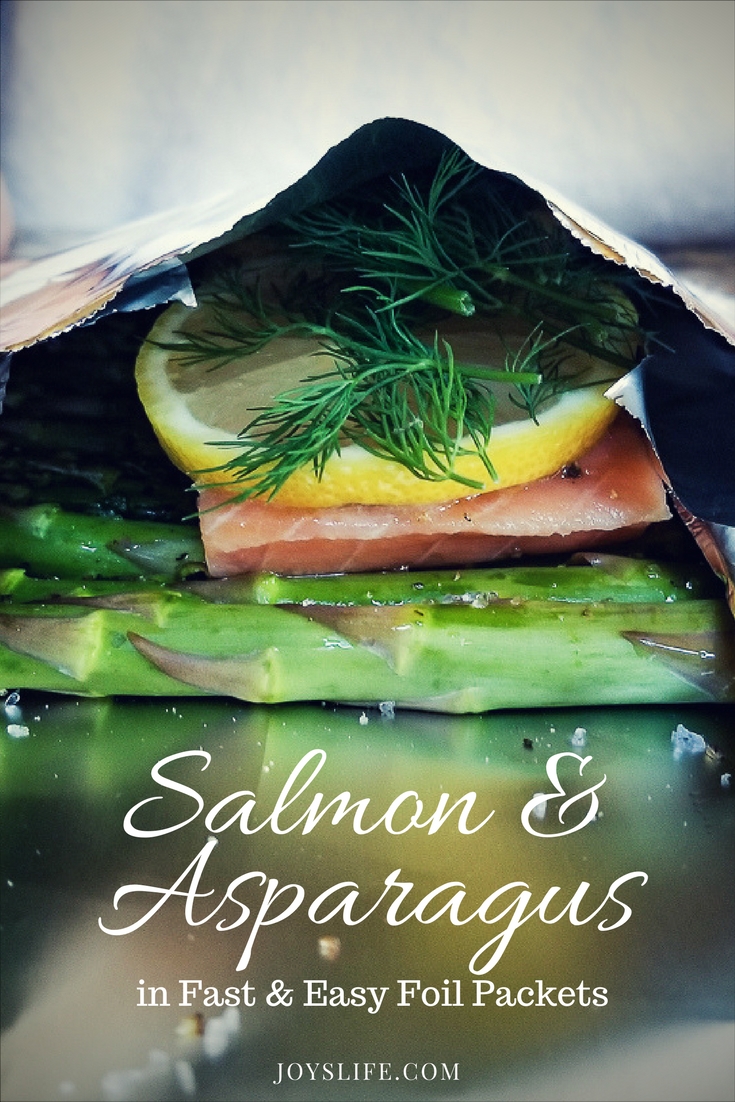 This salmon and asparagus in foil packets recipe is one of my favorites, not just because it's quick, easy and healthy, but because it's a recipe my daughter shared with our family.  She started making it in college and now that she's graduated and back home for a while she makes it for all of us.  (I took all of these pictures while she was preparing it.)  The reason she started making this recipe in college was because it was simple and healthy, as opposed to some other college food options.  It turns out that also tastes amazing and makes you seem like an outstanding cook, even if you're not one.  This is a great meal idea for the holidays too!
The main ingredients are super simple: salmon, lemon, asparagus and fresh dill.
The seasonings are just as easy: salt, pepper and olive oil.  That's it.  Can you believe it?  It's true!  This dish may only have a small amount of ingredients, but it has plenty of flavor!
Lay out sheets of aluminum foil and begin building your packets starting with trimmed asparagus.  You'll brush the asparagus with a little olive oil.
How great is this assembly line for speed and convenience?
Another great thing about this recipe is that you're basically finished plating it after you build it because you just lift the finished meal out of the foil and place it right on the plate. Be amazed, dinner guests!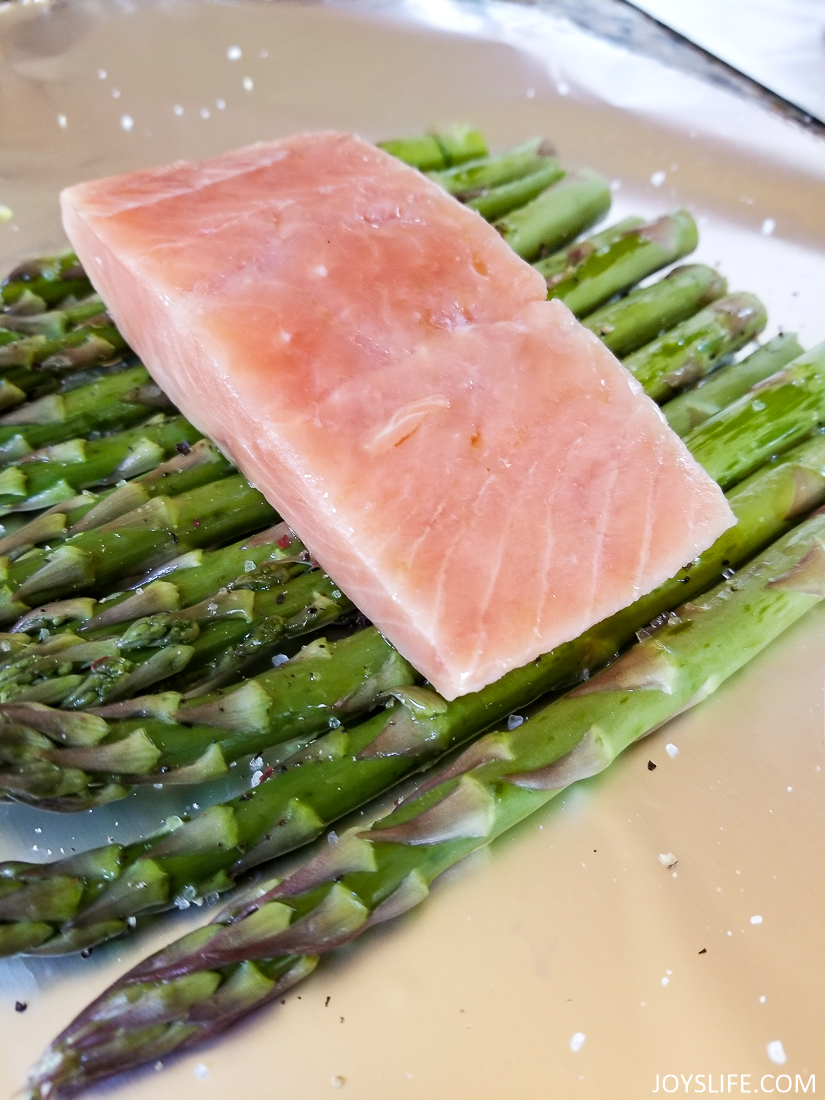 Salmon is really the star of this recipe because it's a great way to get Vitamin D into your diet.  Vitamin D is synthesized by the skin when we're exposed to sunlight during certain times of the day and year, and can also be found in a limited number of natural and fortified foods sources. Vitamin D aids in the absorption of calcium, and vitamin D supports bone, teeth, muscle and immune system health.†  However, you can't eat salmon 24/7, but you can take Nature Made Vitamin D products to help you get the Vitamin D that you need.  Vitamin D3 – found in Nature Made vitamin D supplements – is the body's preferred form of vitamin D. Vitamin D3 is more effective than vitamin D2 at raising and maintaining adequate levels of vitamin D in the body.†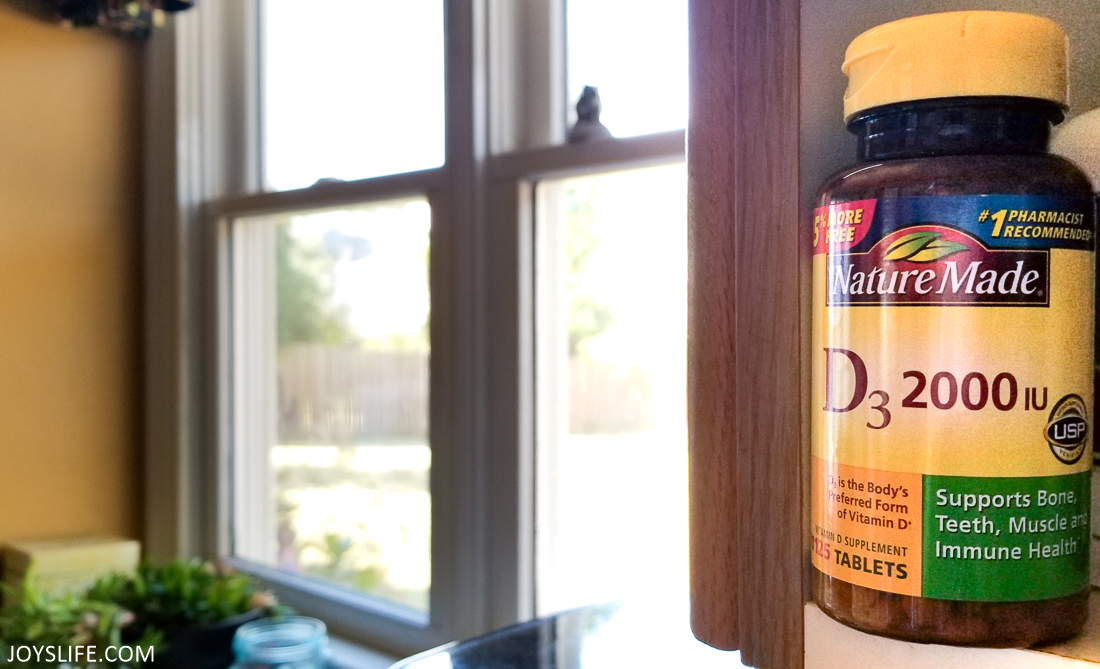 My daughter and I both take Nature Made® Vitamin D, especially during the winter months.  I keep it in the kitchen so we don't forget.
Speaking of healthy things, don't you love these ingredients?
Fresh dill is such a flavorful touch and it looks like a Christmas tree! See, I told you it was a great holiday dish!
After you've assembled your ingredients in asparagus, olive oil, salmon, salt, pepper, lemon and dill order, it's time to fold the foil into the packets. First, fold up the sides.
Next, bring up the bottom and fold the top over. Try to keep all of your asparagus flat so you don't mess up your pretty creation and easy plating!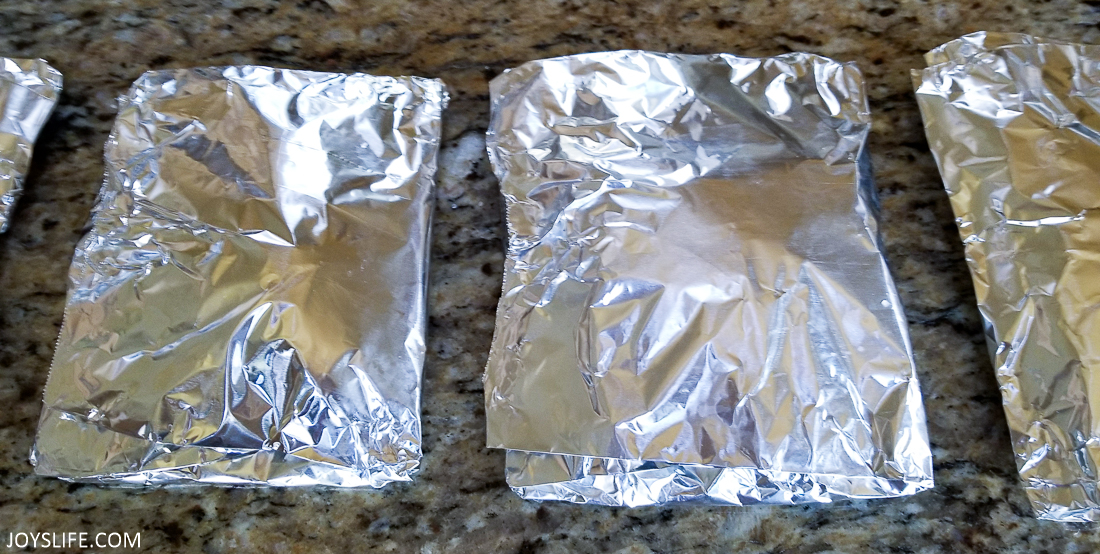 My daughter places these packets directly into the oven at 450 for 15-18 minutes.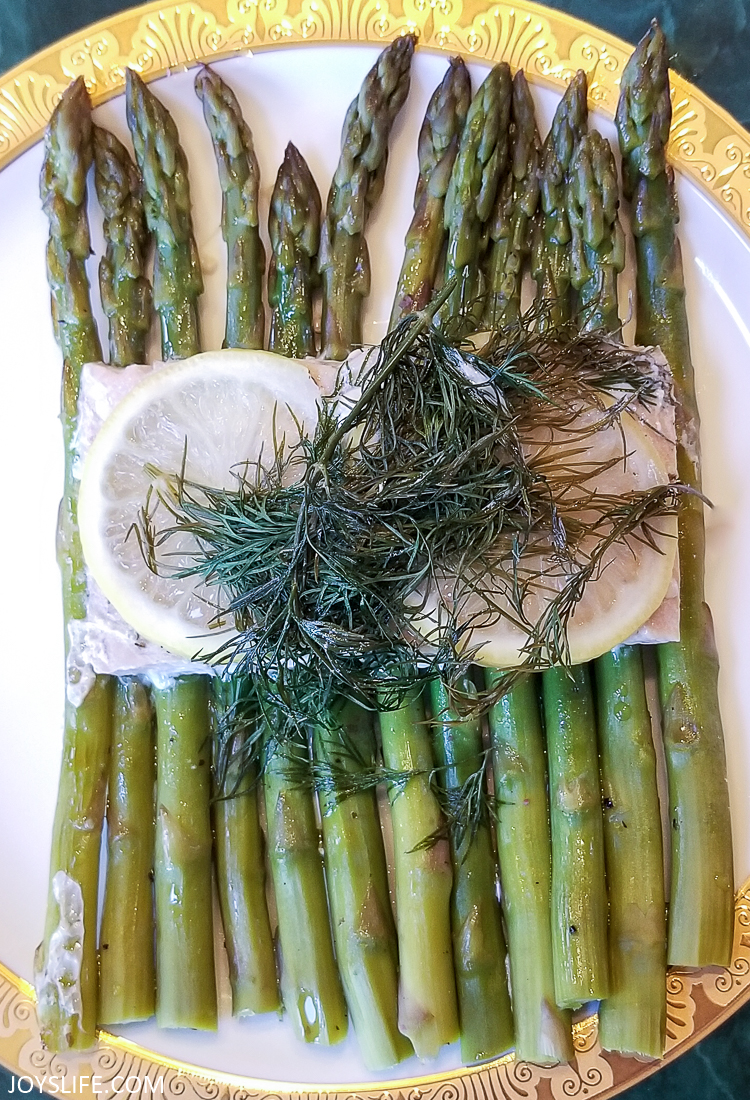 Carefully lift the salmon and asparagus stack out of the packet and lay it on a plate. You're done! If you haven't made these, you should because you will be so impressed with how quick and flavorful it is!
Easy Salmon and Asparagus in Foil Packets
Print Recipe
Share by Email
Share on Facebook
Share on Twitter
Pin Recipe
Ingredients
Salmon

4 skinless pieces

Asparagus

2-3 lbs, trimmed

2

Lemons

Fresh dill

Olive oil

salt, pepper to taste
Instructions
Defrost salmon, if frozen.

Cut 4 equal pieces of aluminum foil.

Clean asparagus, cutting off ends and making equal length.

Place 5-6 asparagus on each piece of aluminum foil.

Lightly drizzle or brush olive oil on asparagus.

Add salt and pepper to taste.

Place salmon on top of asparagus, lightly brush olive oil and salt and pepper.

Slice lemon.

Place two lemon slices on top of salmon.

Top salmon with fresh dill.

Wrap the salmon and asparagus stack by folding the aluminum foil.

Place directly on rack or on baking sheet.

Bake at 450, for 15-18 minutes.

Gently lift cooked salmon and asparagus stacks onto plates.

Serve and enjoy!
What are your favorite healthy recipes?
† These statements have not been evaluated by the Food and Drug Administration. This product is not intended to diagnose, treat, cure or prevent any diseases.