Sweet Treat Boxes with Peanut Butter Fudge – Happy Holidays Blog Hop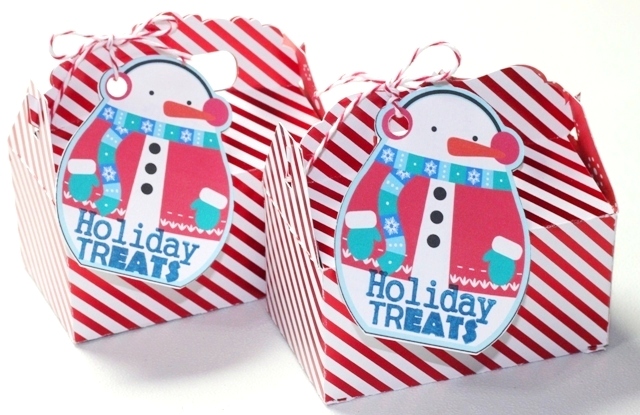 I love these adorable handled boxes from Lettering Delights. I was able to cut both of these boxes out of one 12×12 sheet of paper! They were super simple to put together too. Just fold and glue. YAY! Best of all? They are holding Peanut Butter Fudge! It's pretty easy to make but you need A LOT of sugar. A LOOOOOOTTT of sugar. Making some cute boxes and adding a little sweet treat is a nice and inexpensive way to give a small gift.
Let's Make a Sweet Treat!
This is the first time I've made this recipe…or any kind of fudge EVER, for that matter. I have an adjustable measuring cup that is perfect for things like peanut butter…but I never use it. So, here I am scraping it out of my favorite Pyrex measuring cups. They've been used so much most of the lettering is coming off. I love them.
This is 2-1/4 cups of brown sugar. That's a lot of sugar! Did you see all that powdered sugar above too? This is not a recipe for sugar conscious people, for sure.
Ahhhh…my kitchen smelled like a candy shop!
After stirring, this will soon be ready.  Pour it into a pan, chill it and then…eat it!
Peanut Butter Fudge
Recipe is #68659 from Food.com
INGREDIENTS
1/2 cup butter
2 1/4 cups brown sugar
1/2 cup milk
3/4 cup peanut butter
1 teaspoon vanilla extract
3 1/2 cups confectioners sugar
DIRECTIONS
Place butter into a medium saucepan and melt it over medium heat.
Add brown sugar and milk, stirring.
Boil for 2 minutes, stirring frequently.
Remove from heat.
Mix in peanut butter and vanilla.
Place confectioners sugar into a large mixing bowl.
Pour hot peanut butter mixture over confectioners sugar and beat until smooth.
Pour fudge into an 8 by 8 inch pan.
Chill until firm, about 1 hour.
Cut into 1-inch squares.
Let's Box Up Our Tasty Treat!
I used Lettering Delights Bo Ho Ho graphics to create these print and cut snowman tags. The stamp used on the front of the snowman and the two used on the back are from Joy's Life "Oh Christmas Puns" and "Wintery Puns" stamp sets.
I cut a piece of wax paper to fit the boxes, then I used decorative scissors to create a pretty edge to the paper.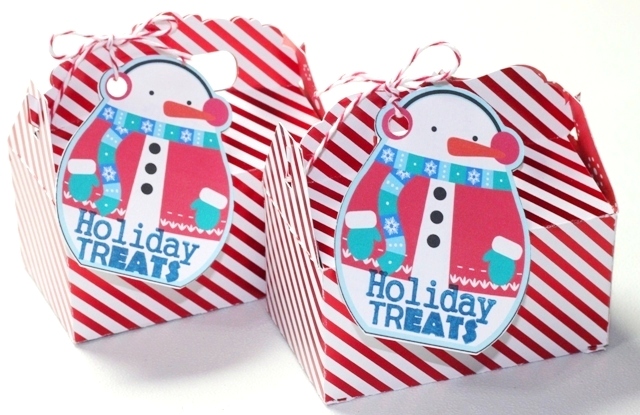 Go see the great projects from these talented ladies!
Joy: You Are Here! Welcome!
Stacey: http://staceyscreativecorner.blogspot.com
Jennie: http://earthyscrap.blogspot.com
Lori: http://got2bcrafting.blogspot.com
Jenny: http://jennyplace26.blogspot.ca
Patty: http://craftykitten1.blogspot.com
Kimberly: http://hellocutiecrafts.blogspot.com
Megan: http://thoughtsoftraveling.blogspot.com
June: http://simplyelegantpapercrafts.blogspot.com
Staci: http://preciousmem.blogspot.com
Amy: http://redheadedcrafter.blogspot.com
Cyndy: http://arcyscraps.blogspot.com
Maria: http://joyfulstamper.blogspot.com
Time for a GIVE AWAY
To be entered for a chance to win "Oh Christmas Puns" and "Wintery Puns" stamps, leave a comment telling me what you like to give or receive as a yummy food gift. You know what I like? It's so nerdy. The fruit of the month club. LOL! No kidding! I'll list the winner on this post on Dec. 10.
Thank you all for sharing your food gift favs with me! I really enjoyed reading them!
And the Winner is…
Sarah Biswabic says:
DECEMBER 2, 2012 AT 5:58 PM
Your treat boxes are so cute! Your fudge looks so yummy! My favorite treat to give is chocolates! I know this is weird, but I like those popcorn tins.
I hope you have a sweet day!