Chicken Spinach Artichoke Casserole Recipe
This shop has been compensated by Collective Bias, Inc. and its advertiser. All opinions are mine alone. #FamilyPastaTime #CollectiveBias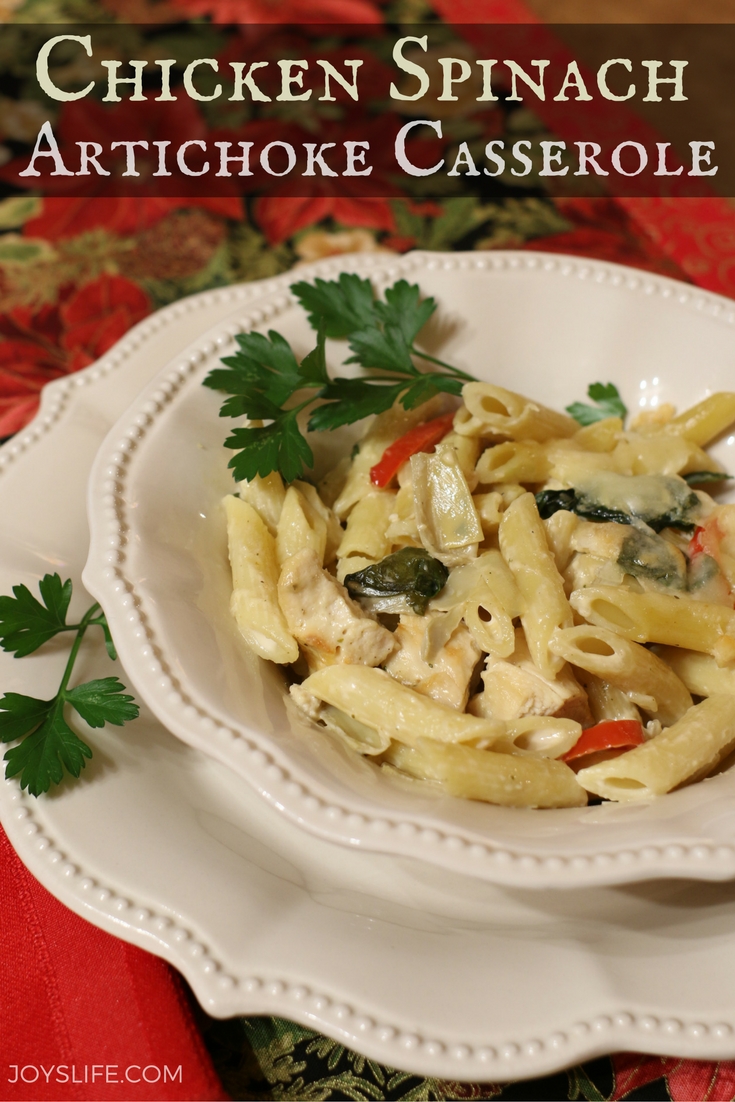 When you go to holiday parties where you have to take something, don't you love seeing what everyone brings?  I think most people come in, say hello and quickly begin their visual search for the food, or head straight to the kitchen.  You've been there, right?  Sometimes tables get pretty heavily laden with the same kinds of things though.  Have you noticed that?  I mean, I love the standard dishes, but after a while I'd like a different option.  So, try taking this chicken spinach artichoke casserole with you to the next party.  This dish is easy to make and people will be so happy that you brought it!
Chicken Spinach Artichoke Casserole Recipe
I'm using these pretty ingredients and Barilla® Classic Blue Box penne pasta, along with two baked chicken breasts.  They were in the oven, so they missed their photo opportunity.
This recipe is not hard to make at all.  We're talking boiling pasta, chopping ingredients, stirring and adding chicken.  Even though my chicken is in the oven, you could simplify this recipe even more by using canned chicken.  To keep it super fast, use Barilla Alfredo Sauce.  Barilla developed it with a rich taste and thick texture the whole family is sure to love.
I used the whole box of Barilla penne pasta and boiled it for 7 minutes.  It turned out perfectly!  To stop the cooking process after 7 minutes, I drained the pasta and ran it under cold water.
You know dinner is going to be good when you see all these pretty colors!  It's festive too!
Before adding the spinach, be sure to remove the stems.  Chop and drain the marinated artichoke hearts, reserving 1 Tbsp of marinade.  Saute the diced onion and sliced bell pepper.  When the onions are soft, stir in the chopped artichoke hearts and heat.  Here's where you add the tablespoon of reserved marinade from artichoke hearts.  You do that for some added flavor, but also because the juices have mostly evaporated at this point, so they need the liquid.  Heat and then remove the skillet from the heat and add the spinach.  Toss the mixture lightly until the spinach is incorporated.
Add the cooked pasta and Barilla alfredo sauce to a large bowl and combine.  Stir in sauteed ingredients and chopped, sliced or shredded baked or canned chicken.  When we bake our chicken, we add garlic salt to the outside of it and then bake it.
Pour the mixture into a greased 9 x 13 baking dish and bake for 20 minutes at 350.
Chicken Spinach Artichoke Casserole Recipe
---
Chip from JoysLife.com
Take this casserole to your next get together!
Ingredients
Barilla Penne pasta, 16 oz box
Barilla Alfredo Sauce, 1 jar
Fresh Spinach, 1/2 pound to 1 pound
Marinated artichoke hearts, 12oz jar
1 Tbsp reserved artichoke marinade
Red bell pepper, sliced
1 medium onion, diced
1 Tbsp olive oil
2 chicken breasts, baked, cubed
Instructions
Cook pasta for 7 minutes.
Drain pasta and pour it into a large bowl.
While pasta cooks, remove stems from spinach.
Chop and drain artichoke hearts, reserving 1 Tbsp of marinade.
Dice onion.
Slice bell pepper.
Sautee diced onion and sliced bell pepper.
When onions become soft, stir in artichoke hearts and heat.
Add Tbsp of reserved marinade from artichoke hearts and heat.
Remove from heat, add spinach.
Toss lightly until spinach is incorporated.
Add sauce to large bowl of cooked pasta, stir.
Stir in sauteed ingredients.
Pour into greased 9 x 13 casserole dish .
Cook for 20 minutes at 350.
Serve & enjoy!
7.8.1.2
83
https://joyslife.com/chicken-spinach-artichoke-casserole-recipe/
I bought so much pasta while I was in Target.  I did that thing again where I go in thinking I don't need a cart or a basket.  Yep.  Why do I do that to myself?  It was worth it though, my juggling skills are improving and I got a big variety of Barilla pasta.  It's Target though, you know you need a cart!  There were so many great deals, like this Cartwheel Offer for 20% off of Barilla®Pronto Pasta (expires 11/26) and it's always so nice shopping there.  I must get a cart next time!
I love how quickly a holiday party meal can be made by adding Barilla pasta.  It turns basic ingredients into a whole meal!
What dishes do you love to take to holiday parties?