Simple Vinyl Serving Tray Tutorial
This simple vinyl serving tray tutorial works for any die cutting machine you have!  That's what is so amazing about using vinyl.  After you've cut it, the techniques can be used no matter what you cut your vinyl with, even if you cut it by hand.  Vinyl, you rock.
Applying vinyl to flat surfaces is a great place to start when you're first learning to use vinyl.  With this knowledge, you can apply vinyl to windows, walls, mirrors, and any number smooth, flat items.  Of course, you can apply vinyl to clothes, cars, boats, hats and more, but a few different techniques, and vinyl types are required to help you accomplish that.  I'll revisit those soon, but in the meantime, check out these vinyl posts for more information.  Here's a post that shows you how to use heat transfer vinyl on a shirt and on a tote bag.  Here's how to use vinyl to help you glass etch plates.
Even though the kind of machine you use isn't important for learning vinyl techniques, I am using the Silhouette Cameo 3 today.  I'm using this Grateful file that I got from the Silhouette store, but whether you're using the Silhouette, the Cricut, or a kraft knife, you can make your own designs or word art by using a font that lends itself to being cut easily by machine, or drawing out your own design and cutting it by hand.  In general, fonts that are block letters or are a connected cursive are some of the easiest to cut by machine.  With a little work, you can adjust many fonts using various software to fit your needs.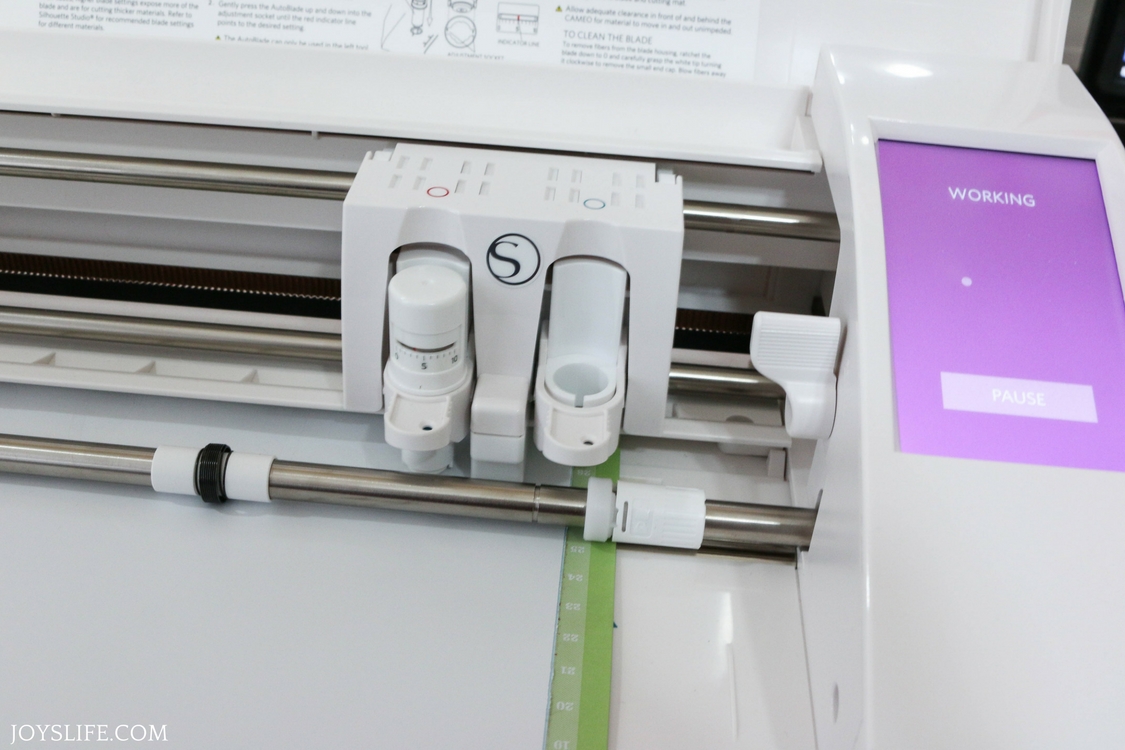 What kind of Vinyl Should I Use?
 I'm using Oracal 631 vinyl in white.  Oracal 631 is an indoor vinyl.  If you're in your local craft store and need vinyl, buy Cricut vinyl, it is Oracal 631 but it's just branded for Cricut.  Stay away from the Silhouette branded vinyl, it's not a high quality vinyl.  If you want a large selection of vinyl and are shopping online, check out Expressions Vinyl.  I've gotten vinyl from them for years and it's always been high quality.
If you're working on something that goes outside or gets wet, (cars, boats, mailbox), you'll want to use Oracal 651, it's made for outdoors.  Expressions Vinyl also carries outdoor vinyl as well as heat transfer and other kinds of vinyl too.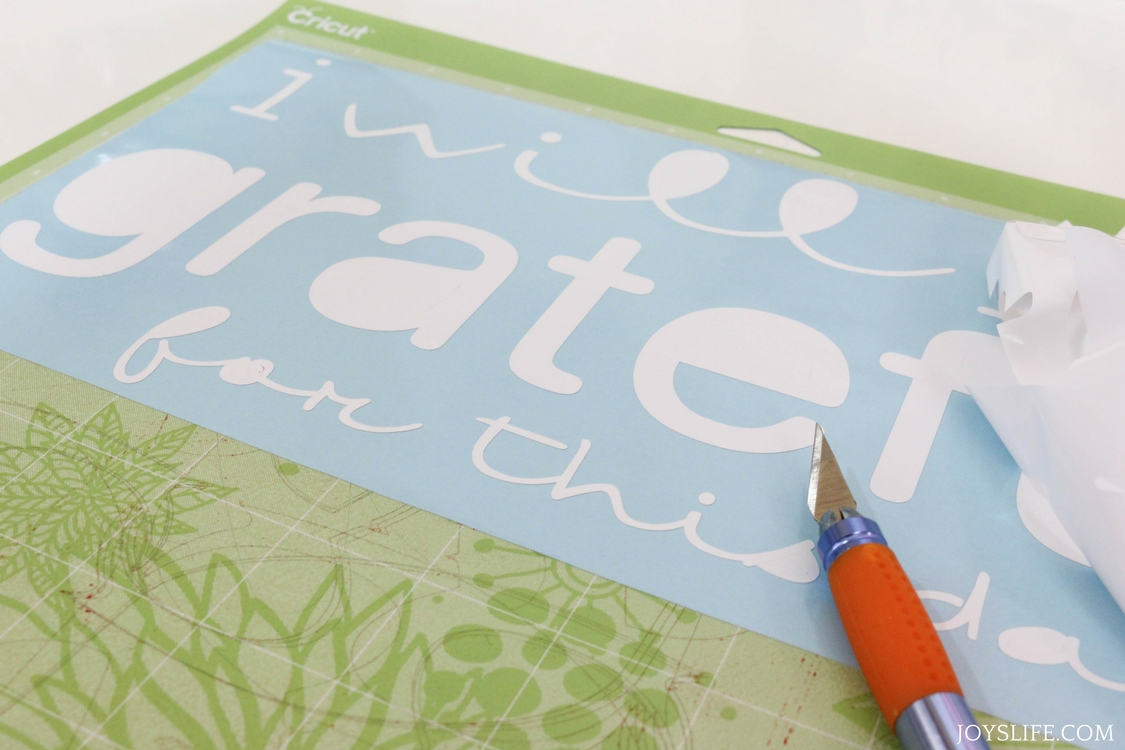 What kind of Settings Should I Use?
I used to have rigid settings that I adhered to when using the older Cricut and Silhouette machines, with the new Silhouette Cameo 3 and the Cricut Air 2, I've found that the machine settings are finally getting it right!  If you're using the Cricut Expression or earlier, use the regular blade and set your Depth, Blade and Speed to 3, 3 and 3.  When using the older Silhouette Cameo or SD, I cut the vinyl using the Speed at 8, Thickness 9 and blade 2.
Don't know which Silhouette Cameo you have?  Check out this post and this post.
 Simple Vinyl Serving Tray Tutorial
After you've chosen your wording and cut it out using the above suggestions, it's time to weed!
"Weeding" is where you remove the vinyl you don't want to use from the vinyl you do want to use. I do that with a craft knife. Take your time!
Time for Transfer Tape
To apply the vinyl to your surface, you'll need transfer tape.  Don't have any?  Try masking tape or painters tape.
Cover the weeded image or text with transfer tape.  Burnish (that means rub it down really well) the transfer tape to the vinyl using a squeegee or an old gift card.  That helps the transfer tape stick to the top of the vinyl.  You want it to have good adhesion because you're going to peel it up and place it on your serving tray, or whatever you're decorating.
Once you've got the transfer tape stuck down well, starting at one of the corners, slowly peel it off of the vinyl backing.
Carefully, place the vinyl lettering or image where you want it to go.  Don't just plop it down!  The transfer tape is a little sticky and the vinyl is very sticky, be sure about your placement before making contact with the surface.  Starting at one end and slowly laying it down works well for me.  If you just plop the whole thing down at once, you're likely to get wrinkles or bubbles, so be careful!  Burnish your lettering down while the transfer tape is still covering the vinyl, then slowly peel the transfer tape back and away from the vinyl.
Tips for Getting Rid of Bubbles and Wrinkles in Vinyl
If you do get any bubbles in the vinyl, you can try and smooth them out OR you can put a tiny hole in the bubble using a straight pin and push the air out.  It will leave a pin prick, but sometimes that's preferable to a distracting bubble, sometimes you can't even see the hole from the pin.  ALSO…if your letters get wrinkles, you can clip them with scissors and lay them down flat again.  It's not perfect when you have to do that, but it's better than a wrinkle.
At first, I was using this tray in my sewing room.  I love the saying!  I moved the tray down to our family room so more people see it and use it.  I love how simple it is to change things with vinyl, don't you?
If you'd like to learn a TON of vinyl techniques, check out my Cricut Vinylology DVD.  Again, the machine isn't really important, it's all about technique, which my 2 DVD set is packed with!
See all of my vinyl posts here!