Leftover Lunch Deluxe Meatloaf Sandwich
This shop has been compensated by Collective Bias, Inc. and its advertiser. All opinions are mine alone. #HeatAndEat #CollectiveBias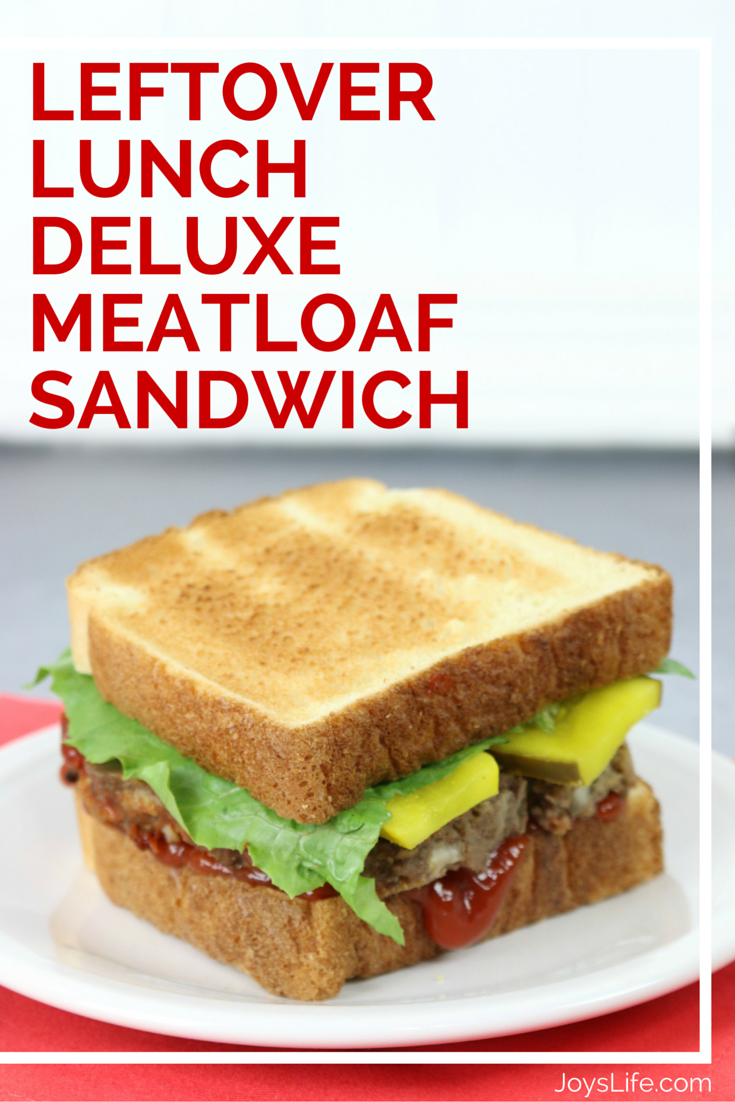 The first meal that I ever made, and I mean ever, was meatloaf.  I was a teenager and I picked up one of my Mom's cookbooks one hungry afternoon.  I landed on a recipe that had ingredients that I could easily identify, except I think that back then the idea of dry mustard really threw me.  Hey, it's a shocker if you've only even seen it come out of a bottle, right?  There are so many things that can trip you up in cooking, but not this recipe and not the leftover lunch you can have for tomorrow either.  This one is easy!
Make your favorite meatloaf.  Here's the recipe for mine.  I call it "Tub's Favorite Meatloaf" (one of my Dad's nicknames) because I always wanted to remember which one he liked the best.  Every time I make it, I think of how much he praised my first meal and for that matter, every subsequent time that I made it.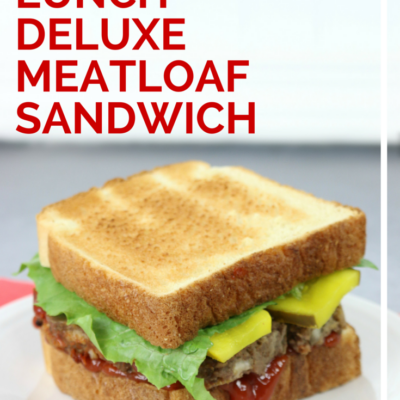 Tub's Favorite Meat Loaf
This was my Dad's favorite meatloaf recipe. It came from an old Betty Crocker cookbook. It was the first meal I ever made.
Print Recipe
Share by Email
Share on Facebook
Share on Twitter
Pin Recipe
Ingredients
1

egg

1/2

cup

milk

1/3

cup

dry breadcrumbs or 1 cup soft breadcrumbs

can use about 1 1/2 slices of bread torn into small pieces

1

lb

ground beef

2

tablespoons

finely chopped onions

1/2

teaspoon

salt

1/8

teaspoon

pepper

1/4

teaspoon

dry mustard

1/4

teaspoon

garlic salt

1

teaspoon

Worcestershire sauce
Instructions
Mix all ingredients thoroughly.

Place in 9x5x3 loaf pan, ungreased.

Bake at 350 for about 45 minutes.

Top with ketchup.

Return to oven for 2 to 3 minutes.

Serve immediately while warm.

May be frozen. To serve after frozen: place foil wrapped loaf on oven rack at 350 for 50-60 minutes.
One thing that my Dad never did and my husband always does is make a meatloaf sandwich.  I'll be honest.  I just can't go there.  I can't cross the bridge where I go from my meatloaf to seeing it as a sandwich, but I'm not the meatloaf sandwich connoisseur that my husband is.  I just know he loves them, so I make sure to put a piece away for his lunch the next day.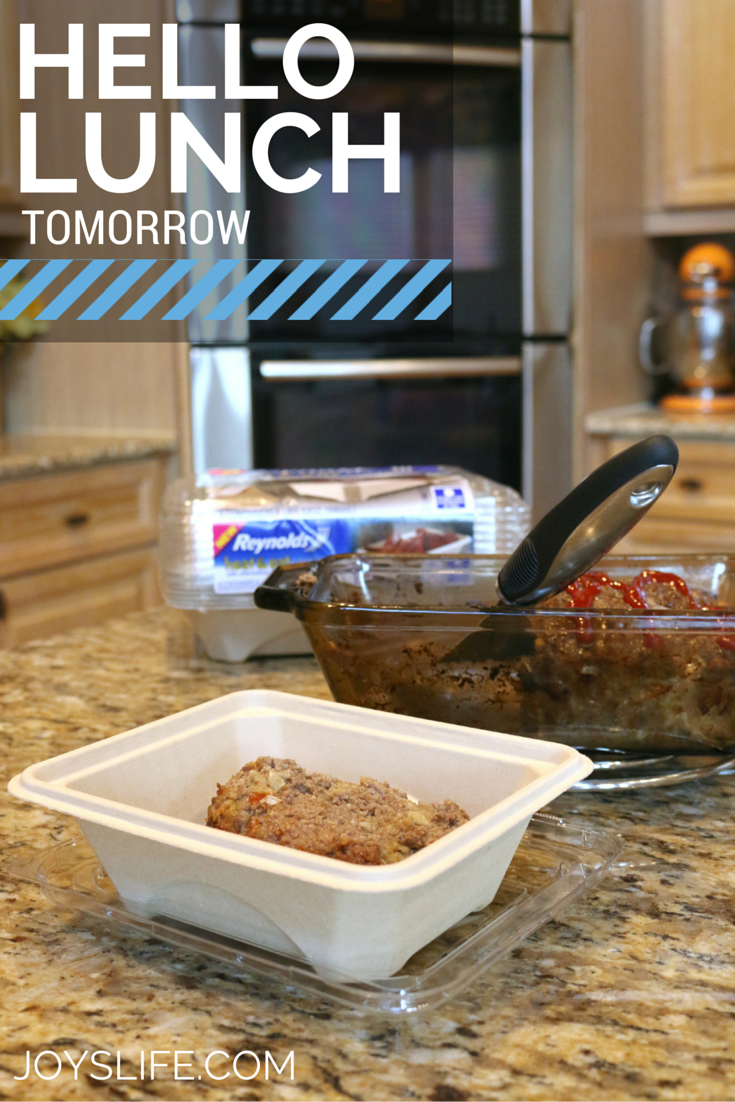 I'm using Reynolds™ heat & eat disposable containers.  I like them because they're made of fibrous, paper-like materials that are renewable and can easily go from freezer to fridge to microwave.  The lid is BPA-free and made of recyclable plastic.  The lid isn't to be microwaved, which keeps plastic out of the microwave.  I'm all about that.  Plus, with Thanksgiving coming up, these are just what I need for sending leftovers home with family and friends.
So he can take these, let's be honest, boring…leftovers and with just a few additions, turn them into a Leftover Lunch Deluxe Meatloaf Sandwich.
Ta da!  How did that boring meatloaf turn into this?  Simple.  Add Texas toast, lettuce, pickles and ketchup.  This sure beats the equally boring meatloaf between two pieces of bread thing my husband used to do.  I will say one thing though, as it turns out…he prefers this with mustard!  What?!  Making a mental note of that.  Well, whatever you want to do to make it deluxe for you, try it!  You can switch up the bread, add sprouts, make mini sandwiches, sliders, the sky is the limit!  Add the meatloaf to your Reynolds™ heat & eat containers and you're ready for tomorrow!
I bought my Reynolds™ heat & eat containers at Target.  I love going to Target.  If you follow me on Instagram, then you know I recently went to visit my daughter who's away at college.  I stopped at Target on my way to see her because she mentioned that she needed a loaf pan and a large baking pan…and some trivets…and some vitamins.  College kids.  Anyway, I was able to pop into one and grab all those things.  It saved us a ton of time because she was taking exams and we were trying to get things done so we could take a short trip together.  All that being said, I love that I can count on Target to have things I need, no matter where I am.
What are your favorite ways to turn leftovers into tomorrow's lunch?