Dinner Thyme Meal Delivery Review
This was a sponsored post in collaboration with the Association of Food Bloggers and Dinner Thyme, but all opinions expressed are my own.
I've been wanting to try out a meal delivery service, but I was skeptical about doing it.  I wasn't sure what the food would be like once I got it, or how difficult or easy the recipes would be.  So, when an opportunity came along to try Dinner Thyme meal delivery, my husband and I gave it a try, and I have to tell you, we're both impressed.  Let me tell you what it's like to try Dinner Thyme, because if you're like me, you want some inside information before you try something.  I've got a bunch of pictures and real experiences to share with you!
The Box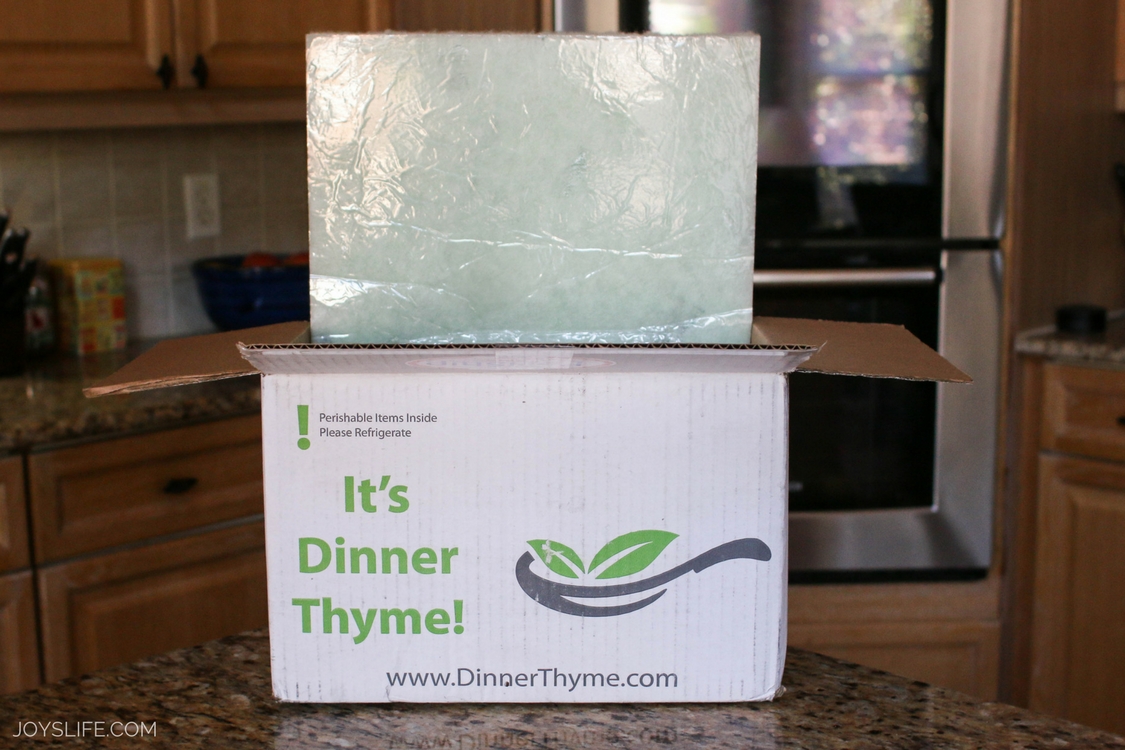 First, we chose our meals online.  We picked two portions of Chicken And Waffles with Braised Kale and Butter Syrup and two portions of Pineapple Salmon Tacos with a Sour Cream Sauce.  It was delivered in a well insulated box with ice packs.  We were busy the day it was delivered and I was worried about not cooking everything right away.  No worries.  You don't have to cook everything immediately, because that would sort of defeat the purpose of eating meals over several days, wouldn't it?  There are recommended amounts of time for when things should be cooked.  We took everything out of the box and put it in the fridge.  Two days later we cooked our first meal.  No problem!
Labeled Ingredients Correspond to Recipes
 Here's the box after we took out the ice packs.  I LOVED how fresh everything was AND that the ingredients were labeled to correspond to the recipes.  Those things made me feel comfortable with the food I received and confident that we weren't going to screw up the meals.  LOL!
THE RECIPES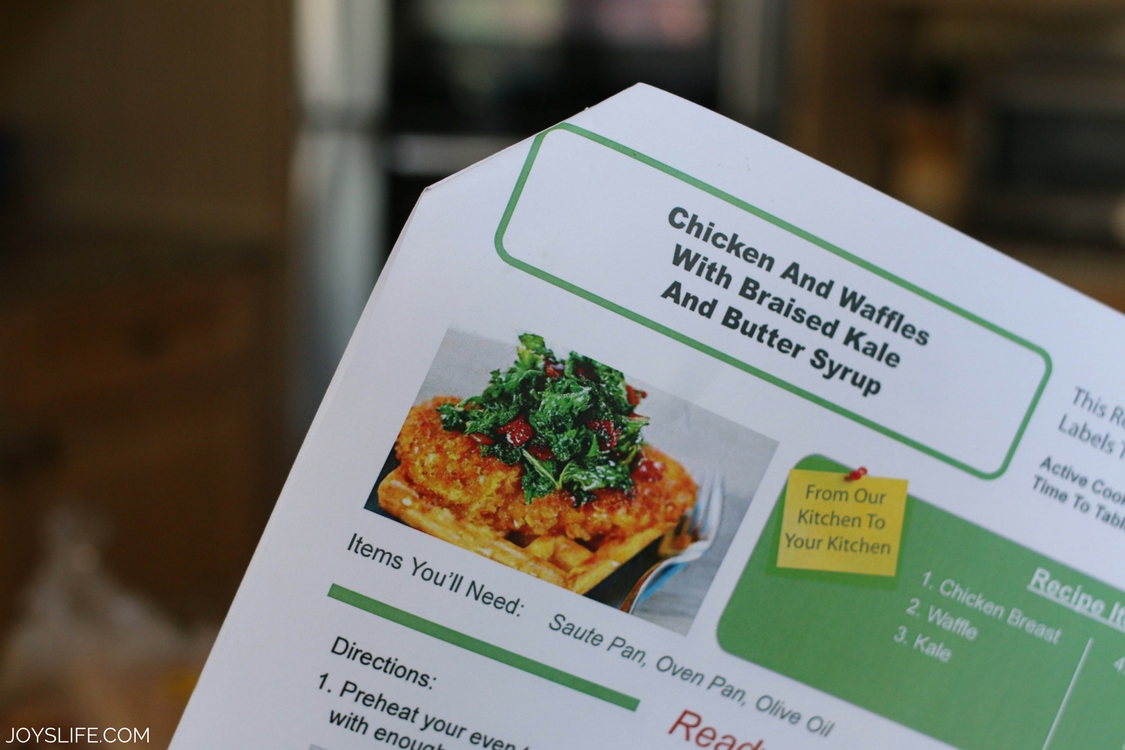 I was pretty much in love with the recipes.  They're easy to follow and our food actually turned out like the picture.  Also, I just can't tell you how DELICIOUS it was, because you weren't there.  Sad.  Even if you had been there, I was protecting my food like someone might steal it, so you probably wouldn't have gotten any.  Ok, that's not actually true.  The truth is that my husband and I sat down and ate this delicious meal at our kitchen table and we felt like we were in a restaurant.  It was that good.  Nearly everything is provided for you, with the exception of a few things, like you see in the photo.  For this meal we needed a saute pan, oven pan and olive oil.
The cooking instructions aren't difficult, but you might learn some new ways to prepare food, especially if you're a new cook.
Even if you're an experienced cook, you might learn new combinations and ideas.  The kale and bacon really made this dish!
Packaged Ingredients
Speaking of things being well packaged, check this out!  Butter and syrup perfectly packaged!
The cuts of chicken were generous and really nice quality, like everything we received.
I'd never tried chicken and waffles before, but I can tell you, I wish I was eating this again…right now.
Pineapple Salmon Tacos with a Sour Cream Sauce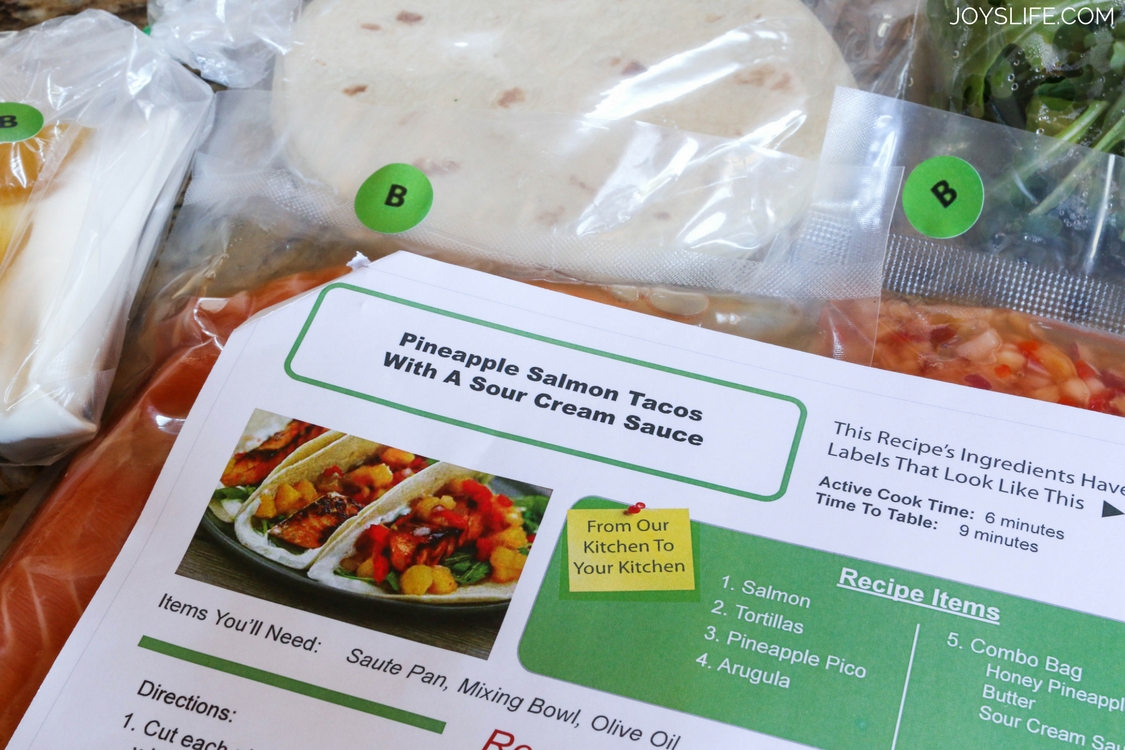 Once again, the recipe was easy to follow.  This dish came together super fast and the Pineapple Salmon Tacos were great, according to me, my husband and my teenage son.
What I really want to show you is the salmon we received.
Isn't that a pretty piece of fish?  This quality of ingredients was really impressive.
My husband and I talked a lot about what a nice gift Dinner Thyme would be for newlyweds,  students with kitchens (like our daughter), parents/grandparents, and more.  I thought it would be a fun way to teach kids how to cook.  It's also perfect for a night in and a fun way to try a variety of dishes, not to mention, this service is a huge time saver.
My husband was super impressed with the cooking time to table quotes.  He found them to be quite accurate, meaning, you're really going to be able to put a nice dinner on the table in minutes!!  For us, that's pretty thrilling.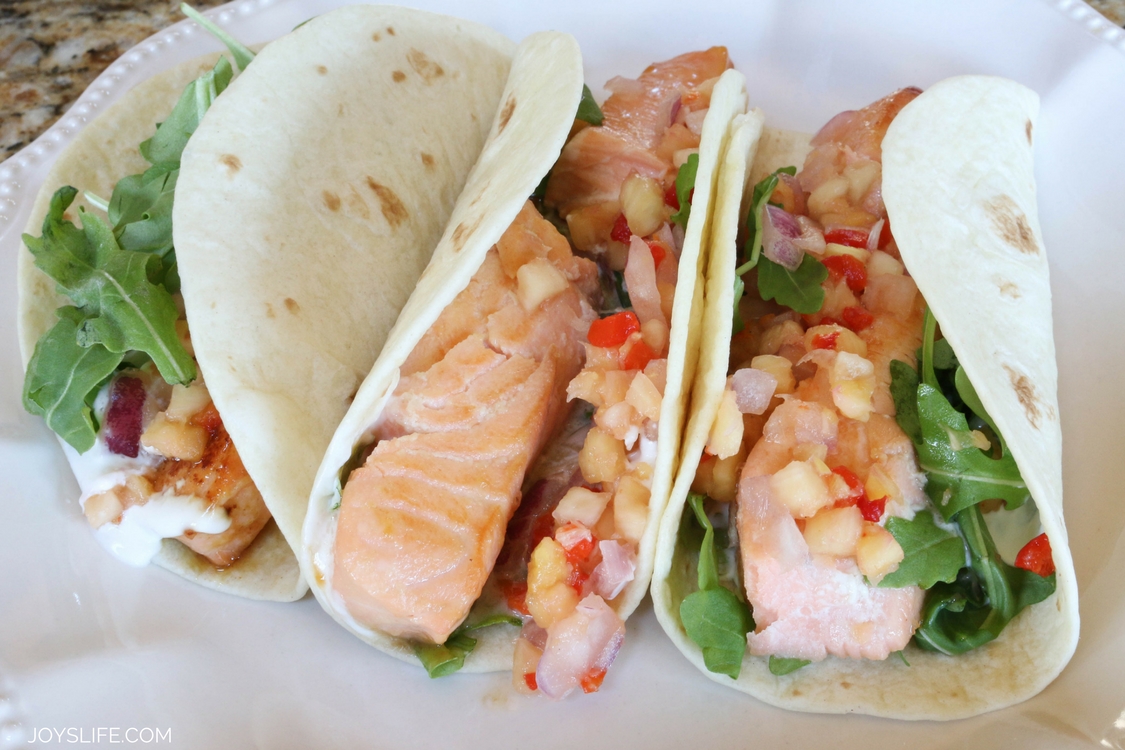 All in all, we'd try Dinner Thyme again and we wouldn't hesitate to give it as a gift.
I'm already looking at the next menu!