Strawberry Mango Toasted Oat 150 Calorie Yoplait Yogurt Parfait Recipe
Thanks to Yoplait Light for sponsoring today's recipe post!
Did you make any resolutions about snacking?  I made them about exercising but snacking…um…not so much.  That's something that I struggle with.  I like snacks!  I don't want to sacrifice when it comes to food.  I tell myself I will sometimes but I've come to learn that I just won't.  That's where Yoplait Light Snack Hacks come in handy.  I can snack, have variety, flavor and keep it under 150 calories.  Yes!  My thighs and I could use that!  Plus, it will help keep me on track to meet my fitness goals.  I want to run in a few races this year…for  my first time ever!
I was so impressed and inspired by Yoplait's Snack Hack Pinterest page, I decided to create a hack of my own.  You'll be happy to know, like Yoplait's hacks, mine is just 150 calories!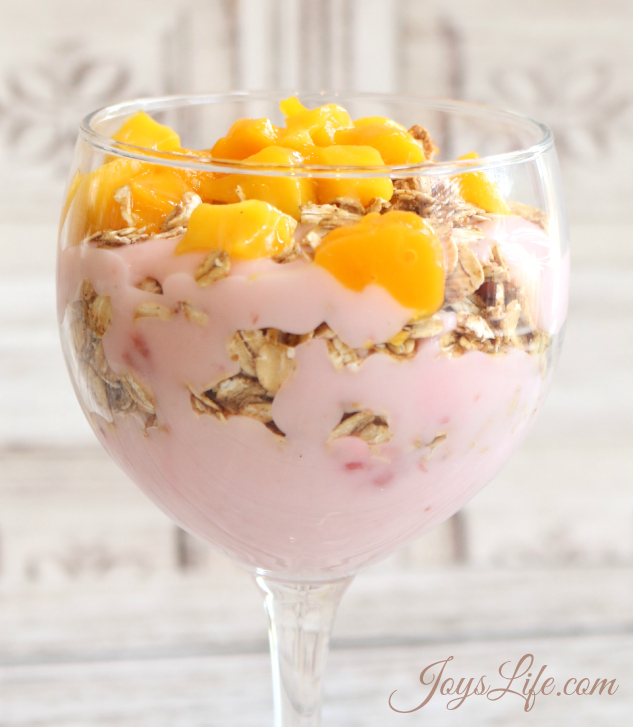 I'm using Strawberry Yoplait Light yogurt but you could substitute any of the 20+ flavors that they have, like Banana Cream Pie, Raspberry Cheesecake, Key Lime Pie, Harvest Peach and Strawberry, which I used today! All of the Yoplait Light yogurt flavors are just 150 calories, have ZERO fat and no aspartame.
How To Make the Strawberry Mango Toasted Oat 150 Calorie Yoplait Yogurt Parfait
I created my own toasted oats to keep on hand.  They are very easy to make.  This recipe makes enough for you to keep on hand for adding to your Yoplait yogurt morning, noon or nighttime snacks!
Cinnamon Nutmeg Toasted Oats
These toasted oats are perfect for adding to yogurt for creating parfaits and other quick snacks.
Print Recipe
Share by Email
Share on Facebook
Share on Twitter
Pin Recipe
Ingredients
2

Cups

Whole Grain Old Fashioned Oats

2

teaspoons

brown sugar

1/8

teaspoon

nutmeg

1/4

teaspoon

cinnamon

1/16

teaspoon

salt

1

Tablespoon

honey
Instructions
Mix all ingredients thoroughly in medium bowl.

Spread mixture onto a cookie sheet lined with parchment paper.

Bake at 325 for 15-20 minutes or until golden brown.

Cool.

Add to your favorite yogurts!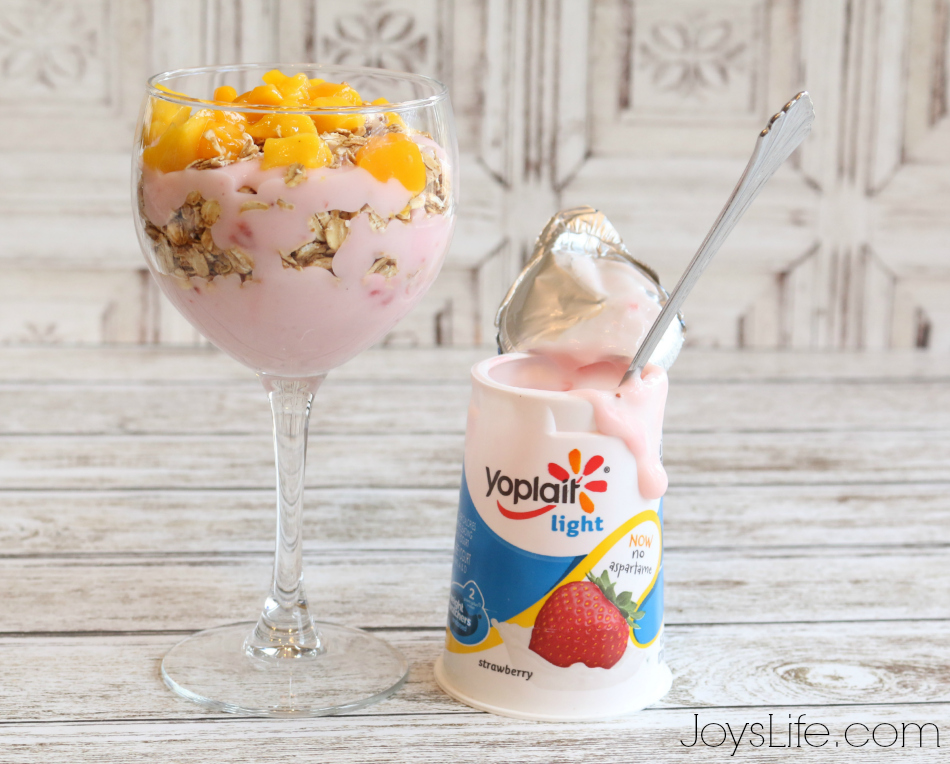 To create the Yoplait parfait simply add the yogurt to a glass, a mason jar, a bowl, whatever you like.  To keep it under 150 calories, layer no more than 3 teaspoons of the oats.  Add up to 4 tablespoons of diced mango.  Add the remaining Yoplait Light yogurt and you're ready to eat!
My family was happy to start eating some of the Yoplait Light yogurt that I had on hand the second I was finished creating the recipe.  My son said, "We need to keep Yoplait yogurt here all the time."  What?!  I had no idea he wanted yogurt!  Plus, he loved my hack!  Who knew?  So, I'll be buying more Yoplait as soon as we finish up what we've got.  It will keep my weight on track and provide healthy alternatives for everyone else in the family.  Besides the Strawberry, I bought the Red Raspberry that he's eating above, Strawberry Banana and Harvest Peach.  I'm putting the Black Forest Cake and Boston Creme Pie Yoplait Light yogurts on my list.  Don't you think those sound fantastic?  I can't wait to try them!
What hacks would you create with Yopliat Light yogurt?  Could you keep it under 150 calories?  Check out their hacks for more great snack ideas!