Make Healthy Snacks with this Protein Oat Bread Recipe & TruMoo
This is a sponsored post written by me on behalf of TruMoo Milk. All opinions are 100% mine.
I'm so excited to share this protein oat bread recipe with you!  My husband and I created it because we like the idea of serving our sons healthy snacks that provide them good energy so they can stay active.  It's hard enough to keep kids unplugged and moving, so I don't want to fill them up with things that make them sluggish and tired.  This recipe, along with TruMoo are a perfect after school or after sports treat!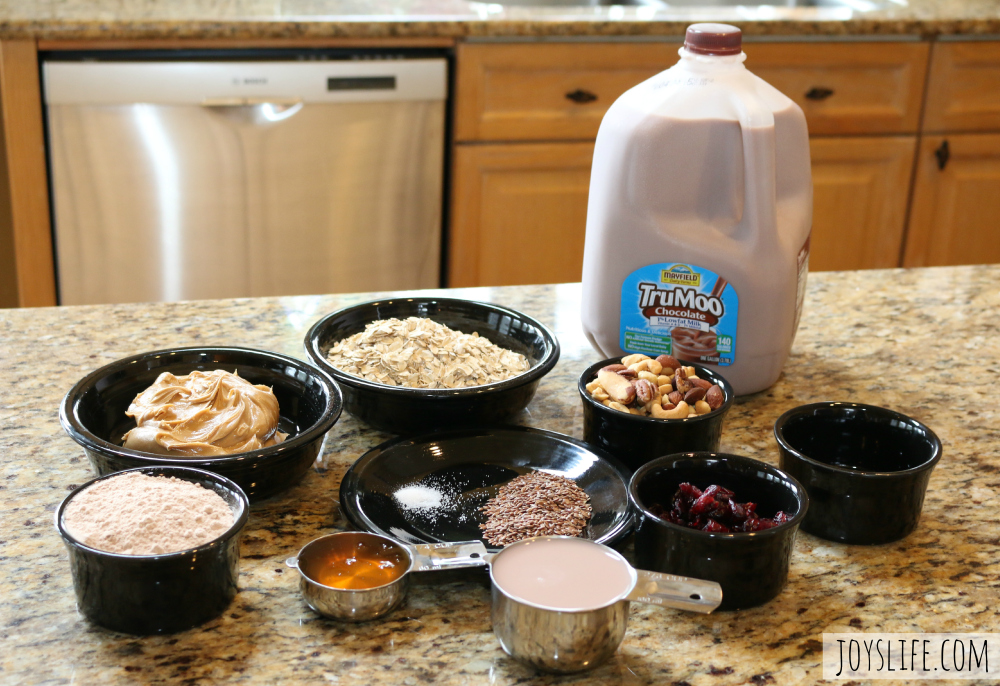 Did you know that TruMoo, post workout, is a great recovery drink?  It has protein and carbs to help rebuild muscles and 8 essential nutrients that help build and strengthen bones.  That's why we used TruMoo Chocolate Milk in this recipe.
Protein Oat Bread Recipe
This recipe makes a healthy oat bread packed with protein!
Print Recipe
Share by Email
Share on Facebook
Share on Twitter
Pin Recipe
Ingredients
2

egg whites

1/4

cup

dried cranberries

1/4

cup

chocolate protein powder

1

cup

of nuts

your choice

2

cups

of oats

2

Tbsp

flaxseed

1/4

cup

honey

1 1/4

cup

peanut butter

3/4

cup

of TruMoo Chocolate Milk

pinch

of salt
Instructions
Process oats into a fine powder using a food processor.

Add all ingredients, except milk and eggs, to food processor and mix until well combined.

Add milk and eggs and mix.

Pour into prepared 9x12 pan.

Bake at 325 for 30 minutes.

Cool and serve.
 This bread is soft but firm so you can use a cookie cutter to cut out shapes making these snacks fun!
My boys are on sports teams but that doesn't mean that keeping them active is always easy.  Sometimes, video games and technology want to take up a lot of their downtime.  I think gaming is fun and they deserve time off.  So, one way to keep them happy and healthy is to mix in more active games.  Plus, it usually offers more time to interact and talk to each other.
We also try to do some activities as a family.  My runner son has encouraged all of us to run more.  Because of him, the rest of us recently participated in a 5k!
Luckily, we have a friend who keeps the kids and the adults moving, our dog, Saban.  Saban is an English Mastiff.  She loves to play with her flat soccer ball but she needs someone to throw it for her.
When she's finished playing she takes her soccer ball and heads back to the house.  I think that's so funny!  She keeps us all moving and laughing!
After all that running around, it's time for a glass of TruMoo!  My son loves chocolate milk.  I love knowing that TruMoo has no artificial growth hormones.  Plus, it tastes delicious!  Our whole family loves it!
Let me know what you think about this recipe!
For product information and availability, visit TruMoo online.
Find TruMoo Recipe inspiration on Pinterest.
Join the TruMoo community on Facebook.