S'mores Party Backyard Bar
This shop has been compensated by Collective Bias, Inc. and its advertiser. All opinions are mine alone. #LetsMakeSmores #CollectiveBias #sponsored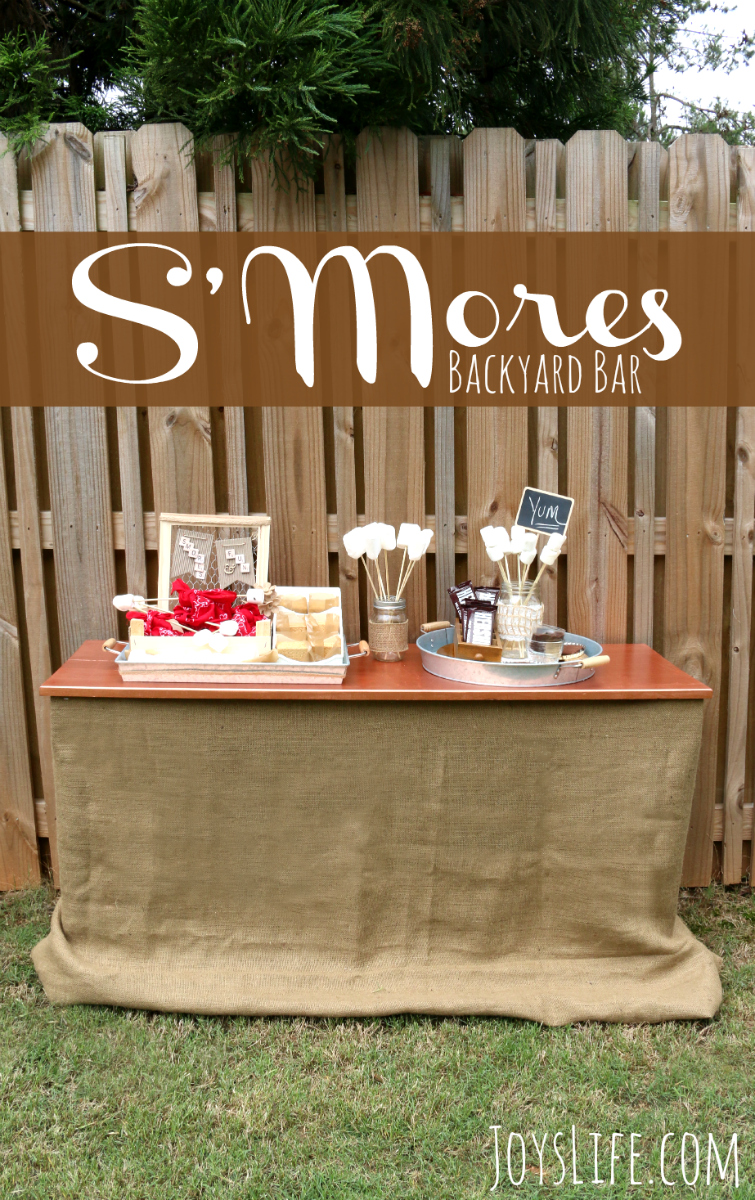 It's a S'Mores Party, y'all!  Well, it doesn't have to be a party to make s'mores, right?  I've stood over the stove and roasted a marshmallow mid week.  That's what I love about making s'mores.  They make a summer get-together even more fun.  They're perfect for camping, after dinner or just sitting around the kitchen table some random day of the week.  What's not to like about something that you can make just about anywhere and anytime?  I think they're pretty much perfect.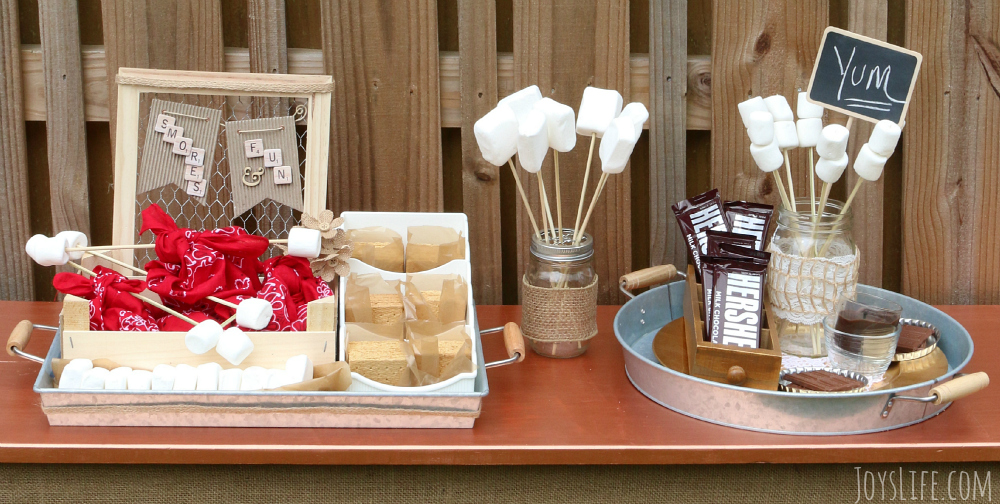 I created this simple s'mores bar for my family.  We spent so much time getting our back yard in shape for the summer that I wanted to celebrate and thank everyone for their efforts.  Hello, s'more fun time!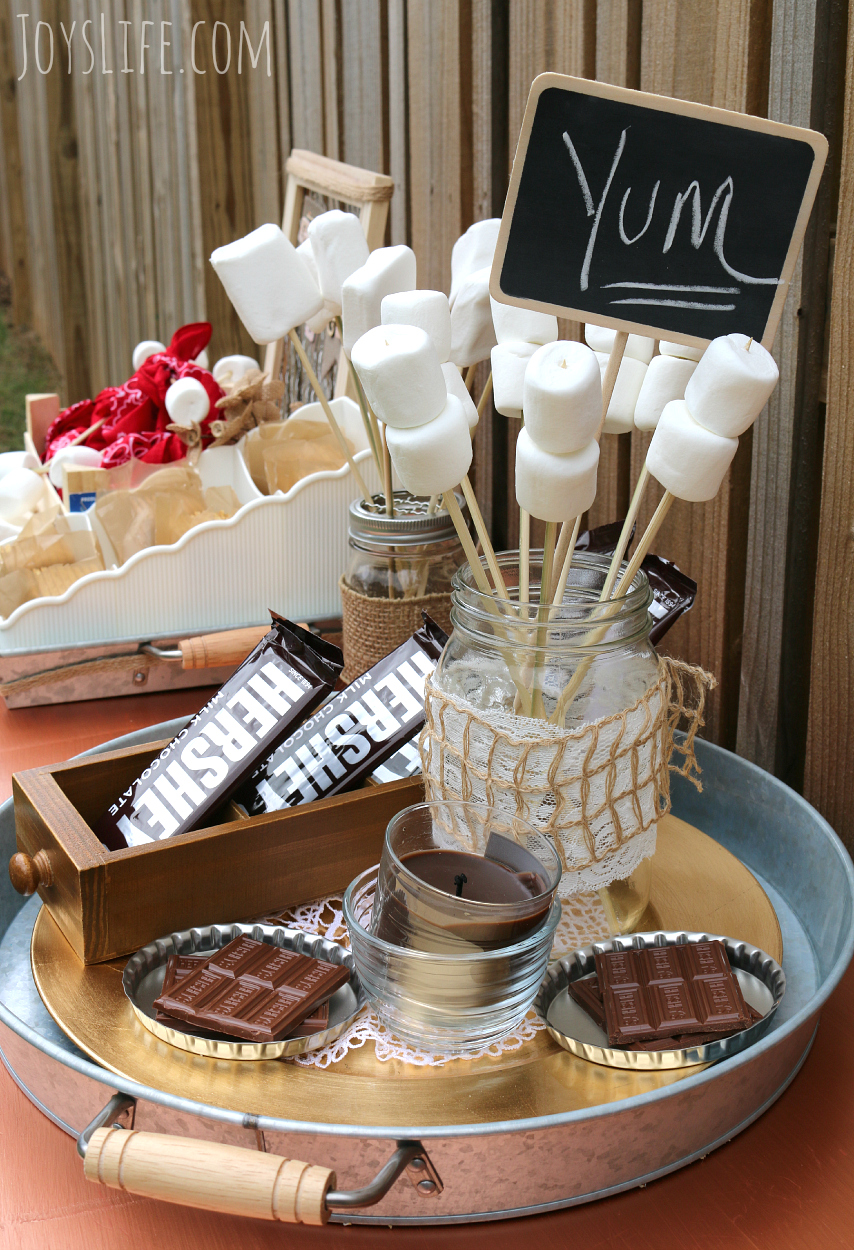 I bought this round metal serving tray, and the square one next to it, at Walmart when I was picking up the S'mores ingredients.  Since we're outside, I wanted to keep it simple and easy to move.  You never know when a game of ball with the dog will break out and…well, she needs some space for that.  Burlap and lace wrapped mason jars were inexpensive and portable marshmallow stick holders.  A ramekin from my kitchen holds a candle and oversized bottle caps hold pieces of Hershey's Milk Chocolate bars.  That gold charger is plastic, purchased at a craft store for a dollar a few years ago.  Use what you have!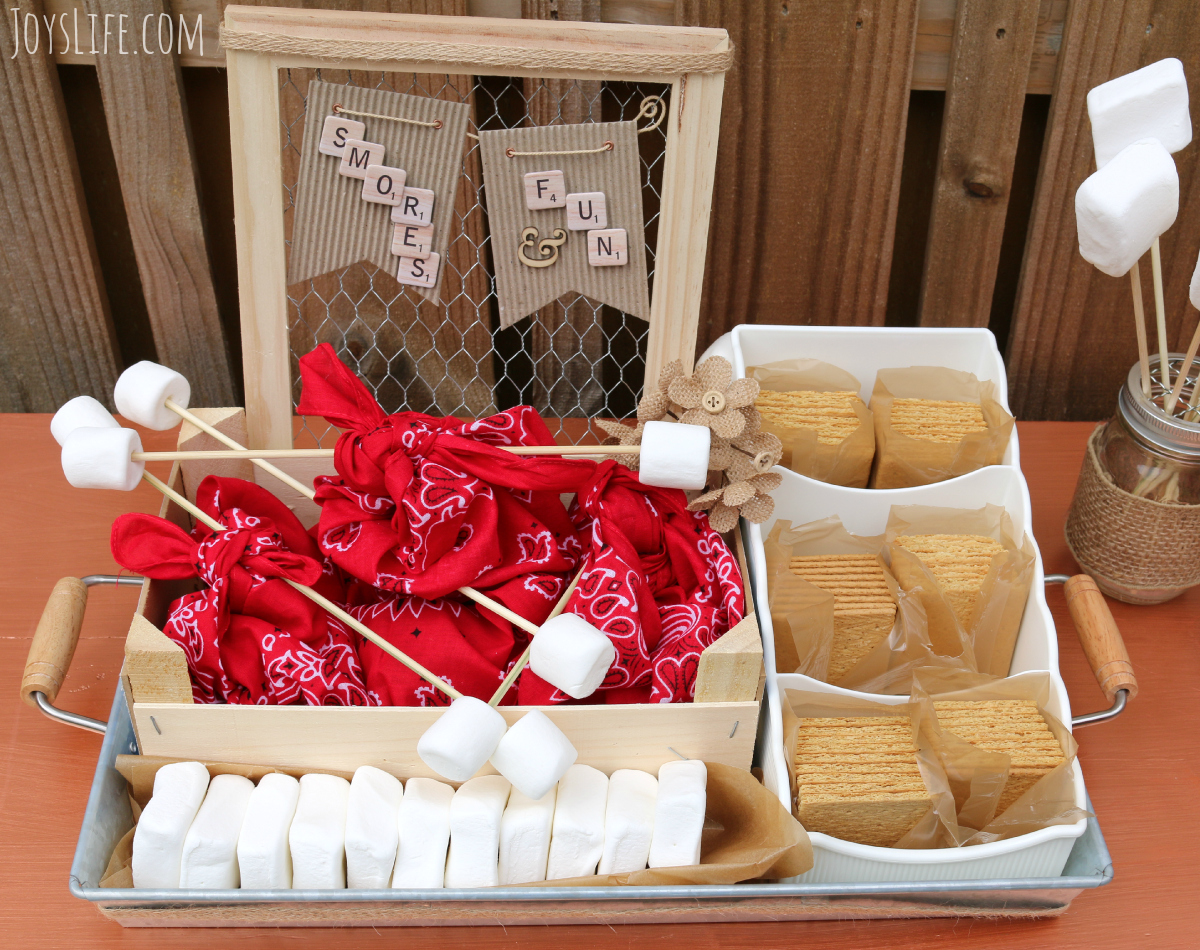 Friends were able to drop in whenever and quickly make a s'more.  What's even better is they could take a s'more to go.  Those red bandanas are full of s'more ingredients: Hershey's Milk Chocolate bars, Honey Maid Graham Cracker Squares, and Kraft's Jet Puffed Marshmallows.  I suggest putting the ingredients in plastic baggies first and then tying the bandana around them.  To make sure the to-go's had everything they needed, I added a wooden skewer with a marshmallow at each end.  That kept our friends from getting a sharp poke with a stick.  LOL!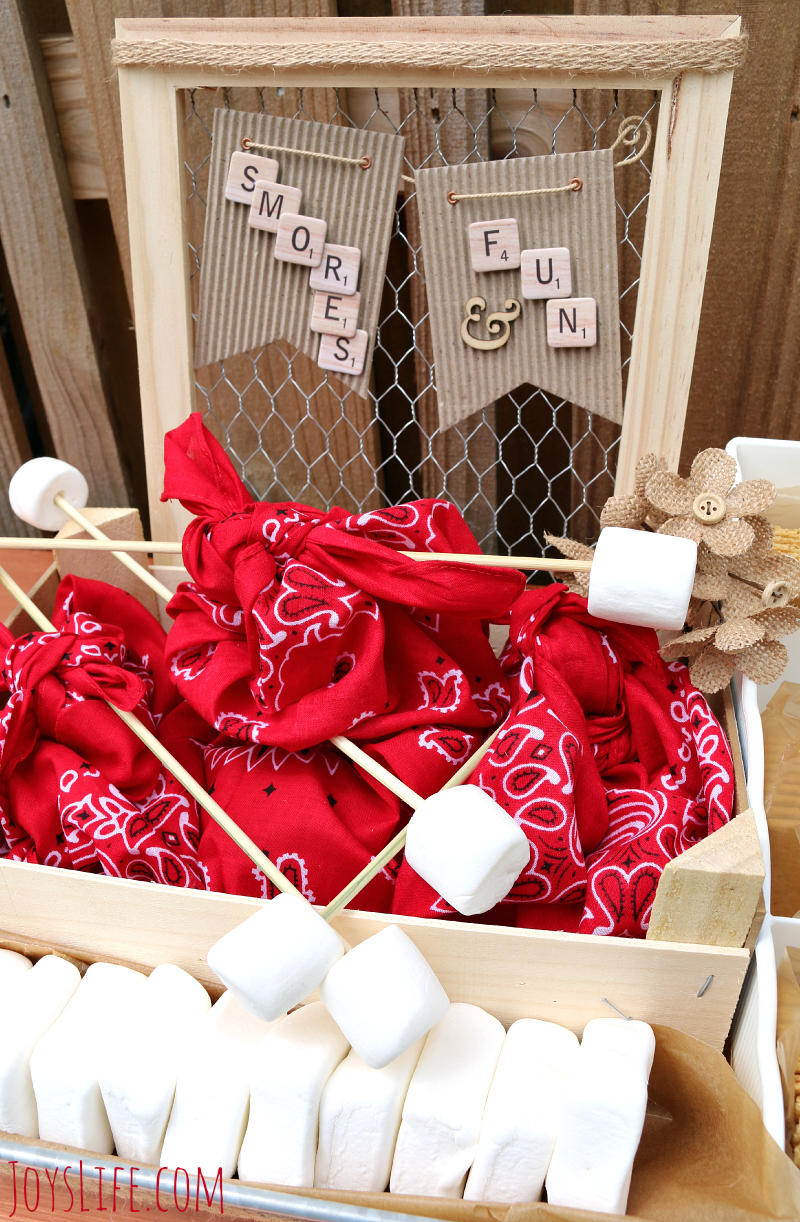 I stuck with the rustic look choosing a wooden crate leftover from clementines to hold the to-go treats.  Unbleached parchment paper holds the (super awesome) square Kraft marshmallows.  I had the chicken wire frame and redecorated the little banners to spell "smores & fun" using stick-on letters and a wooden ampersand sign.  Want to know where that cool stand for the Honey Maid Graham Cracker Squares came from?  My pantry.  It's a spice stand.  Check around your kitchen for things that will help you make a quick s'mores bar!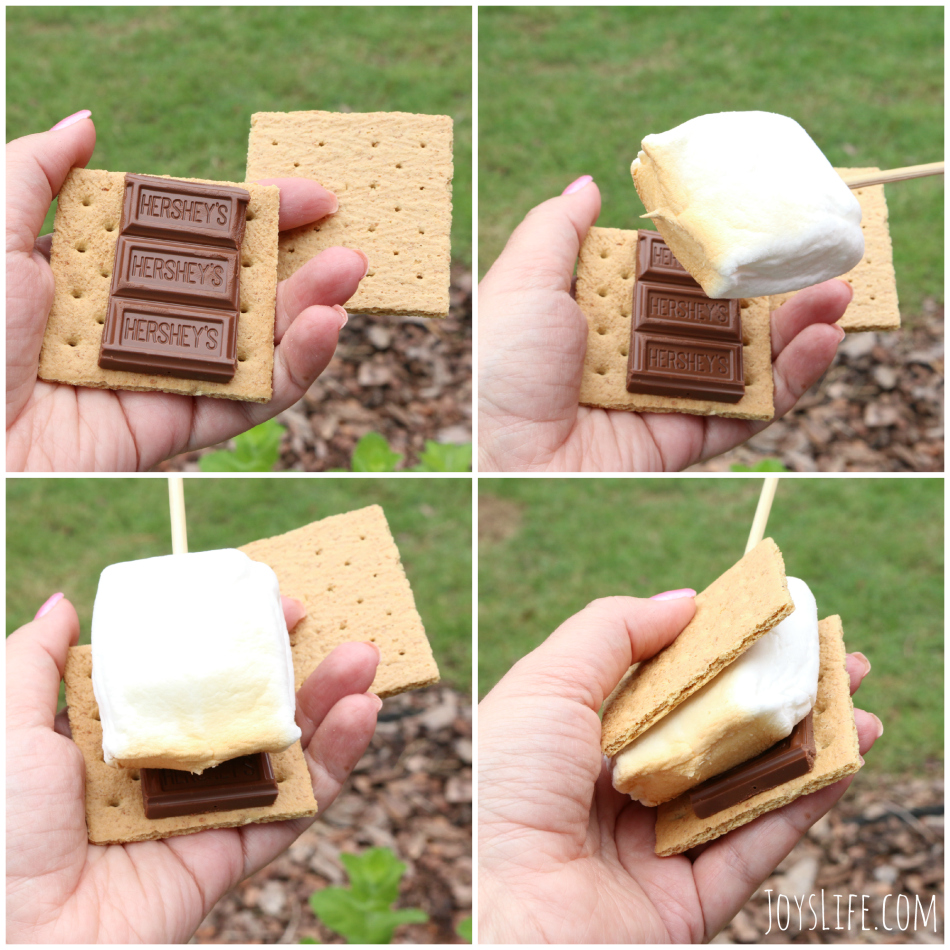 Although I had a blast creating a pretty outdoor s'mores bar, I had more fun eating the result.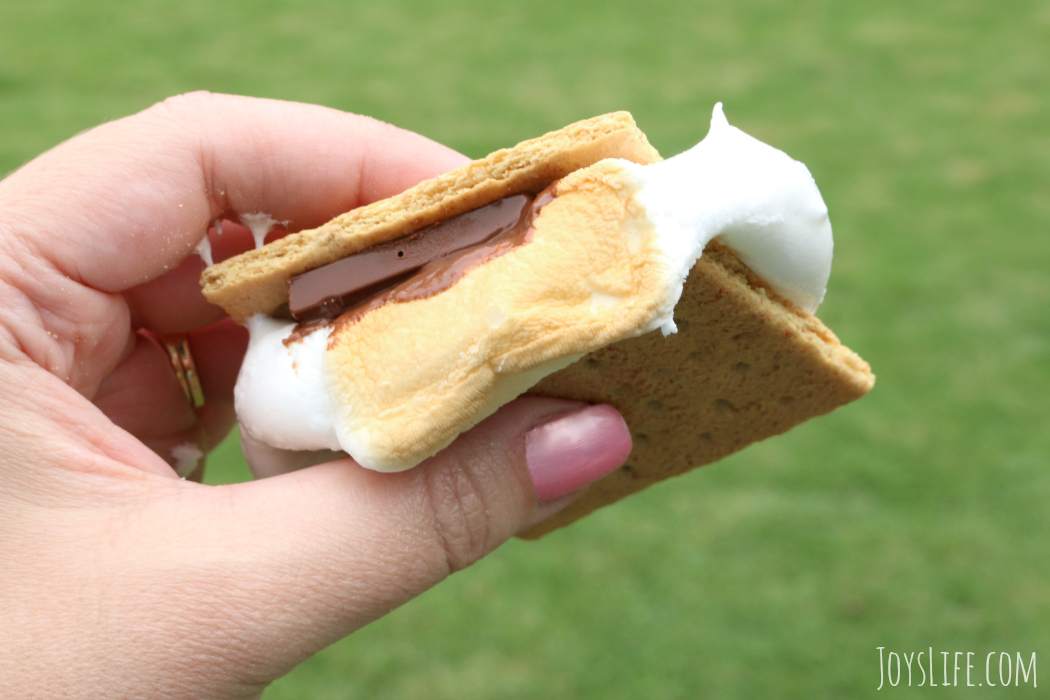 Come to me s'more!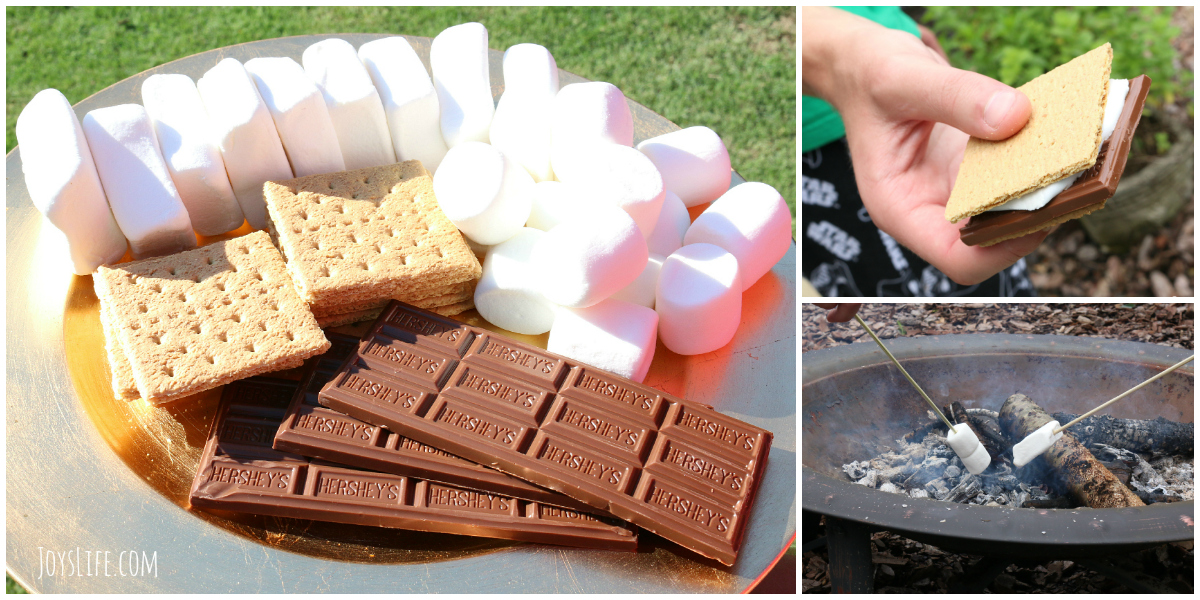 We used our fire pit to roast our marshmallows but you could make s'mores in the microwave, in the oven, over the stove top…so many ways!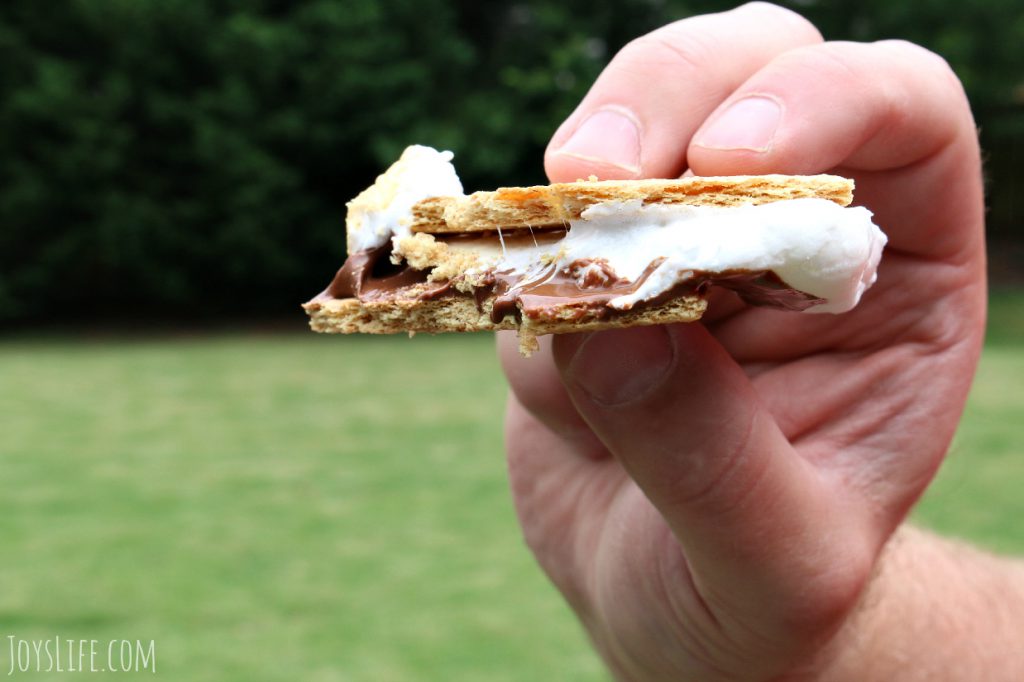 There are a lot of ways to create s'mores too!  Consider adding strawberries to your s'more.  I did and it was AWESOME!  Try some other delicious combinations like peanut butter and banana.  That's what I'm trying next.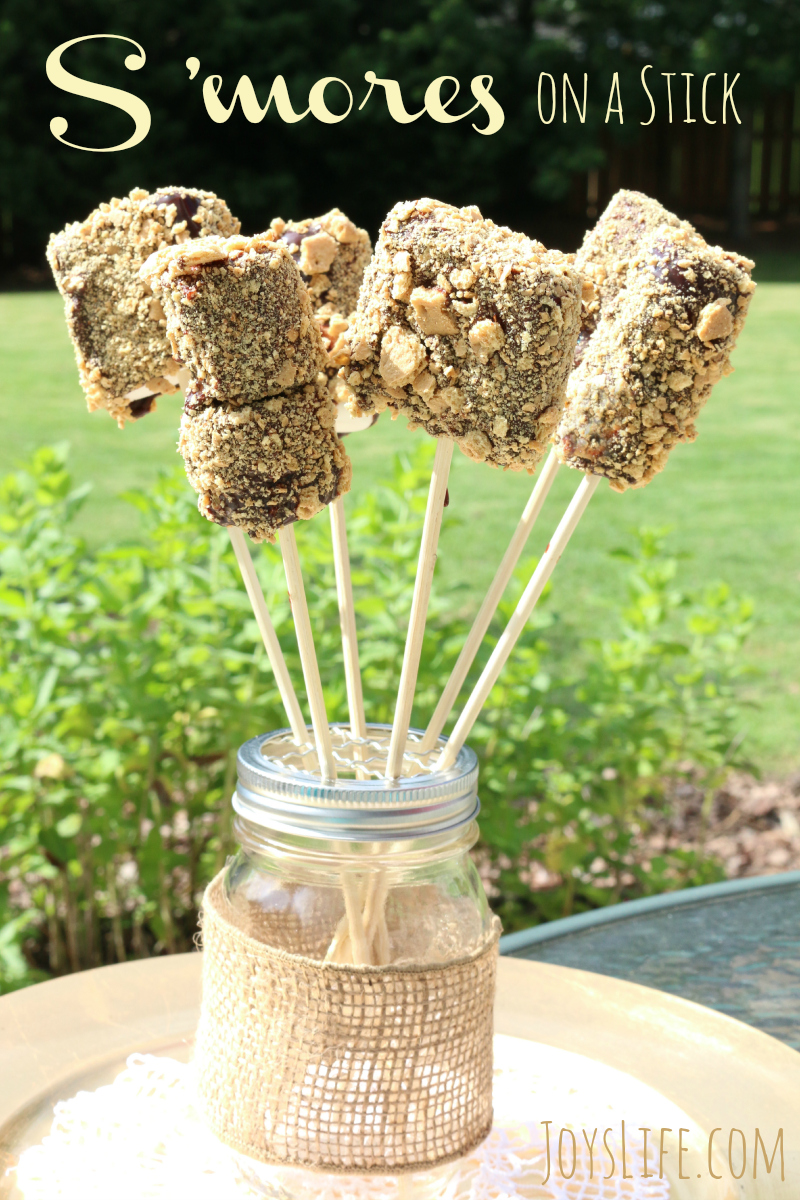 Here's another fun way to eat s'mores…on a stick!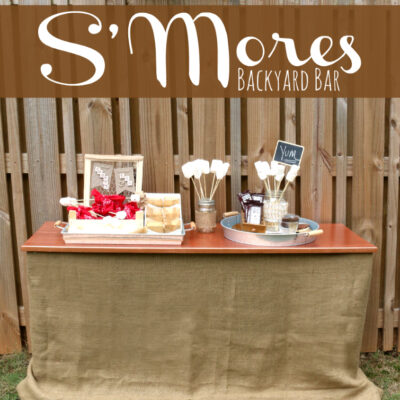 S'mores On a Stick
A delicious way to eat s'mores...on a stick!
Print Recipe
Share by Email
Share on Facebook
Share on Twitter
Pin Recipe
Ingredients
Hershey's Milk Chocolate bars

Honey Maid Graham Cracker Squares

Kraft's Jet Puffed Marshmallows

1

Tbsp.

Milk
Instructions
Crush a pack of Honey Maid Graham Cracker Squares.

Skewer marshmallows and put them in the freezer for 15 - 30 minutes. You wan them to be cold and stiff to the touch. They should be cold enough so that the chocolate adheres to the marshmallow and starts to harden upon coating.

Add 2 Hershey's Milk Chocolate bars and 1 Tbsp. milk to a microwave safe dish.

Melt in 30 sec increments.

Stir chocolate until it is smooth and warm.

Dip cold marshmallows in chocolate.

Roll in crushed graham crackers.

Place in upright position to dry (like a jar).

Enjoy!
The next time you're in Walmart, pick up all your s'mores ingredients: Hershey's Milk Chocolate bars, Honey Maid Graham Cracker Squares, and Kraft's Jet Puffed Marshmallows.  I'm so glad I stopped into Walmart because I got those awesome metal serving trays there.  They were affordable and are so useful.  I'm super happy to have them!  They were perfect for my s'mores bar!
I'd love to hear your favorite way to make and enjoy S'mores!  What kinds of things do you add to your s'mores?