Christmas Tree Tie Dye Hoop Art
Hey everybody!  If you haven't tried the SEI Tumble Dye Tie Dye sprays, you should!  They are simple to use, so much fun and helped me make this quick and pretty design for the holidays.
To create this I used the Mint and Gold Glitter Tumble Dye, muslin, a small hoop, glitter trim, a fabric flower, gold glitter paint, a cardstock tree that I cut out using my Silhouette die cut machine, a glue gun, fabric glue and removable Glue Dots.
Do you remember seeing that cardstock tree before?  It's the exact same one I used on this project!  It's the Christmas Tree Blueprint Framelit by Tim Holtz.
First, I cut the muslin down to a size that best fit my small hoop.  I used removable Glue Dots to stick the die cut Christmas tree to the muslin.  The cardstock tree acts as a resist keeping that part of the material free of tie dye.  After the tree was glued down, I sprayed Mint Tumble Dye Tie Dye all over the material.  I blotted it a bit with a paper towel and then sprayed it with Gold Glitter Tumble Dye.  While the muslin was drying, I painted the outer hoop with gold glitter paint.  After the material was dry, I removed the cardstock Christmas tree and ironed the material to set the Gold Glitter Tumble Dye.
After the Gold Glitter Tumble Dye spray was set, I positioned the material inside the hoop until I had it where I liked it.  I closed the two hoops and tightened them at the top.  I cut away the excess material, leaving enough to be glued to the inside of the hoop.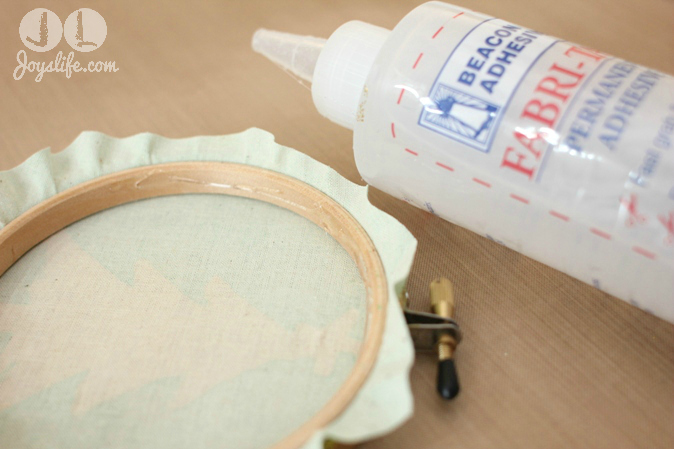 Gluing the excess down gives the project a nice finished look and keep the material from peaking back out.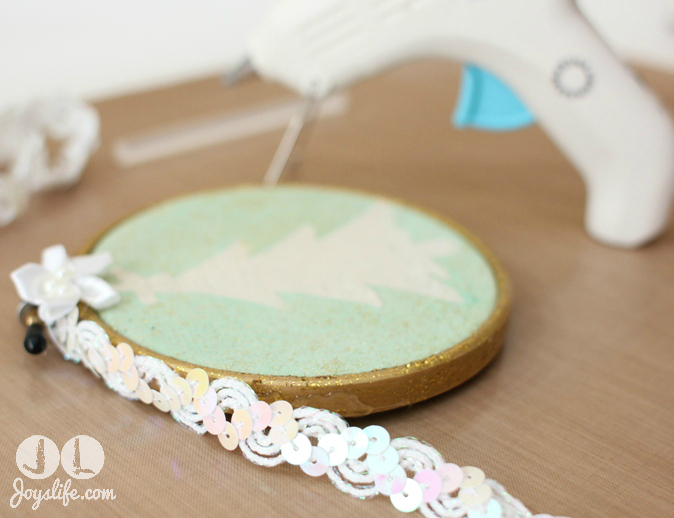 Next, I used my hot glue gun to attach some beautiful glittery ribbon to the edge of the hoop.  I added a white fabric flower to the top of the hoop and was all done!
This project is perfect for the Christmas tree, home decor or giving as a gift.  Have fun getting crafty with these great products!
I wrote this post while part of the SEI Design Team.