This shop has been compensated by Collective Bias, Inc. and its advertiser. All opinions are mine alone. #MembersMarkDetergent #CollectiveBias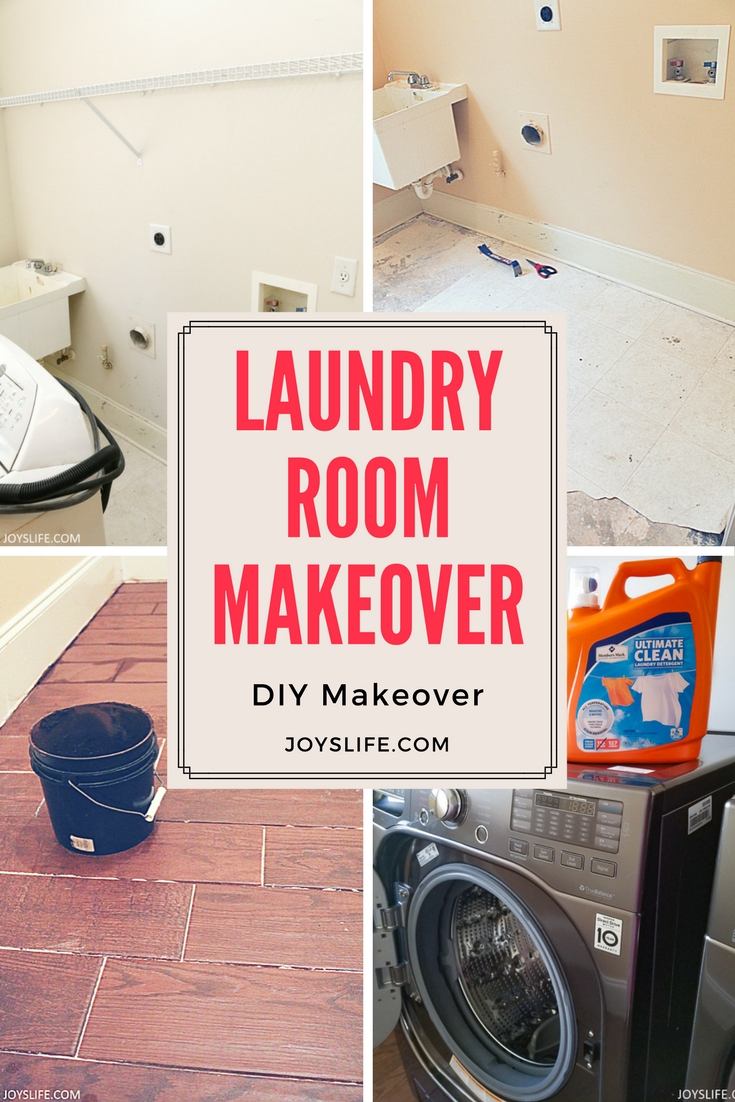 Do you all remember when I gave my washer and dryer a little bit of flair using vinyl?  I liked them better after I was done, but it was just an update of look, not function.  It didn't solve my real problem, which was storage.  It's funny what you start to notice after you take pictures.  I was looking at the Member's Mark Detergent that I got from Sam's Club as it sat on top of my washer and I started thinking, I need more storage.  I had to take off so many things, that had collected on top of my washer, just to take that photo.  Uhhhh, time to get back to work on this laundry room makeover!
Laundry Room Makeover
Before we started our laundry room makeover, the room was pretty basic.  It had vinyl floors, a utility sink and a wire shelf.  We knew we wanted to add cabinets so the first thing we did was take down the wire shelf.
Little did we know that it would be almost three years later until we finally picked out some shelves and hung them!  We did paint and tile the floors right after taking down the shelf though, because, yuck, this laundry room really needed it.
In every room that my husband has painted in our house, he paints our initials in a heart.  I love that!  No, it's not the right way to paint.  Yes, you can see the initials when they dry, if you stand in the light just right and know where to look.  You know what I think about that?  It's wonderful.  He did it here too.
I like the look of our super tall door, but it's so tall that I can't hang anything off of the back of it for storage, because everything hangs too high and I am too short.  LOL!  These ceilings are 10 feet.  Man, we should add crown molding in here!
So, there's the laundry room after painting and removing the wire shelf.
Laundry Room Makeover – Tiling the Floor
The laundry room is the only place in our house where there was vinyl flooring.  There's nothing wrong with that, but it's not what we wanted.  Plus, a bunch of years back our old washing machine flooded and buckled the laminate wood floors in our kitchen and mudroom.  Lovely.  We'd decided to tile our entire downstairs with this wood looking ceramic tile, so first we added it to the laundry room.  Also, when I say "we", I mean my husband.  I did zero work when it came to tiling, painting or adding the cabinets, besides picking out the paint, tile and cabinets.  I also spent a lot of time pointing and taking pictures.  Just keepin' it real, y'all!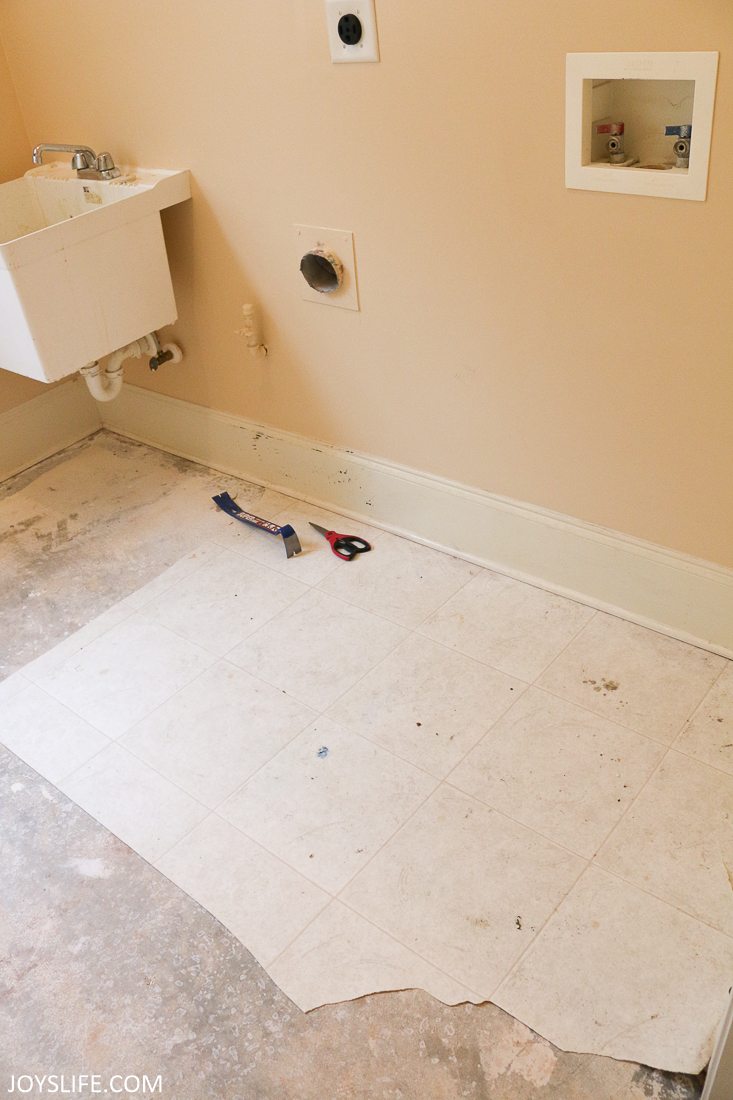 Most of the vinyl just peeled right up, thanks to light gluing and a previous laundry room flood!
After the vinyl flooring was taken out, the quarter round molding had to be removed so the ceramic tile could be installed.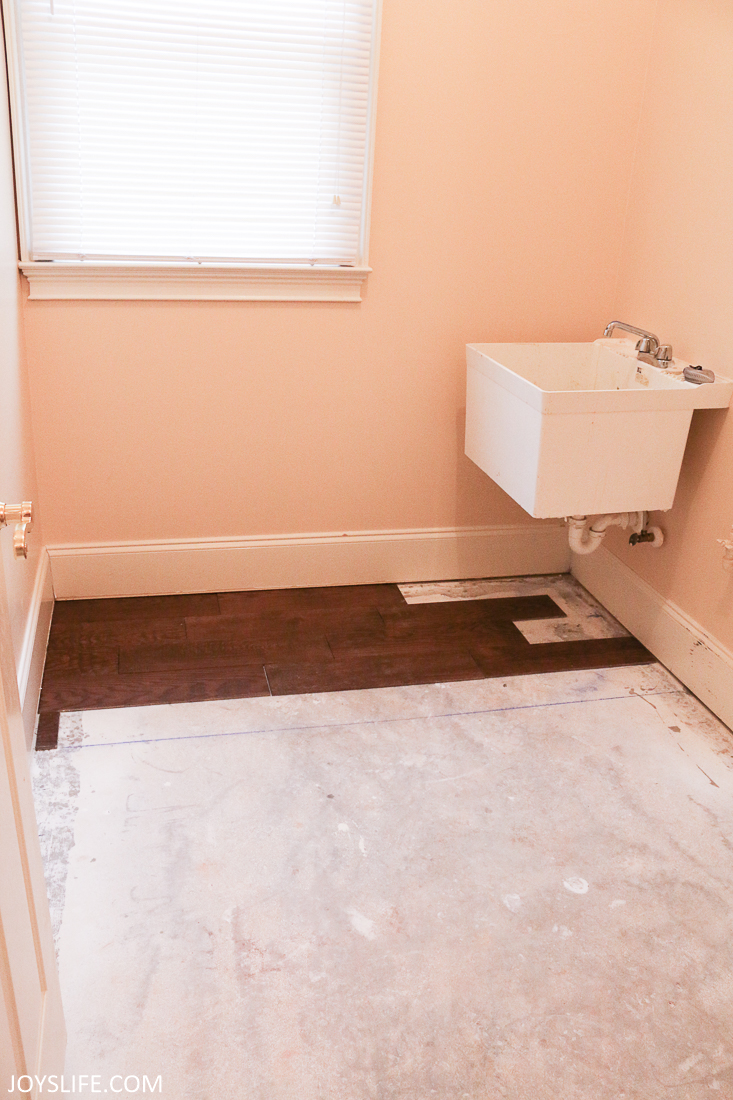 I think the hardest part of this for us was deciding what kind of tile we wanted to use.  We deliberate over things so long!  That's why it took 3 years to get this room close to being finished.
Here you see the pattern being laid out on the floor, but to install the tile, first you have to add an adhesive to the floor using a trowel, which we did.  We also used spacers between each tile for uniform alignment.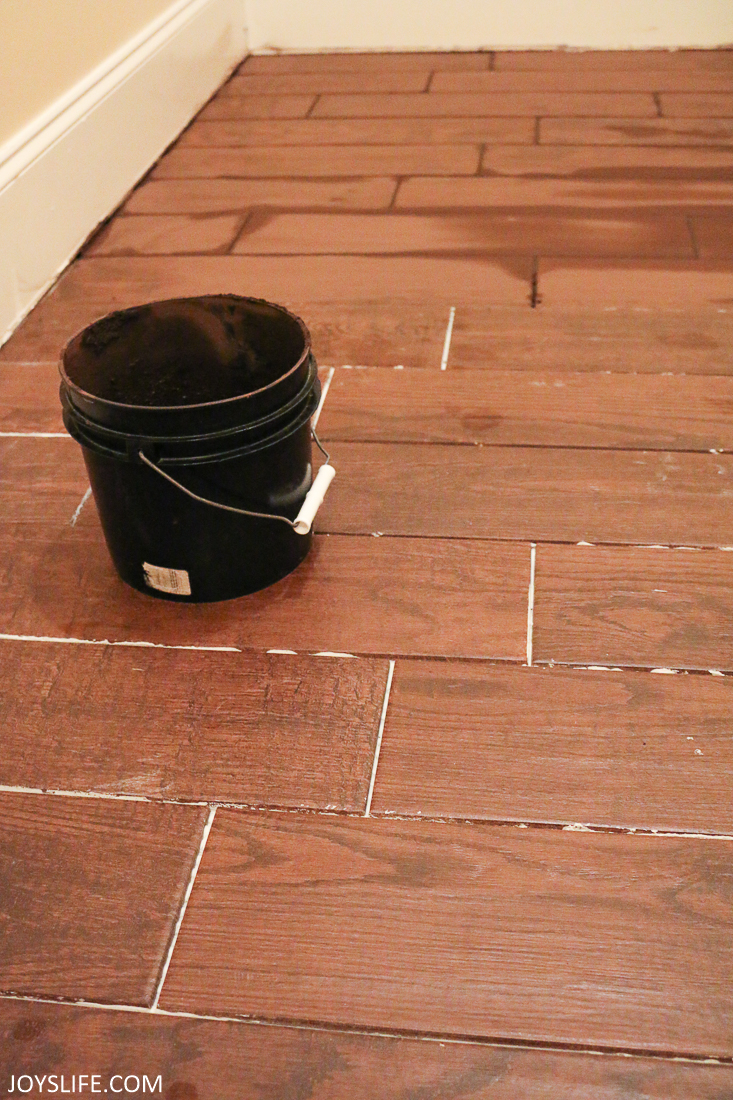 This was my husband's first attempt at cutting, grouting and installing tile flooring.  I think he did a great job, but he also learned a lot.  That's why starting in a small room was a great idea.  It really taught him was he was in for if he decides to do this to the rest of the downstairs of our house.
Installing tile can hurt your knees, so invest in some good knee pads!  No, your kids old sports pads are not basically the same thing.  Get some contractor grade, adjustable knee pads with hard caps over the knees.  We got these and they've been great!  You'll thank yourself.  My husband was super grateful that I insisted on buying them.
Now that this is done, we just need to replace the rest of the floors in our entire downstairs.  Sigh.  Well, one thing at a time, right?!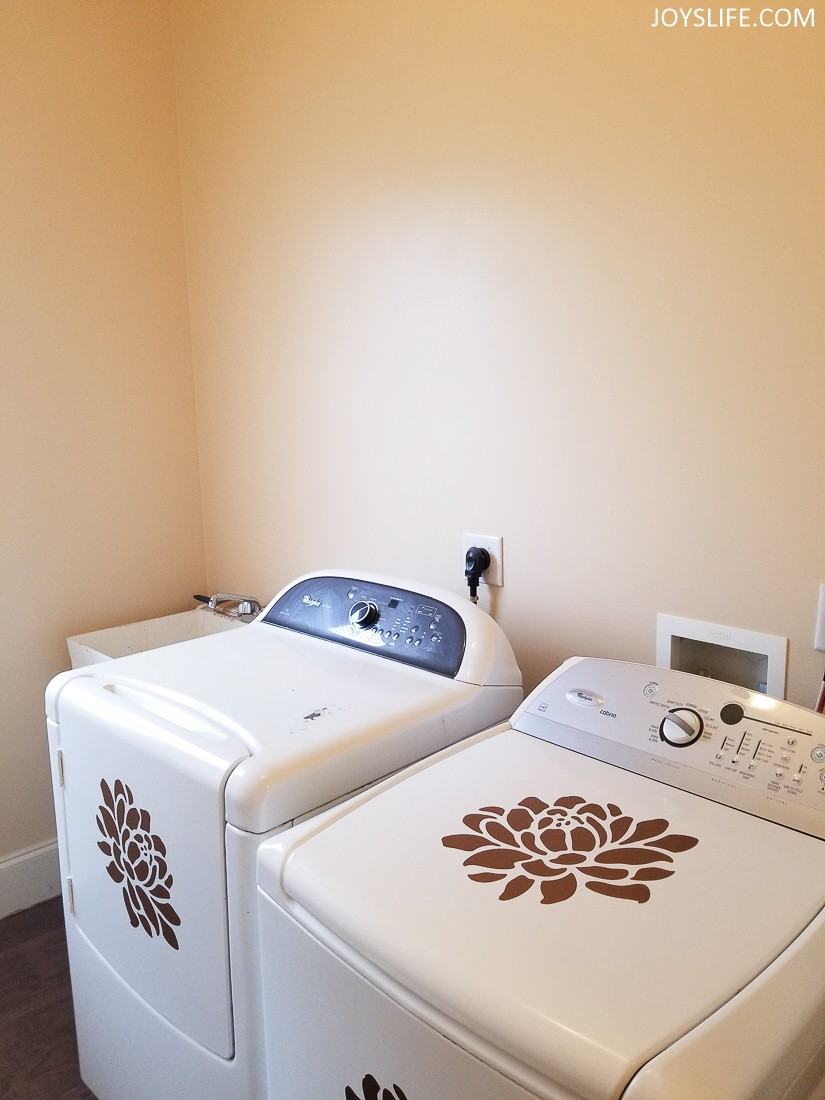 After this much was done it sat this way for almost two more years.  Then finally…we decided on cabinetry and installed it right before the New Year!
Laundry Room Makeover – Installing Cabinets
Let me go ahead and call out the fact that someone never got around to adding new quarter round molding, so don't go looking for it in this photo.  LOL!  Here's the rail for the cabinets!
Did you notice that the paint looks different in so many of these photos?  It's the lighting.  We just painted one time.
It's happening!!  That's wall board dust on the floor.  We'll get that later.  LOL!
Thanks to my husband and youngest son, we've got cabinets now!
Laundry Room Makeover – Front Load Washer and Dryer
We spent a ton of time finding the best front load washer and dryer for our needs.  I read a million reviews and asked friends on Facebook.  Finally, we picked something!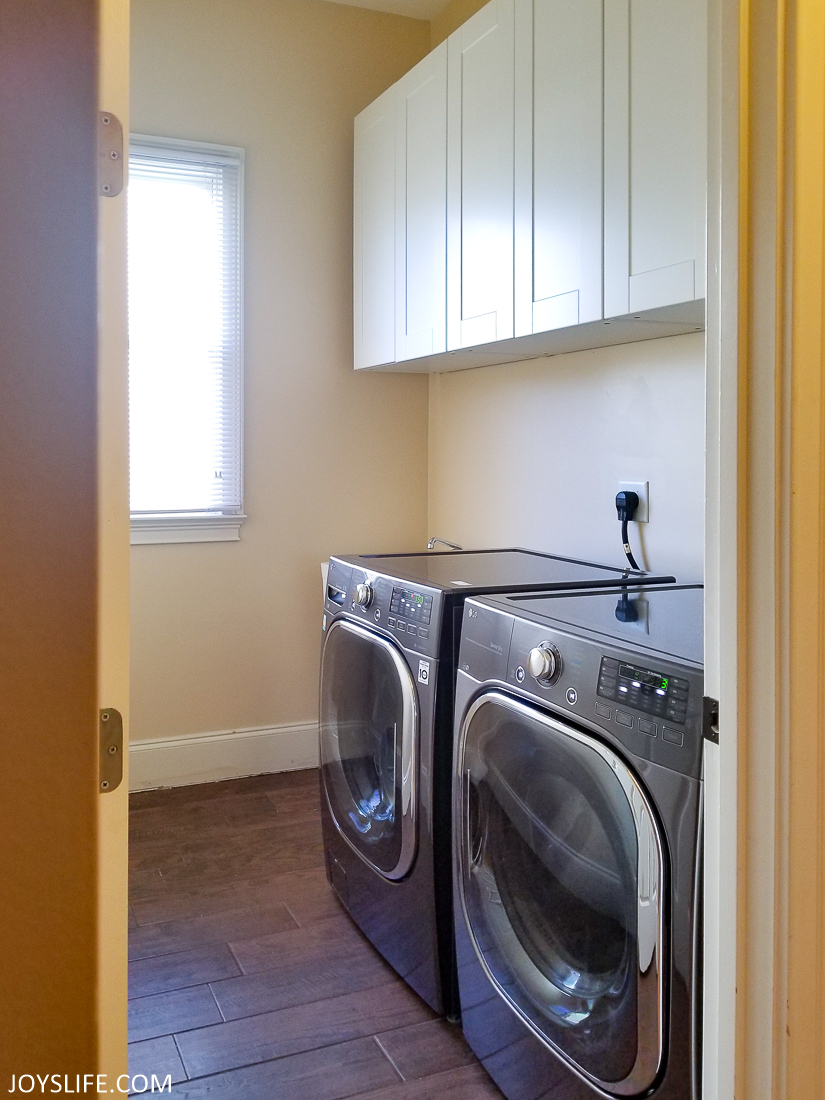 I bought them and had them delivered last week.  We're in love with them!  I can't tell you how much laundry we've done, simply because the new washer and dryer are fun…but sooooo much.
We stopped by Sam's Club after church Sunday and picked up Member's Mark Ultimate Clean Fresh Clean Detergent and about a million other things that we needed.
Member's Mark laundry formulas have recently been upgraded for even more stain fighting and whitening/brightening power.  The new packaging looks a little different than what my store had, so keep you eyes open for it!
It did a great job getting our laundry clean and at a great value.
What's left to finish the laundry room?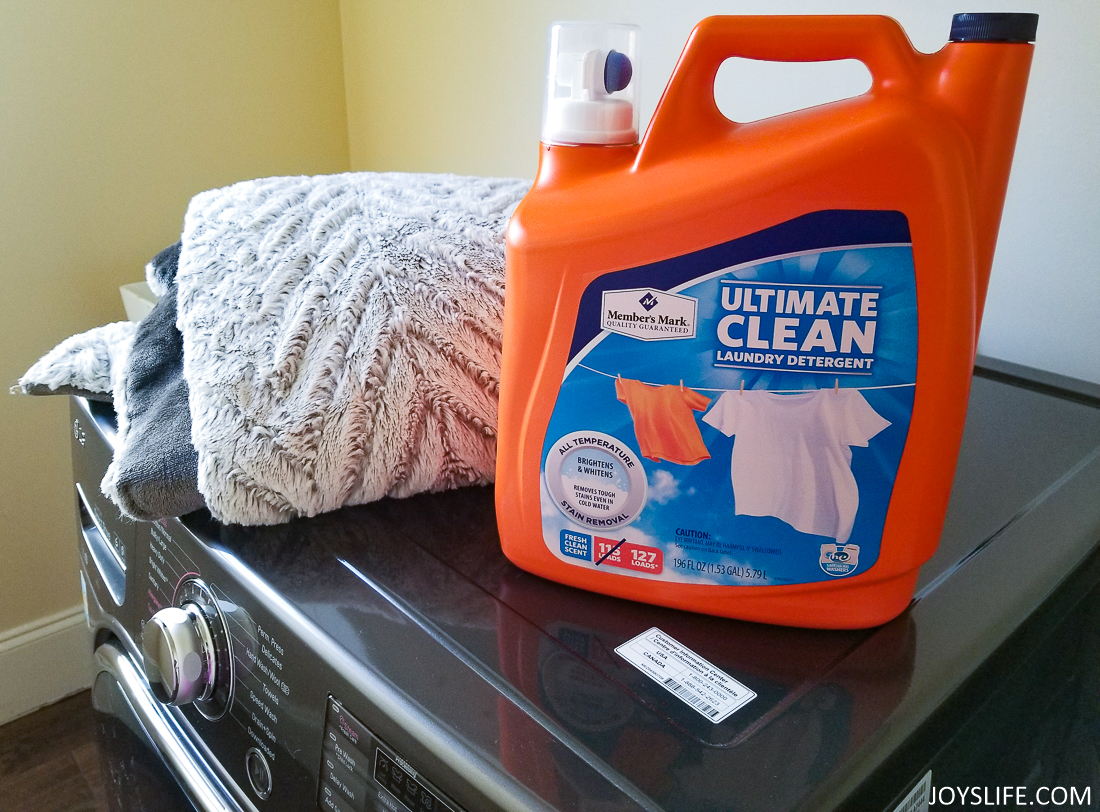 We still have plans to improve the laundry room even more.  First, we're going to add a counter top to aid in folding, because all of our laundry used to end up on our kitchen table.  Fact.  Truth.  It is what it is.  We also have to add handles to the cabinets, quarter round molding to the floors, install a new light fixture, get a new sink and replace the blind.  We're also thinking about building a removable shelf to go in front of the appliance plugs so we can obscure them, but still get to them.  After that, it will be time to add a few decorations so this room isn't so devoid of personality.  This has been a long but fun room makeover!  I love how functional it is becoming!
Do you have some laundry room or other makeover goals this year?