Sausage Egg & Cheddar Scones
This post was sponsored by GOJO, the makers of PURELL® Multi Surface Disinfectant, as part of an Influencer Activation for Influence Central and all opinions expressed in my post are my own.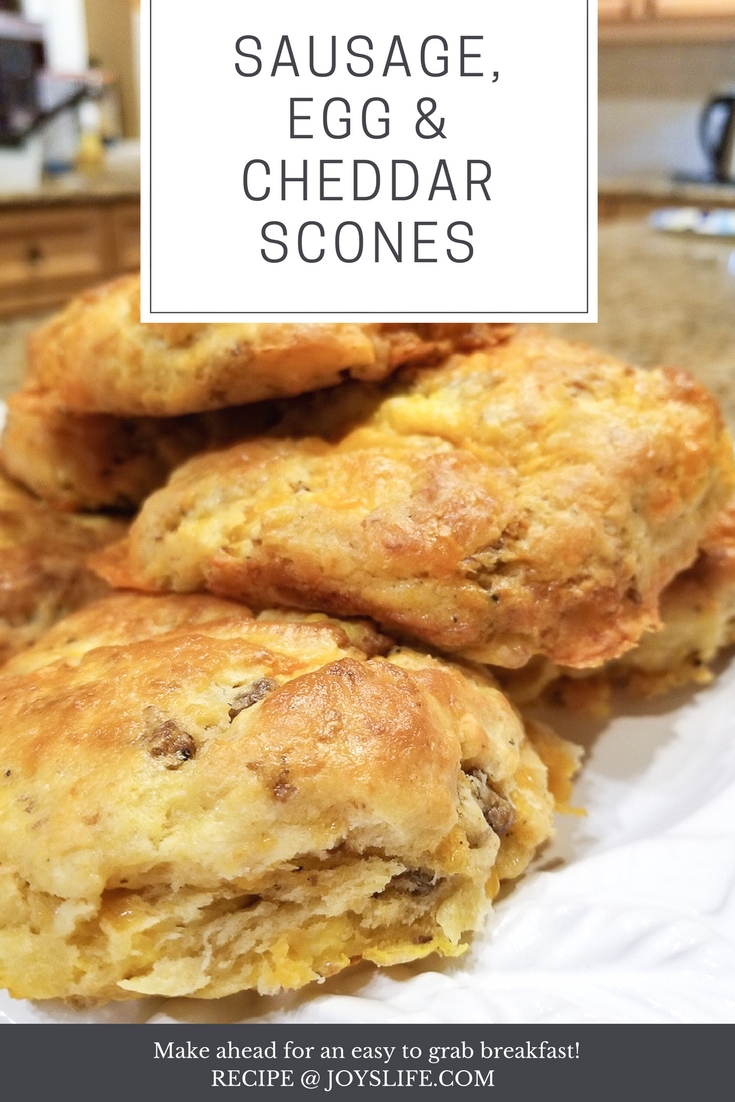 Hey friends!  I've got a fantastic sausage, egg and cheddar scones recipe to share with you today, but first I want to talk about something that I don't talk about much.  Disinfecting.  Wait!  Just bear with me a minute, because I am, for real, passionate about this product.  I kid you not.  I've been using it for weeks before writing this post, and my whole family can't stop talking about how much they love using it too.  Really.  I'm totally serious.  It's PURELL® Multi Disinfectant Spray and it's awesome.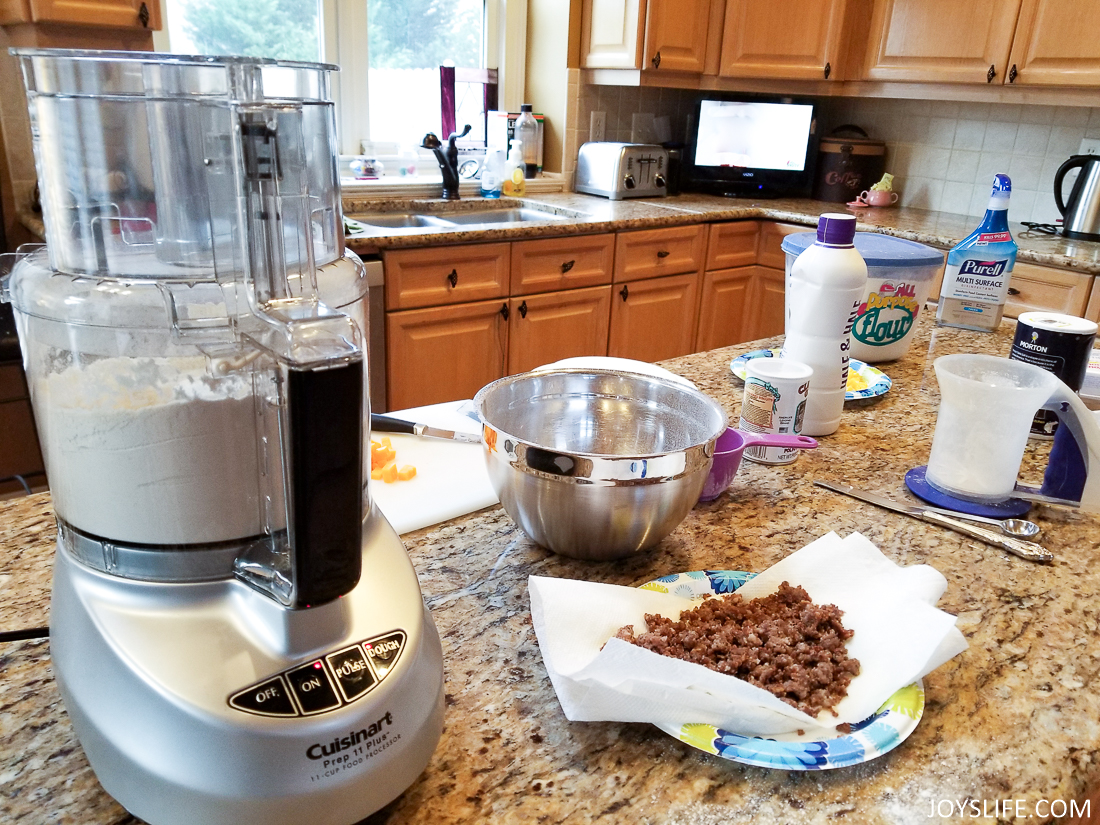 It's approved for food prep surfaces, which is why it's perfect on our sealed granite counter tops. These are the sausage, egg and cheddar scones in progress.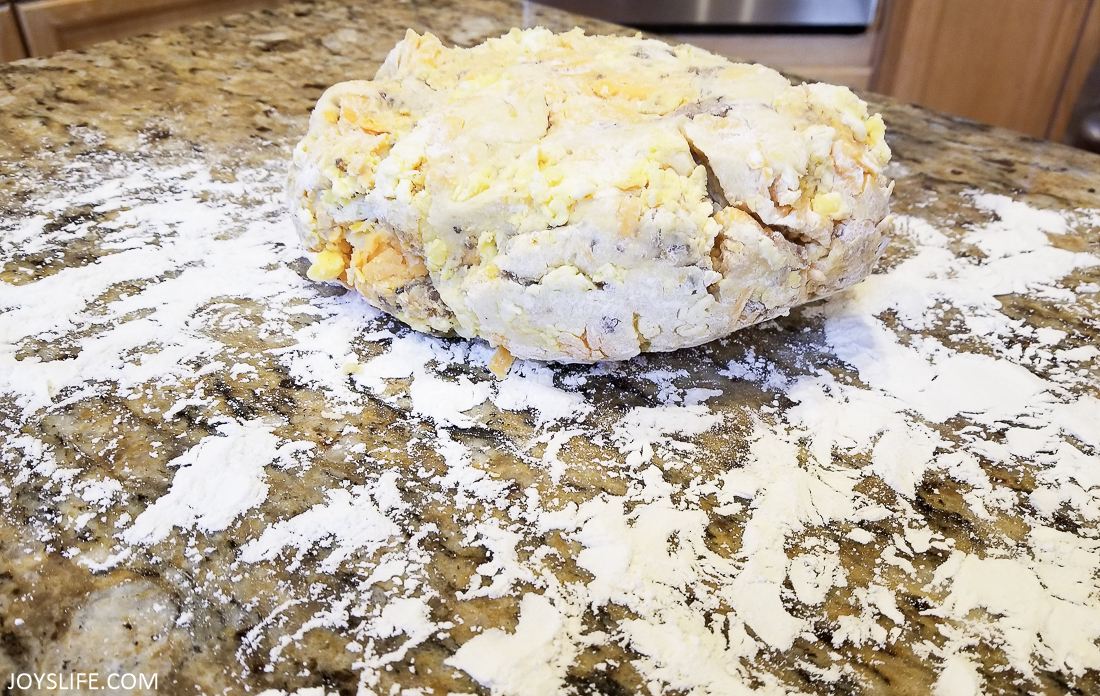 I used it right before my husband laid down the flour to pat out and cut the sausage, egg and cheddar scones. There's no water rinse required on food prep surfaces, so you can get right to chopping, rolling and creating in the kitchen.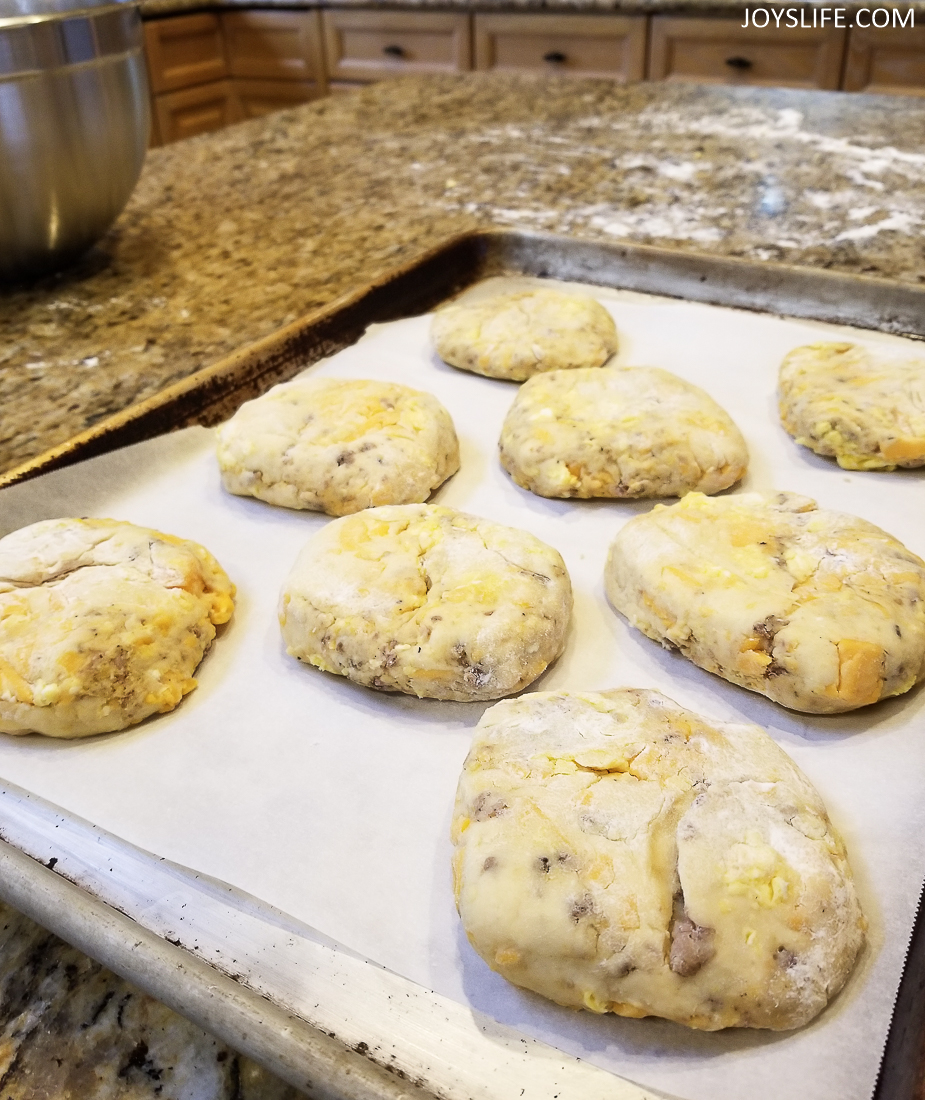 It's worry-free around kids, pets and food, which is good because we've got as many kids as we do pets.  So, I really appreciate that PURELL® Multi Disinfectant Spray has no harsh fumes, no toxic residue, no harsh chemicals and no bleach, because I need to disinfect around their bowls.  I also used it to disinfect a TV remote that the puppy sat on (so gross).
Thankfully the kids are old enough to stay off of the table, unlike our cat, Domino, who grosses me out with his terrible manners. I'm constantly having to disinfect our table because of the obvious offender in this photo. Ick, cat on table. Just, no.
He could care less if I tell him to get down, so I just have to disinfect and clean up after him. It's so true that dogs have owners and cats have staff. I'm definitely a staff member.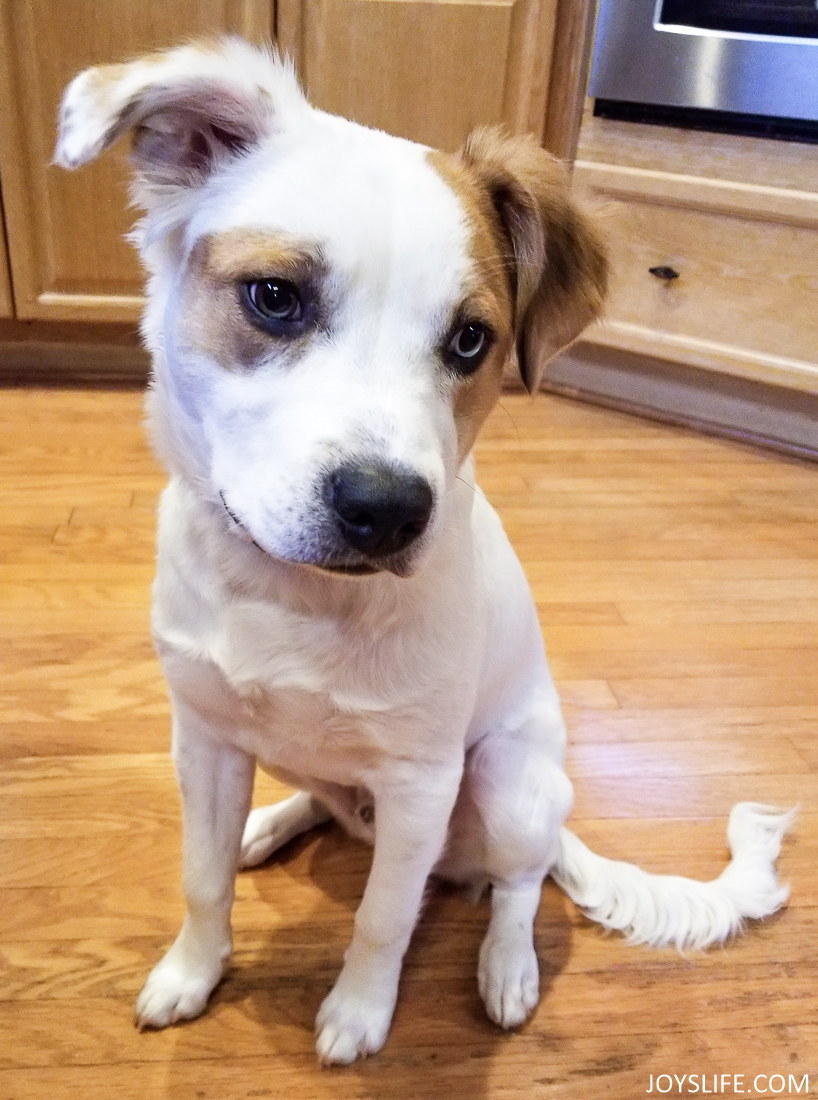 Here's the newest member of the family, creating chaos 24/7.  He's another reason we're using PURELL® Multi Disinfectant Spray.  It's got germ killing power of bleach without harsh chemicals and I really appreciate that around this pup, and my whole family!  We love that we can use it so many places, where you wouldn't use traditional cleaners.  I used it to disinfect my cell phone and it looks like new, better than any other time that I've wiped it down.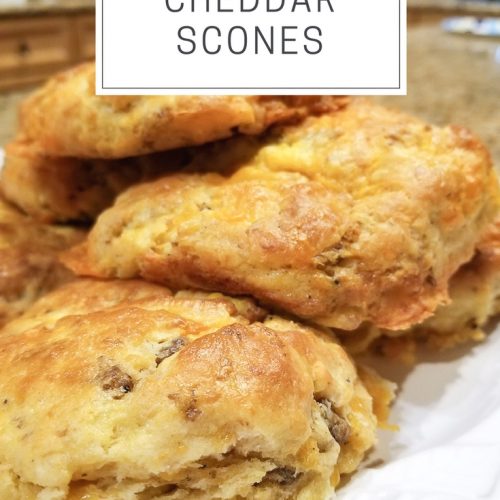 Sausage Egg & Cheddar Scones
Print Recipe
Share by Email
Share on Facebook
Share on Twitter
Pin Recipe
Ingredients
1/2

lb

sausage

2

cups

all-purpose flour

4

tsp

baking powder

1/2

tsp

salt

5

Tbsp

butter

room temperature

3

eggs

1 for egg wash, 2 for dough

3/4

cup

heavy cream

12

oz.

cheddar cheese

some shredded and some cubed

3

eggs

scrambled
Instructions
Brown sausage, breaking into small pieces as you cook.

Scramble 3 eggs, breaking into small pieces. Be careful not to overcook.

Sift the flour, baking powder, and salt together.

Place in a food processor using a dough blade and cut the butter into the flour.

Beat 2 of the raw eggs and the cream together, then add to mix to the dry ingredients in the food processor. (The other egg is for the egg wash.)

Process just enough to incorporate into the flour and butter. Don't over mix.

Put the dough into a bowl.

Fold in the cheese, scrambled eggs, and sausage, until it is incorporated, but don't over mix!

Place the dough on a floured surface.

Shape the dough into a rectangle about 3/4 inch high.

Cut the dough down the center, long ways, and two times across the top to form 6 squares.

Shape them round or leave them square.

Place them on a parchment covered baking sheet.

Beat the remaining 1 egg with 2 Tbsp of water.

Brush the tops of the scones with the egg wash.

Bake at 450 for 10 to 12 minutes, or until golden brown.

Serve or refrigerate after cooling and enjoy later.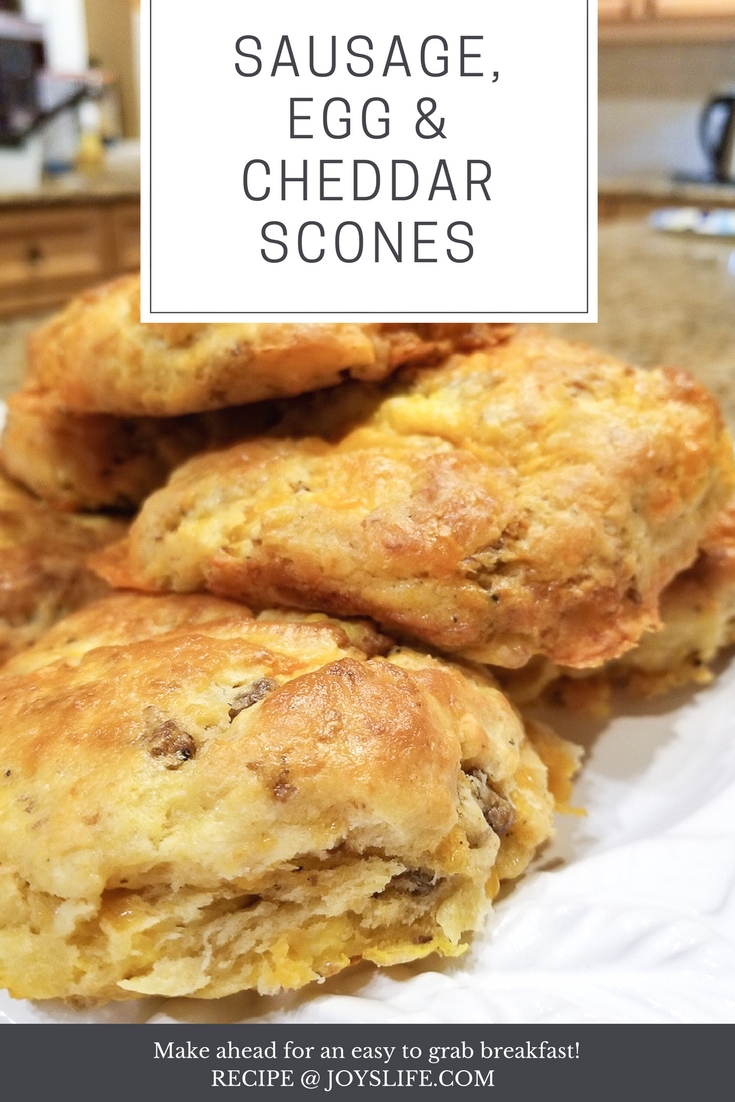 If you make the recipe, let me know what you think!