Mozzarella Cheese Stick Meatball Sandwich & Christmas Gift Tag Holiday Hack
This is a sponsored post written by me on behalf of Farm Rich. All opinions are 100% mine.
Want to spend more time with friends and family and less time in the kitchen this holiday season?  Then you've got to try this sandwich.  It's so easy, ready whenever guests arrive and delicious.  Get ready to thank me.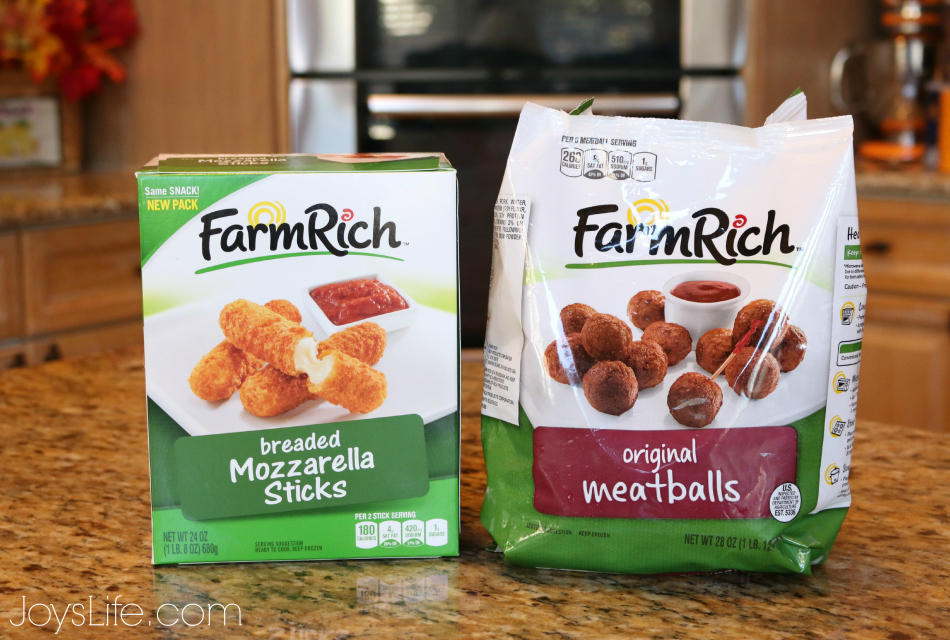 I'm using Farm Rich Mozzarella Sticks and Meatballs.  By the way, Farm Rich Meatballs are gluten free!  When you're picking these things up at the store to make this awesome sandwich, check out the newest Farm Rich Snacks: Loaded Potato Skins and Pepperoni Pizzeria Bites.  Yum!  You'll only need two more things to make this sandwich, hard rolls and a jar of your favorite pasta sauce.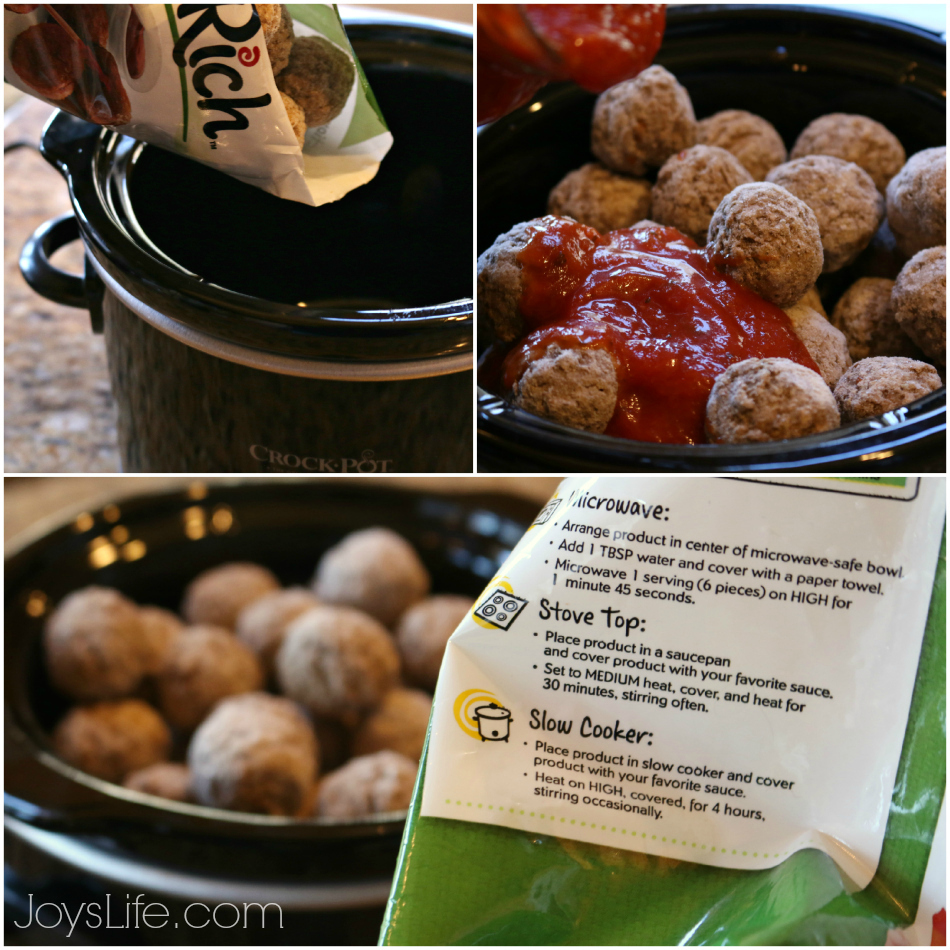 Even the side of the Farm Rich meatball bag makes this easy.  Pour the meatballs into your slow cooker, pour in a jar of sauce and heat them on high for 4 hours.  Easy!
Here they are four hours later.  Ready!  I ate some right away because they smelled so delicious.
Next, grab your Farm Rich Mozzarella Sticks and cook them according to the box directions.  Save the box!  There's a holiday tag idea hack coming your way!
I played with my food.  After I was finished being ridiculous, I made my sandwich.  Here are the simple steps:  Cut the roll in half, add meatballs, add warm cheese sticks and maybe a little extra sauce.  Eat.  Share.  Make a list to buy more Farm Rich meatballs and cheese sticks because this sandwich is such a hit.  Really.  Trust me.  The other great thing about it is that you can leave those meatballs on warm after they are cooked and create these sandwiches whenever people drop by.  That's so nice and easy!  Farm Rich's products help you create quick, delicious meals for gatherings rather than spend all day in the kitchen away from your guests and family!
Mozzarella Cheese Stick Meatball Sandwich
A delicious sandwich that's super easy to make!
Print Recipe
Share by Email
Share on Facebook
Share on Twitter
Pin Recipe
Ingredients
Farm Rich Meatballs

Farm Rich Cheese Sticks

Hard Rolls

Thick Pasta Sauce
Instructions
Pour the meatballs into your slow cooker.

Add sauce.

Cook meatballs and sauce on high for 4 hours.

When the meatballs are finished cooking, make the cheese sticks according to box directions.

Slice the hard roll in half.

Add meatballs.

Add warm cheese sticks.

Add extra sauce if desired.

Enjoy!
Remember that Mozzarella Cheese Stick box I told you to hang on to?  Use it to make gift tags!  Here's how:
You can make this as easy as using scissors to cut out holiday shapes from the box and decorating them.  I decided to use a Christmas tree shaped metal die in my electronic die cut machine and cut out three Christmas trees.  Cut out a tree from the Farm Rich Mozzarella box, then cut two matching shapes from cardstock or other paper.  Glue the papers to your box shape.  I used a Xyron to add adhesive to mine but you could use whatever glue you have on hand.  Cover with glitter for an extra sparkly tag!  Punch a hole in the tag and add string for tying to the package.  I've used a brad and small banner piece.  You can create these tags any way you'd like.  The sky is the limit!  This quick box into tags idea saves you lots of time and money.
Want to know exactly who has these snacks and where they are?  Go here: Farm Rich Product Finder
Connect with Farm Rich:  Facebook Pinterest  Twitter Instagram