Smoky Crab Pimiento Cheese
All opinions are mine alone. This shop has been compensated by Collective Bias, Inc. and its advertiser, Louis Kemp. #CrabDelightfulHoliday #CollectiveBias
You're going to love this simple & delicious Smoky Crab Pimiento Cheese!  Get ready to share the recipe because your guests are going to ask for it!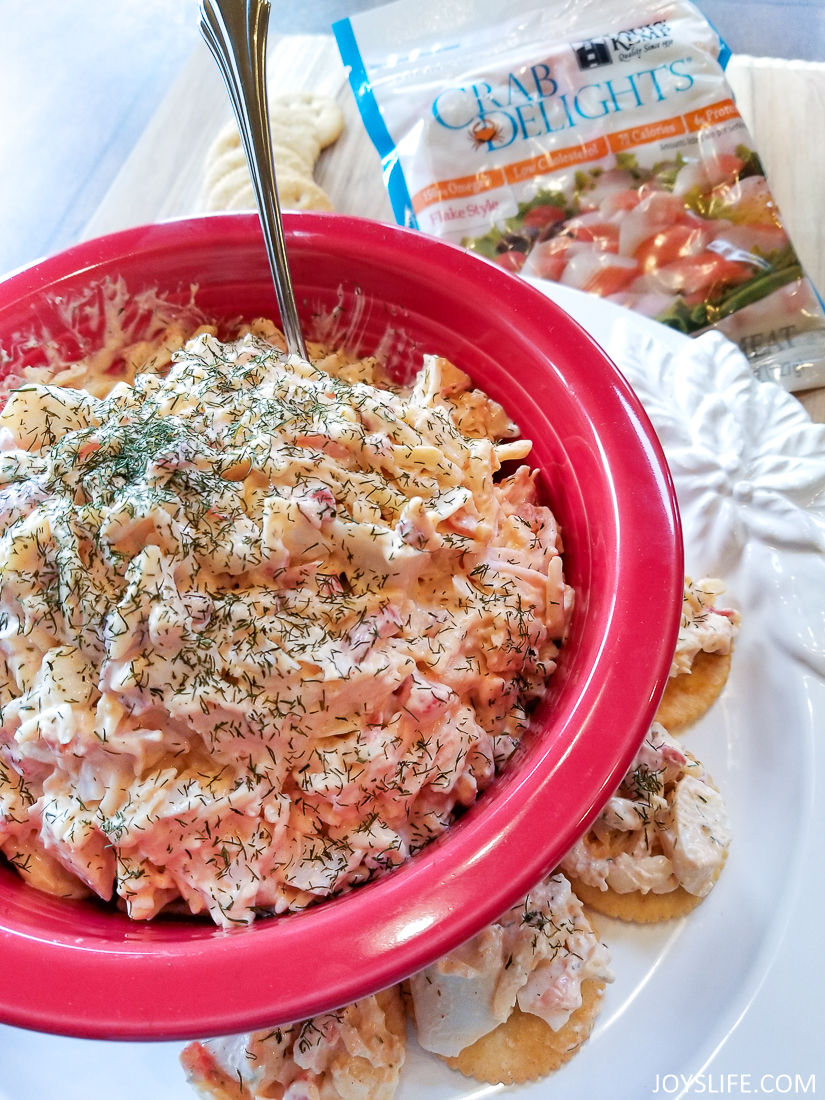 Don't you love recipes that are delicious and fast?  I do!  They're especially important around the holidays, because they can help you get out of the kitchen fast, so you can focus on the fun and fellowship of entertaining.  That's one of the reasons that this delicious Smoky Crab Pimiento Cheese is perfect for the holidays, and year round.  Another reason?  It gives you options!  It can be used as a spread for crackers, as a dip, or on a sandwich!  Best of all, you can make it ahead of time so you're ready to share at a moment's notice!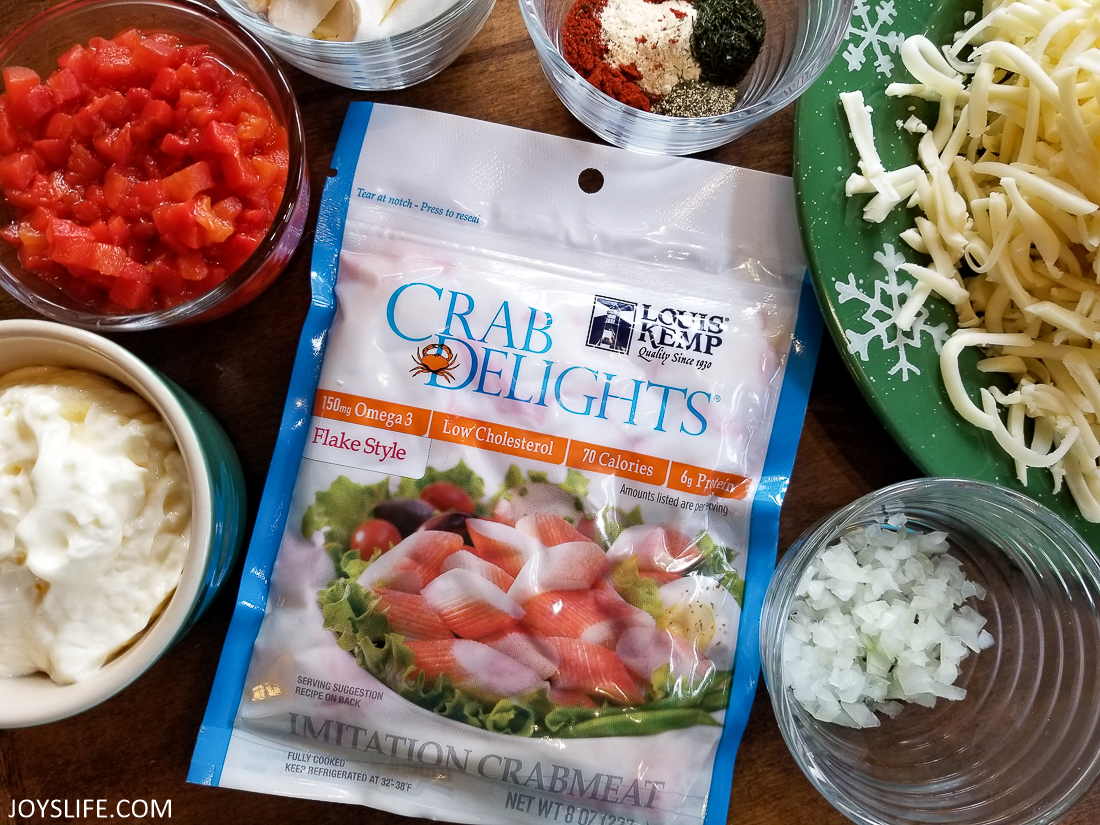 I'm using Louis Kemp® Crab Delights® Flake Style and it is perfect in this simple recipe!  Crab Delights are made with premium Wild Alaskan Pollock fillets, which is the most abundant certified sustainable fish species.   They are naturally low in calories and cholesterol, and they're gluten-free!
Why You'll Love This Recipe
If you can stir, you can make this recipe.  It's fast.  It's delicious.  It's easy.
You're stirring, that's it!  Combine cream cheese and mayonnaise until it's smooth, then add the spices and minced onion.  Ok, well, you will have to mince an onion, but I guess you could buy minced onion, so there's that!
Look at these holiday spices!  Okay, it's just smoked paprika, dill, cayenne pepper, garlic powder and black pepper but still…holiday"ish", right?
Smoky Crab Pimiento Cheese Recipe
Smoky Crab Pimiento Cheese
If you can stir, you can make this recipe. It's fast. It's delicious. It's easy.
Print Recipe
Share by Email
Share on Facebook
Share on Twitter
Pin Recipe
Ingredients
3

cups

Monterey Jack cheese

1

cup

mayonnaise

8

oz

Louis Kemp® Crab Delights® Flake Style

4

oz

jar Pimientos

4

oz

cream cheese

1

Tbsp

minced onion

1/2

tsp

smoked paprika

1/2

tsp

garlic powder

1/2

tsp

black pepper

1/2

tsp

dill weed

1/4

tsp

cayenne pepper

Dill weed to garnish top.
Instructions
Combine cream cheese and mayonnaise until smooth. A fork is helpful if mixing by hand.

After mixture is smooth, add spices and onion.

Stir well.

Add shredded cheese to a separate large bowl. (This makes the next step easier to manage.) You could do this all in one large bowl.

Fold mayonnaise/cream cheese mixture into shredded cheese.

Add pimientos and combine.

Remove Crab Delights from package and chop to smaller pieces.

Stir in Crab Delights.

Top with dill weed and serve!

Enjoy!
After you've stirred the cream cheese, mayo and spices together, it's time to add the shredded cheese and pimiento.  Did you know that pimientos are a sweet red pepper?  I promise you that I had no idea what they were.  I thought a pimiento was it's own thing.  I accepted that as fact, which I made up and told myself, but I was completely wrong.  LOL!
After you stir in the pimientos and shredded cheese, it's time to add the Crab Delights!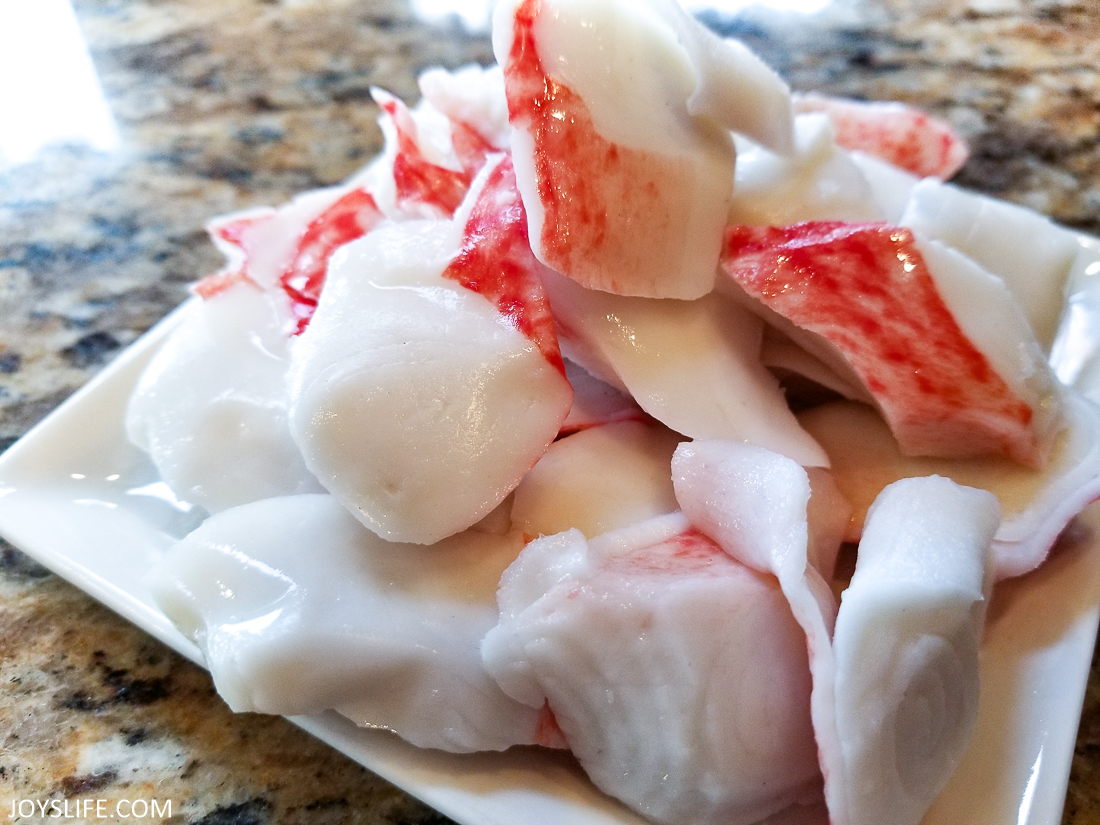 Take the Crab Delights out of the package.  Some of these pieces didn't make it into the recipe, because we ate them.  YUM!
Chop the Crab Delights into smaller pieces and add them to the mixture.  Stir!  Top it with some dill weed for garnish.  Now, you're ready to serve!
Day one, we ate this Smoky Crab Pimiento Cheese on crackers, but the next night, my husband put it between two slices of bread and created a decadent Smoky Crab Pimiento Grilled Cheese Sandwich!  It was terrific!
You'll find the Crab Delights at Target in the refrigerated seafood section.  I also found the cutest bottle brush Christmas trees there!  They look super cute in my china cabinet.  I love shopping in Target!  While you're there, use this coupon to save $1.00 OFF Louis Kemp® Crab Delights®!
What's your go-to quick holiday dish?  I mean besides cookies.  LOL!