How to Stamp on Popsicle Sticks & Popsicle Recipe

Welcome to the Fun in the Sun Blog Hop!
Be sure to check out all cool blogs that are participating at the bottom of this post.
I have to tell you, I was SO EXCITED to try out this idea I had that I could hardly wait for all of my supplies to show up! I thought it would be super cool if I could use my stamps and some (important) non-toxic ink to stamp Joy's Life sentiments on popsicle sticks. So, I went to Amazon and bought the Norpro Ice Pop Maker and some extra popsicle sticks.
Create these fun pop sticks with Joy's Life stamps.
I've always made my kiddos popsicles using OJ and other juices. Where have I been? I found popsicle recipes calling for Jello and Kool Aid. Sounded yummy but all I had on hand was sugar free Jello, so I used that. It turned out GREAT!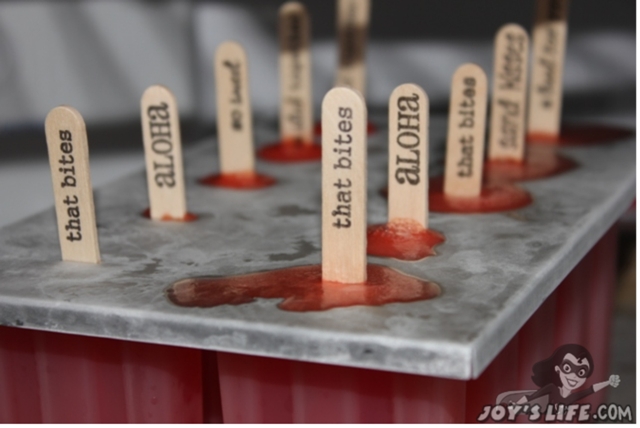 Here's the Popsicle Recipe:
Jello Popsicle Recipe
Print Recipe
Share by Email
Share on Facebook
Share on Twitter
Pin Recipe
Ingredients
1

small box Jello

any flavor

1/2

cup

sugar

2

cups

boiling water

2

cups

cold water
Instructions
Put the Jello and sugar in a bowl.

Add boiling water and stir to dissolve.

Add the cold water and stir.

Pour into popsicle mold/maker (or Dixie cup with toothpick holder).

MY TIP: If you buy the popsicle maker that I used, freeze for 2 hours before adding the sticks. Add sticks and freeze for at least 2 more hours for the best outcome.
Notes
I used sugar free Jello because it's what I had.
Using non-toxic ink, I stamped all of my popsicle sticks. For my first try, I stamped them all 24 hours in advance. By batch 3, I stamped them 10 minutes before I stuck them in the popsicle mold. LOL! Both ways turned out well! I was super impressed.
All sayings shown are from Pun in the Sun and Sweet Popsicle Puns Joy's Life stamps.
I wasn't sure what to do with my plethora of popsicles, so I decided to separate them with wax paper and sort of stand them in a freezer safe bowl. Even after several days, they were still fine. YAY!
Do you want to try this project? You can buy Sweet Popsicle Puns and/or Pun in the Sun stamps right here!
Guess what popsicle Super Husband ate first? Yep. Best Pops Ever! Awww…
Time for a Give Away!
I wasn't sure if the winner would want a popsicle maker or some other cool crafty thing so I thought I'd give that option by offering a $20 gift certificate to my favorite shopping place…Amazon! Woo hoo! Just leave a comment and I'll use Random.org to choose a winner. I'll list the winner here on Saturday, June 23rd.
Congratulations to the winner!
jksmitley says: June 18, 2012 at 11:23
What a cool idea…you could theme them for different occasions with your stamps! I've made kool aid popsicles, but never heard of jello ones. You know you can make them with pudding too…chocolate popsicles!


I hope you enjoyed this BITE of summer fun! Check out these cool blogs for even more fun!
Joy – You Are Here
Cyndy
Megan
Lori
Jeannie
Ashley
Amy
Maria
Nina
Patty
Have a great weekend!