Getting Ready for Thanksgiving & Pumpkin Spice Ice Cream Sandwiches
This shop has been compensated by Collective Bias, Inc. and its advertiser. All opinions are mine alone. #Feast4All #CollectiveBias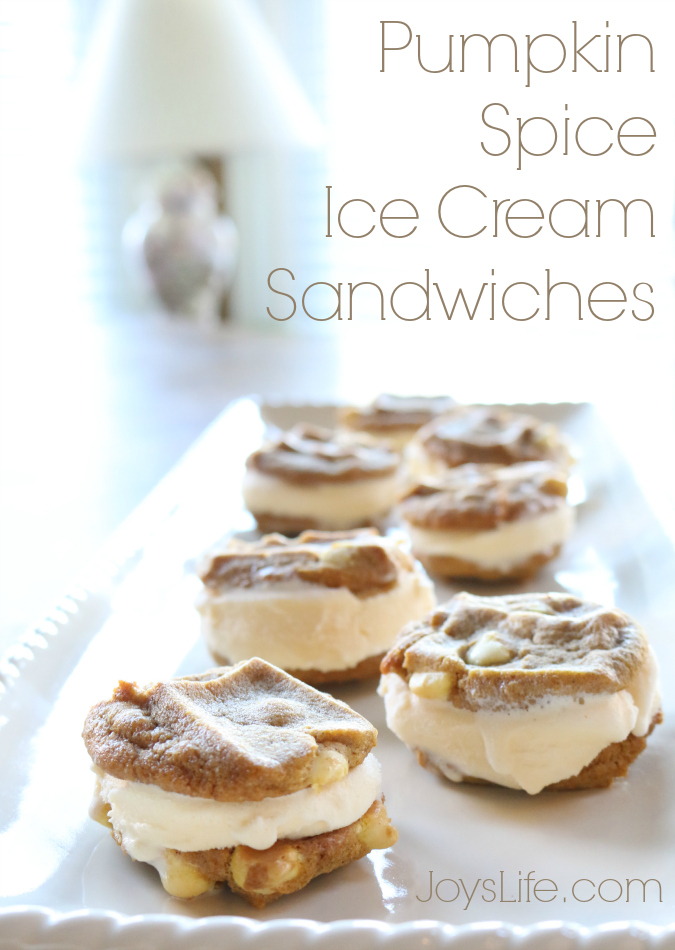 For our family, Thanksgiving is all about spending time together. It doesn't matter what we're doing, whether it's getting started on our Christmas decorations, cheering for our favorite football teams, playing games or just sitting by the fire, the time together is the best part of the holiday. So, it's nice to have things on hand that help us spend less time in the kitchen, especially since we spend all day in the kitchen on Thanksgiving Day! To keep things simple today, I'm making some yummy pizzas and pumpkin spice cookie ice cream sandwiches. We can eat when we're ready, not be stuck in the kitchen and get back to the things we enjoy!
Look how easy these ice cream sandwiches are to assemble!  My daughter loves pumpkin spice everything.  I can't wait for her to get home from college and try these!
Create your own Pumpkin Spice Ice Cream Sandwiches by simply baking the NESTLÉ® TOLL HOUSE® Pumpkin Spice Refrigerated Cookie Dough (which are super yummy and made with LIBBY'S® 100% Pure Pumpkin, a blend of spices and Premier White Morsels).  Next, put a cookie sheet in the freezer so you can get a nice freeze on your ice cream sandwiches.  Prepare the sandwiches by putting your favorite ice cream, I used vanilla, between two cookies.  Put them on your cold tray and put them back in the freezer.  When they are frozen, they're ready!  It's so easy to BAKE SOME LOVE™ with NESTLÉ® TOLL HOUSE® Pumpkin Spice Refrigerated Cookie dough.  Get 'em now!  They're available for a limited time only!
As the kids come down, the tree goes up, the pizza gets eaten and the cookies get made!  We had Digiorno Rising Crust Supreme pizza.  It was really good!  Since DIGIORNO® makes sure everything comes from the best places, each pizza has cheese from Wisconsin and tomatoes from California. And they're all baked up fresh in the best place of all – your oven!
I'm so glad that we're going to have our tree up for Thanksgiving. Now we can surprise our daughter when she comes home for Thanksgiving break! I like to keep quick things on hand like pizza and those yummy pumpkin spice ice cream sandwiches. Those things are perfect to share when you don't want to spend a lot of time in the kitchen, so you can get back to spending time together.
Here's how the evening has progressed: eat, laugh, watch the game, play with the dog, put up the tree. So far, we have lights. LOL! Well, at least we've had a good time! Our tree is still a few feet from the ceiling but it looks like it's right up on it. Oh well. I like big trees, I cannot lie. When my husband and I were first married, I brought home a tree that was so big we could barely move around it in our one bedroom apartment. I had seriously misjudged the size of that place. It was so funny. We're the same way about Thanksgiving. Our turkey is always enormous. I like big birds, I cannot lie.
I found everything at Walmart, including candles for the Thanksgiving table. Hey, try this candle decor and gift idea! I used it on Thanksgiving a few years ago. I got all my candles for the gifts from Walmart.
Happy Thanksgiving to You!