Cranberry Pecan Rice for the Holidays
I'm happy to have an opportunity to share a super yum recipe that I created as part of this sponsored campaign for Minute® Rice.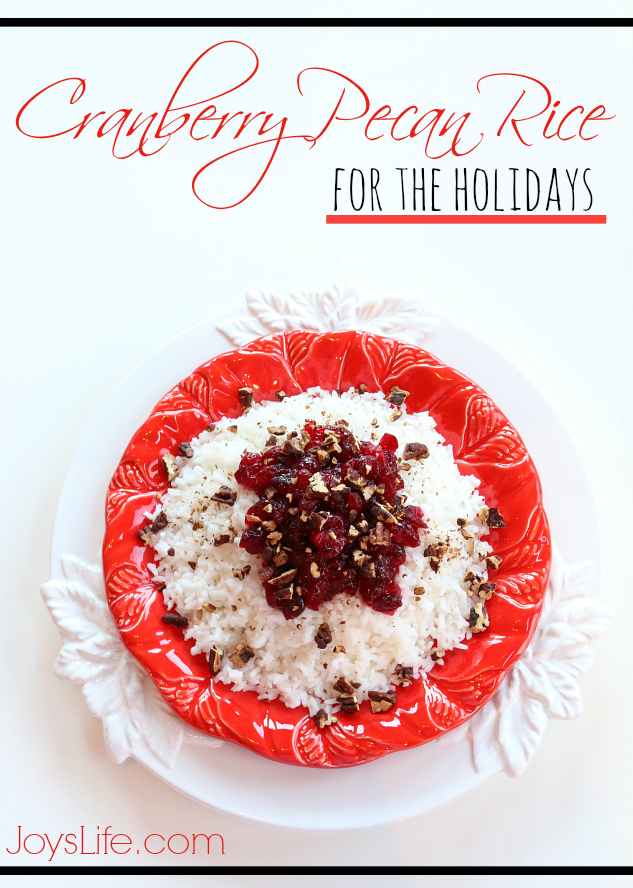 My husband and I have been super busy this week.  Our daughter came home from college for winter break but our sons are still in school.  So, one of us (our daughter) gets to relax but it's still full on work/school/sports/events for the rest of us.  That means dinner is sometimes on our minds right about the time that it should be on the table.
We dreamed up this delicious side dish because we had Minute® Rice, cranberries and pecans on hand.  Plus, the flavors and colors in this recipe are so yummy and festive.  I mean…how pretty is this?  Sooo pretty!  Good too!  It was a miracle we had enough cranberries though because I kept eating them.  LOL!
You can have great-tasting, fluffy white rice in just 5 minutes with Minute® White Rice.  Keeping it as a pantry staple helps make our last minute dinners possible!  We served this great side dish with baked chicken breasts.  I should say that my husband served it that way because he made this meal!  That's why there are man hands in these photos.  LOL!
I roasted the pecans!  That was my contribution.  LOL!  I always try to take a few minutes to roast nuts to bring out their full flavor.  When you roast any kind of nut just roast them until they begin to turn darker and smell nutty.  If you can smell them, they're done. 😉  Here's the full recipe for this delicious dish!
Cranberry Pecan Rice
Print Recipe
Share by Email
Share on Facebook
Share on Twitter
Pin Recipe
Ingredients
1

cup

water

1

cup

sugar

1/2

cup

orange juice

12

oz

package of fresh whole cranberries

Minute® Rice

Pecans or other nuts

chopped and roasted
Instructions
Bring water, sugar and orange juice to boil.

Stir until sugar is dissolved.

Add cranberries and boil for 5-10 minutes

Cool for 15-20 minutes or until ready to serve.

Top rice with cranberry mixture.

Add roasted chopped nuts.
Hey, there's a new Minute® Rice product out too!  It's Minute® Multi-Grain Medley.  It is a blend of four gluten-free foods and made with 100% whole grains, including long grain brown rice, Thai red rice, wild rice and quinoa and it conveniently cooks in 10 minutes.  That sounds so good and is still fast too.  I'm going to get a box the next time I'm at the store.  Doesn't that sound good?  Which Minute® Rice is your favorite?  Do you have a go-to rice dish that you make with Minute® Rice?  I'd love to hear about it!
Visit http://bit.ly/1xCMDae for over 400 recipe ideas, great for any day of the week and any time of the day, and more information about the Minute® Rice family of products.
This is a sponsored post written by me on behalf of Minute® Rice.