Over the River and Through the Bridge – Longest Covered Bridge in Georgia
On the way home from our last adventure, I asked the kids to each write down two places they'd like to go next week and we'd vote from their suggestions. When the day for this week's mini-uno-day-cation came closer and no one made any suggestions (other than Niagara Falls, which is NOT close to home at all) I decided to choose for them. 😉 They were dubious about my plan for us to visit the longest covered bridge in the state of Georgia but being good sports, they agreed and piled into ye ole' mini van.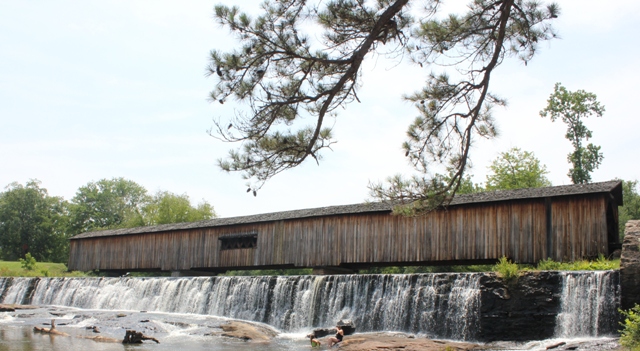 It took us about an hour and forty minutes to reach the bridge. It was the kind of ride that can throw a city girl right off her game. Fields, barns, four way stops that all start to look the same. At least twice I thought I was going the wrong way but my GPS has never let me down before so I kept on going.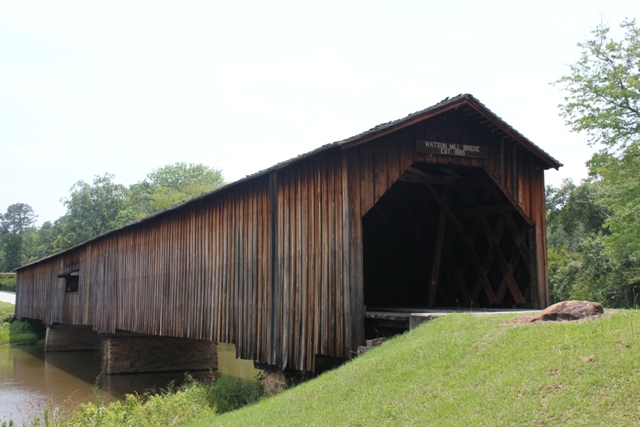 I'm glad I kept going and I'm glad the kids had willing spirits about this adventure. Once we got there they wondered if it was safe to drive across the bridge. It was. That didn't keep me from cracking jokes about wishing we hadn't had such a big breakfast and being glad they could swim…stuff like that. 😉 Hee hee hee. I rolled the windows down. The bridge creaked as we drove over it. It smelled wonderful, like the hot wood smell I enjoyed when I drove through the Adirondack Mountains. They were thrilled.
Ever since my kids were tiny, I've made sure there was a camera around for them to use. I started my daughter with the film version of the Fisher-Price Kid-Tough Digital Camera
when she was about 3 and they all used it at that age. Oh, how much I would have saved had digital photography been available then! Anyway…it helped me to sell them on this "long drive to see a bridge" idea because I offered up several cameras for their use. My oldest son and daughter have a good eye for photography. My younger son is more interested in exploring. I enjoy seeing the world through their eyes, no matter how they decide to share it with me.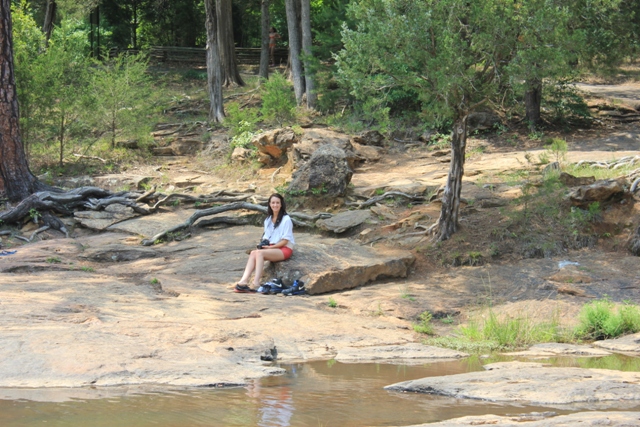 Super Daughter stayed on shore.
The boys and I took off our shoes, slid on river rocks and hopped from hot, dry rock to hot, dry rock.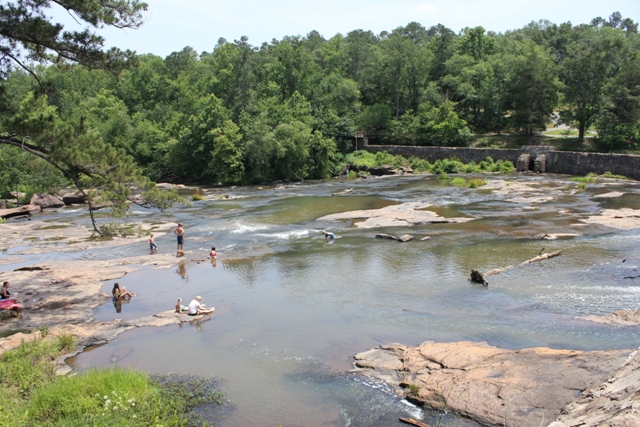 More people were there enjoying the water than you can see in this photo. We watched kids using the slippery river rocks like it was any water slide you've ever seen. They were having a blast. I think you have to learn how to walk on those rocks because it's like walking on ice with banana peels strapped to your feet, to me. I was really impressed with other people's abilities to walk across them easily. City Girl = 0 River Rocks = 1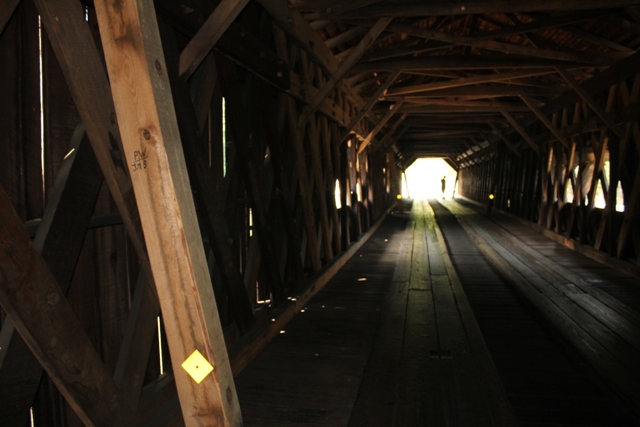 It was time to go. Super Kid #2 had to get back for a team practice. I wanted the kids to know they'd crossed a covered bridge in car and on foot, so off we went. It was very cool. It's so interesting to think of all the life, all the stories that have passed across this bridge since 1885.
We read that, "The bridge is supported by a Town's Lattice Truss system held firmly together with wooden pins." See the pins? Look to the right.
We got a late start today. However, it sort of worked out for us because we ate before we left (FINALLY) and didn't spend ANY MONEY on food. WHEW! The only cost was for parking.
The kids and I thoroughly enjoyed our visit to this beautiful bridge and they were really glad I chose to go there. YAY!
I have no idea what we'll do for next week's mini-uno-day-cation but I hope you'll tune in to find out.