My Trip Home from Charlotte, NC Part 2

Here's part one in case you missed it: Part 1. 😉
Ok, so I finally got back on the road from Dean and Deluca.  I was about 5 pounds lighter due to all the cash I spent at D&D.  However, with the packages I was about 8 lbs heavier so D&D made me gain 3 lbs in about 45 minutes.  😛
My next stop was for fireworks.  I bought my boys some smoke bombs and firecrackers.  I used to have a no tolerance for those things.  I'm over that now.  It's all due to my insane inlaws and their watermelon explosions from last summer.  I swear, you try to raise kids right then you have crazy relatives.  Thank goodness I'm totally normal.  Whew.  LOL!
So, this was my 1st time to go to a fireworks store.  Now DH, FIL and DD traveled to SC to buy fireworks before the 4th of July, but I did not go.  I was busy making the Cricut Vinylology DVD, so I missed that little trip.  They said when they got there the parking lot was PACKED!  Hilariously, most of the people in the lot were from our county in GA.  Well, I got to this place on the Sunday I was driving home and I was THE ONLY PERSON SHOPPING THERE!  Now, there were 2 ladies working inside, but they were putting together a huge jigsaw puzzle, eating pizza and watching a movie.  Why don't I have a job there?  IDK, because that sounds cool to me.  LOL!
So…soooo empty.  I thought they weren't open, but they were.
I had to ask where the smoke bombs and lady finger firecrackers were because I don't know a thing in the world about that stuff and I could have just as easily left with a missile or something had I been left to my own devices.  One of the ladies walked me though a maze of explosives.  I have to say, it was impressive.  I saw all kinds of interesting things.  Things I should never get near with fire.  Hey, I know my limitations.
Well, this is what's left in the bag after I passed out 2 big boxes of smoke bombs and a passle of firecrackers.
And…the journey continues.  So,I left the fireworks place behind me and hot footed it to somewhere I'd never been.  Somewhere ELSE I'd never been.  What can I say, it was a day of adventure.  Pretty low key adventure, but still.  I'd never been to A.C. Moore.  It's a craft store like Hobby Lobby or Michael's.  We just don't have them in Georgia.  So, I planned to make a stop on my way home.  I'm glad I did!
Woo hoo!  I made it!  Ok, I went into my 1st A.C. Moore.  I liked it!  It reminds me of a cross between Michael's and Hobby Lobby.  It's like if Michael's and Hobby Lobby had a little brick fronted baby.
Here's part of their ink AND Inkadoo display. I was impressed with their Inkadoo selection.  It went further to the right and the left.
Woah.  If owning paint could make me a painter, I'd be Claude Monet.  Instead, I'm more Jackson Pollock.
Yes, lots of stores have paint, but I like the way they display it.  They seemed to have more than other craft stores.
You can try this spray to restick your Cricut mats.
There are a lot of things on the market that will help you with resticking.  Whatever you decide to use to restick your mats, be SURE it is REPOSITIONABLE and NOT PERMANENT!
You're going to be SHOCKED!  I actually didn't buy much at A.C. Moore.  I had so much stuff from the show and some other recent purchases I didn't need much.  I couldn't leave totally empty handed though, so I bought these things:
Yes.  That's really all I bought there.  Then you know what happened?  I got home and DH said we have a huge thing of Goo Gone in the garage. 😛  We do?!  ARGGGHHH!  Well, this is small and craft size, so I'm happy to have it.  (That's just what I tell myself so I don't get irritated for buying something I already had.)  Shoot!
Oh, yeah!  I bought this cinammon babka from Dean and Deluca.  It was delicious.  HOWEVER, the boys kept not pronouncing it correctly so they went to school and told everyone they had vodka for breakfast.  Nice.  Mom of the year award, right here!
Alright.  And now for the big butt in the sky.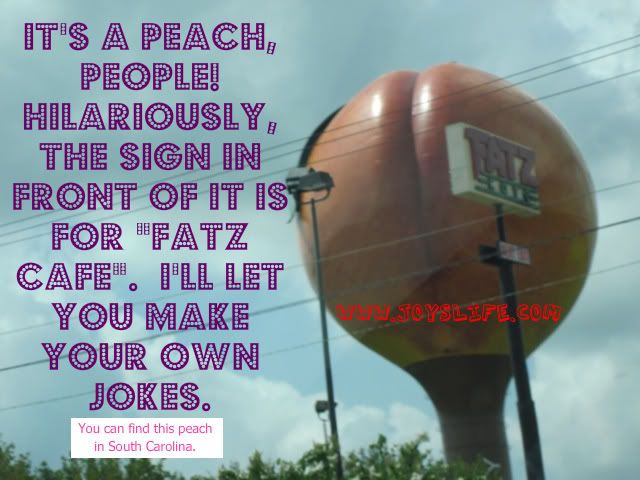 Tomorrow, I'll have a crafty post for you.  Butt free. 😉