My Trip Home from Charlotte, NC Part 1
As you know I spent last Thursday through Sunday in Charlotte, NC setting up, taking down and working in the Scrapbook Corner.com booth with Cricut Dan and his wife, Shelly.  Well, let me give you the Joy's eye view of the trip.
1st…Known Fact: I'm not a fan of heights.  See this post for previous SuperJoy's Weakness.  So, I was super happy when the hotel front desk clerk told me I was on H3.  Whew. Who knew that H3 meant a variety of possible floor choices?  Who knew that there would only be a few elevator buttons that only gave some basics plus about 5 "H" labeled buttons?  Not me.  Not until my elevator kept whizzing on up way past what my senses knew to be the 3rd floor.  I'd say it was something like floor 15.  Here are my friends across the street.
I've been up higher, but still. After a few days, I was able to get closer to the window without having to run back toward the door before my knees buckled. Embarrassing. Well, you can't be SuperJoy without pushing yourself. I don't like heights, but I'll not let that hold me back from doing anything. So, expect to see me in Chicago in that glass box in the Sears tower. I'll be carrying my Margaritaville Frozen Concoction Maker for some quick action blended courage. LOL!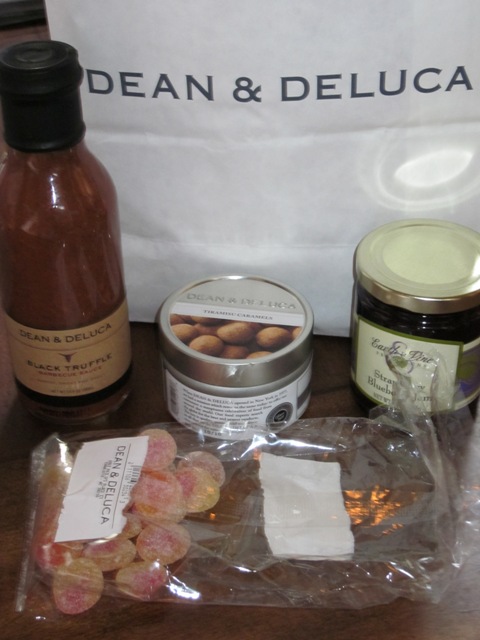 Guess who used to watch Felicity
? Yep. That was me. Well, if you ever watched it you know that she had a job in Dean and Deluca, right? I'm a Southern girl. It was years before I found out that Dean and Deluca (started in NYC) was a real place! So, it turns out that my hotel in Charlotte is right next to Dean and Deluca!! Holy Cow!! Whee! Now…sad face. When I finally got time to go there it was Sunday. Guess what? The in town D&D is closed on Sat and Sun. 🙁 Stop crying!! It's ok! The story gets better. I was able to find another one that was open! Whee! I checked out of the hotel and headed to the very important Dean and Deluca. (Ariel singing please…Ahh ahh ahhh…Ahhh ahhh AHHHH).
Ahhh, peach gummy candy. My new favorite!
No, Dean and Deluca is NOT just like Whole Foods or Fresh Market. It's SPECIAL! Ok, it might be a little like them, but I super LOVE D&D the best "est" "est". That's 2 "est's" so you know it must be awesome. ? I spent many, many $'s in D&D and didn't regret a cent of it.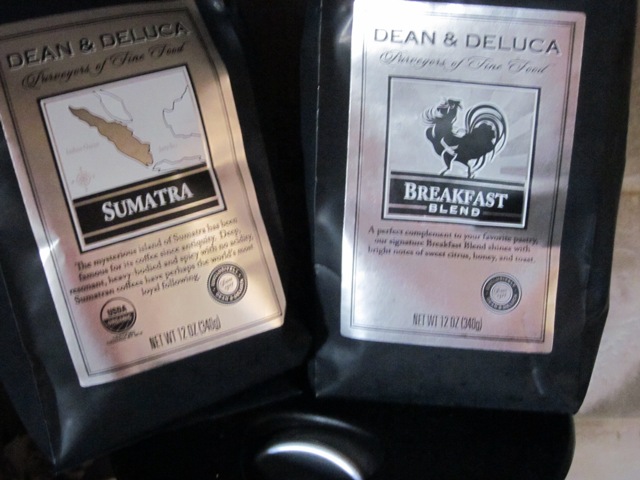 Coffee is not an expense. It's a necessity. So, I shouldn't even consider the prices of those two items. ?
I did need some new oven mitts and these ROCK! Look at their little grippy hands. Now, you know what really gets pricey? The fact that when I got these home I saw how good those colors and stripes look in my kitchen. I'm thinking of a window treatment re-do!! (That's 7 windows. 🙁 ) I think DH just started crying. LOL.
Check out my $6 grilled cheese. It's 2 kinds of cheese on rosemary bread. Perfect for my drive home.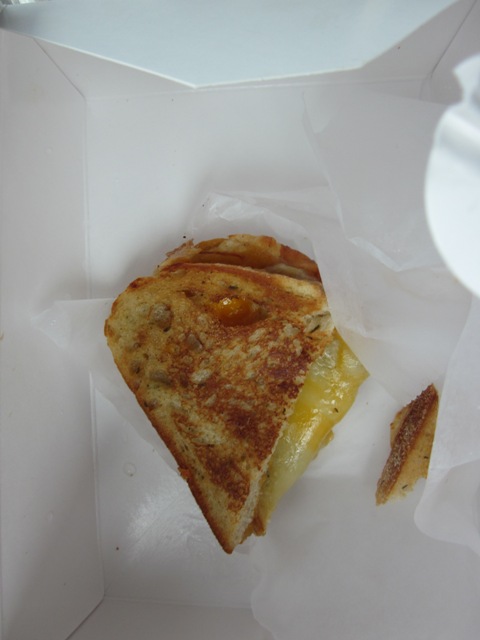 You know what I really LOVE? Besides Cricut? How did you guess? Yep. That's it! Rice Crispy Treats. So, you know they had my number when they placed these luscious things at the checkout. This one has some kind of marshmallow creme and chocolate covered strawberry gummy candy in the center. Don't judge me. Rice Crispy Treats are my catnip.
Are you ready for the close up?
Can you tell I was enjoying my new tiny camera? Yeah. It's super easy to use for a quick shot of important things like this over indulgent treat energy bar. LOL, let's pause for a moment to reflect on the fact that I just called this rice crispy treat stuffed with candy an ENERGY BAR! That sounds like something Paula Deen would say. Hmmm. I do love her. 😉
Well, I also got a Dean and Deluca shirt so I can pretend like I work there while I serve myself coffee in my kitchen. And…there was more candy and goodies, but I have 3 kids and a husband so…I'm lucky to be able to have anything left to show you. LOL! Now…off to find my new fav locally…gummy peach candy.
Tomorrow Part 2 of my trip which will include a giant butt in the sky AND some crafting things that I found/saw/purchased.
HAVE A GREAT WEEKEND!