Yummy Goodness at the Blue Willow Inn Restaurant in Social Circle, Georgia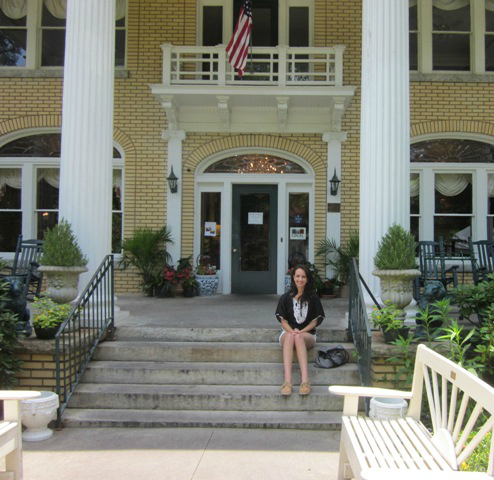 This week's "mini-uno-day-cation" is a two parter. I had certainly heard of but had never visited the well known, Blue Willow Inn in Social Circle, Georgia. So, the first part of the kiddo's and my one day trip was a stop to eat there. YUM! If you are in the area and are at all hungry, I suggest you duck right in. The food was delicious! I called the day before for a reservation, just in case. I suggest you do the same because they get tour buses of feast ready diners quite often. Just sayin.
Since we'd never been there before our server walked us over to the buffet room to show us around. That's good Southern hospitality for ya. 😉 You use the blue willow plates for hot food, dessert plates are on the dessert table. There are warm biscuits and cornbread rolls in the warming drawers. There's a salad bar and soups but I didn't make it that way today. 😉
The kids and I give thumbs up to everything we ate. I give a double thumbs up to the fried chicken. It's the best I have ever eaten. I thought that I'd had the best ever at Paula Dean's Lady & Sons in Savannah, GA…but I was wrong. My other rave? Two thumbs up to the fried green tomatoes. I grew up near the place Fried Green Tomatoes at the Whistle Stop Cafe is written about, so I know what I'm talking about. LOL!
I won't say no to a good pie…ever. I love peanut butter, so I had to try the peanut butter pie. It was excellent. I'm not a huge fan of lemon meringue pie but it's my Mom's favorite so I had to try it. Plus, I appreciated that perfect meringue they had made and needed to see if it was as excellent as it looked. It was.
After we'd fueled and fattened up with some good Southern cookin' we headed off for the rest of our adventure…which I will share in another post.
Here's a recipe from Food.com for Southern Sweet Iced Tea.
At our house we make non-sweet iced tea and add fresh mint which we grow in planters on our porch.
Grow mint in a container. If you plant mint in the ground it will take over and spread like crazy!
Hope your day is SWEET!