Mom & Daughter Trip to New Orleans Day 3 Part 1
If you read Mom & Daughter Trip to Mobile, Alabama & Gulf Shores Days One & Two, then you're all caught up and ready to read about our short trip to New Orleans.  If you haven't read it, check it out right here.
So, on our day off from my daughter helping out at college orientation, we got up early and drove to New Orleans from our hotel in Mobile…
We thought it was going to take about 2 hours but we hit some traffic coming into New Orleans and it ended up taking us almost 3 hours.  I had reserved a super cool tour for us and we thought for sure we were going to miss it but we made it just in time.  Well, we were about 10 minutes late but we made it just in time before they walked to a different location, so I felt like we were super lucky.

The Saint Louis Cathedral, New Orleans
There were so many tours available (I really wanted to take the ghost one) but I decided to settle on a general French Quarter tour since my daughter had never been to NOLA (New Orleans, Louisiana) before.  I'll be honest.  I was pretty skeptical about taking "Free Tours By Foot" because it sounded … sketchy.  Well, except for the fact that the Tripadvisor reviews were so good…but still.  Doesn't that name sound like some kind of hustle?  It isn't.  It was excellent.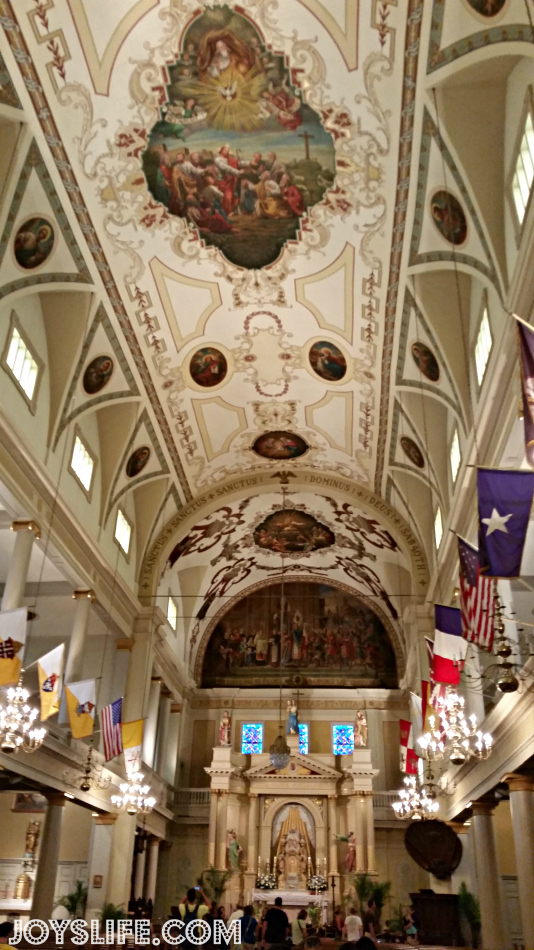 The Saint Louis Cathedral, New Orleans, Inside
We didn't go inside the Saint Louis Cathedral during the tour but my daughter and I went back to it later.  It's so beautiful.  You should definitely go inside.

The Saint Louis Cathedral, New Orleans, taken near Cafe Du Monde
I'm showing you all of the Cathedral photos at once because it didn't make sense to show them to you in the order they were taken.  (There's a whole story behind it…and I get to it in the part 2 post about this trip.)  How it really happened was that our tour started in Jackson Square, which is where the Cathedral is located.  Next, we made our way to Pirate's Alley.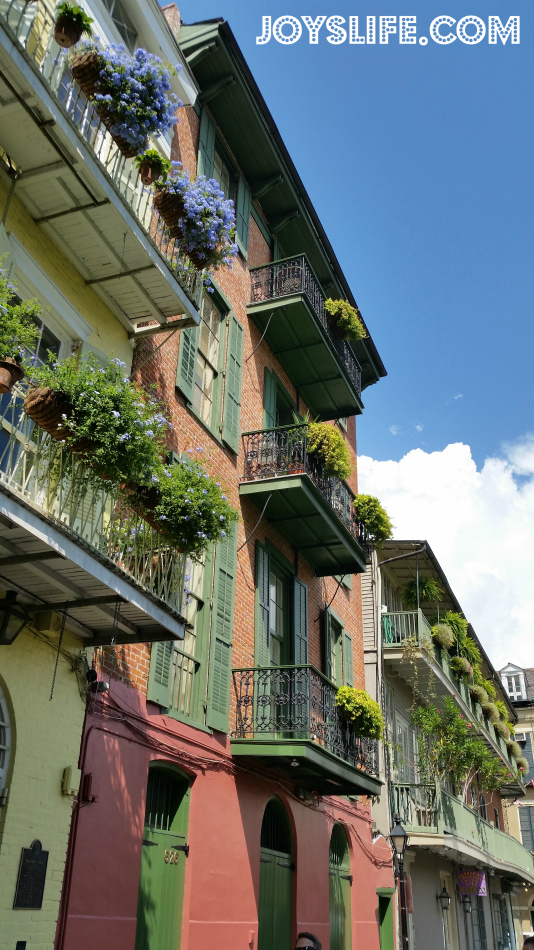 Pirates Alley (and William Faulkner house on left), New Orleans
How beautiful is this shot I took?  Yep.  It's my phone background now.  I took all of these photos with my phone again…just like I did here.  I just didn't feel comfortable about dragging my nice camera around the French Quarter.  It had been 20 years since I'd last been there.  Next time I go, I'll take the nice one.  Plenty of people did and it seems like a reasonably safe thing to do during the day, provided you use your head.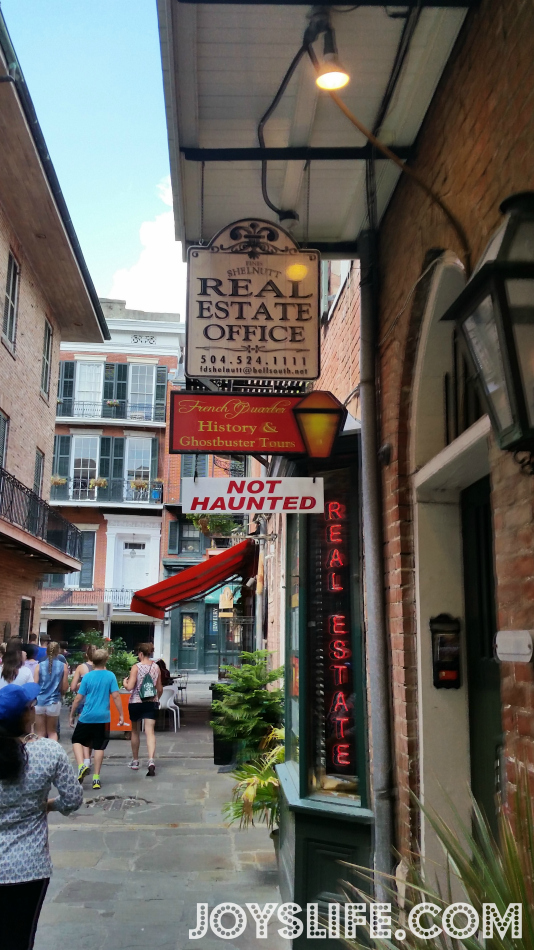 Cutting though Pirates Alley, New Orleans
Truth?  I just took this photo because I liked the "Not Haunted" sign.  The other side of it says, "Haunted".  That's the tour group ahead of me.
We stopped to look at one side of the street and I noticed this behind me.  It was the first courtyard I'd seen that day.  I just had to take a picture of it.  One of the most charming things to find in the French Quarter is a lovely courtyard.  When I was a teenager I came to NOLA with my parents and we stayed in some hotel that had a lovely courtyard.  I fell in love with the architecture and charm of NOLA waaaay back then.  I visited again as I got older but didn't enjoy another courtyard until later today.

Check out the iron work on the top left.
See, our tour guide is totally normal!  She was extremely knowledgeable and super nice.  I highly recommend this tour.  You pay what you think is fair at the end of tour.  Typically people pay $20 – $25 per person.
Here we learned all about the Apothecary that is now a museum.  Any American Horror Story fans here?  You'll be interested to learn that this is where they dug up Madame Lalaurie (Kathy Bates' character) from her "under the courtyard" grave.
Okaaay…there's more to the story…but this post got really photo heavy so I'll tell you everything else (which you will LOVE).  I didn't even share it on Instagram and it was killing me not to.  So, stay tuned!