Mom & Daughter Trip to Mobile, Alabama & Gulf Shores Days One & Two
If you follow me on Instagram you may have seen some photos of the trip my daughter and I recently took.  We were staying in Mobile, Alabama for a few days so she could help out at a college orientation.  While we were there we took our afternoons and day off to visit places that were…well, not always close but "doable" from Mobile.  (Those are ships on the Mobile Bay in the background.)  BTW, I took all these photos with my Samsung Galaxy S5 phone.
First, I want to tell you about our hotel experience.  We stayed at the Hampton Inn in Downtown Mobile.  What a GREAT stay we had!!  When I checked in, they told me that they'd upgraded our reservation to a room with a balcony on the top floor.  It was AWESOME!  We sat on the balcony and enjoyed the views each morning <<< (our view of the bay)…and our morning view of downtown…
and evening.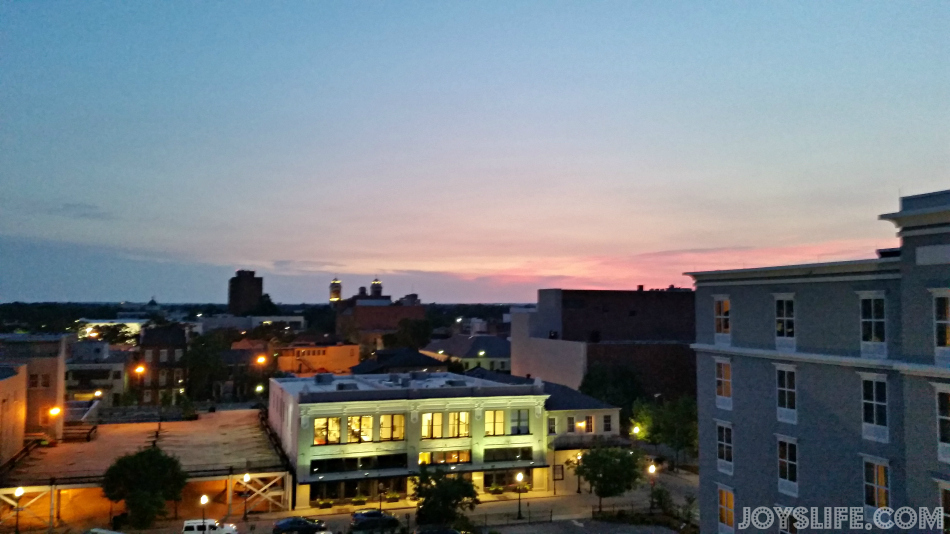 It was a great location, central to everything we needed to do as well as being very close to all the roads taking us to Gulf Shores and New Orleans.  Plus, the person who cleaned our room left us that sweet note!  We were most fortunate to have been there when Panini Pete's (as seen on Food Network) dropped off fresh beignet's and lemon for the breakfast buffet.  What?!!  Yes.  I know.  It was SUCH A TREAT!  I tweeted Pete, so great was my love and appreciation for that yummy goodness.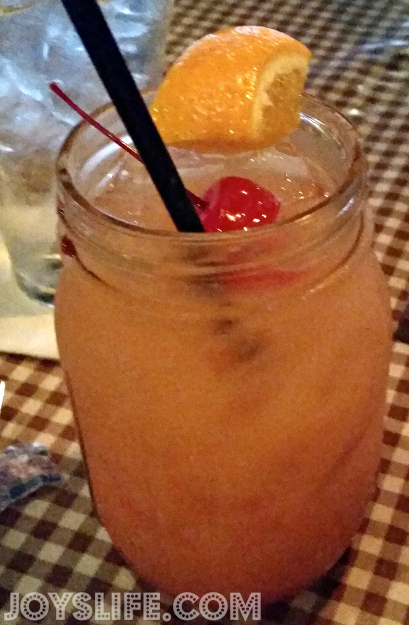 The first night we had dinner at Felix's.  Frankly, I remember the food being better.  I thought you'd enjoy that photo of my drink in a mason jar.  #MasonJarLove I'll probably go somewhere else the next time but we did have a pretty good view of the Mobile Bay…right over the top of these people.  Our view of the Intercoastal Waterway at Lulu's the next day was MUCH better!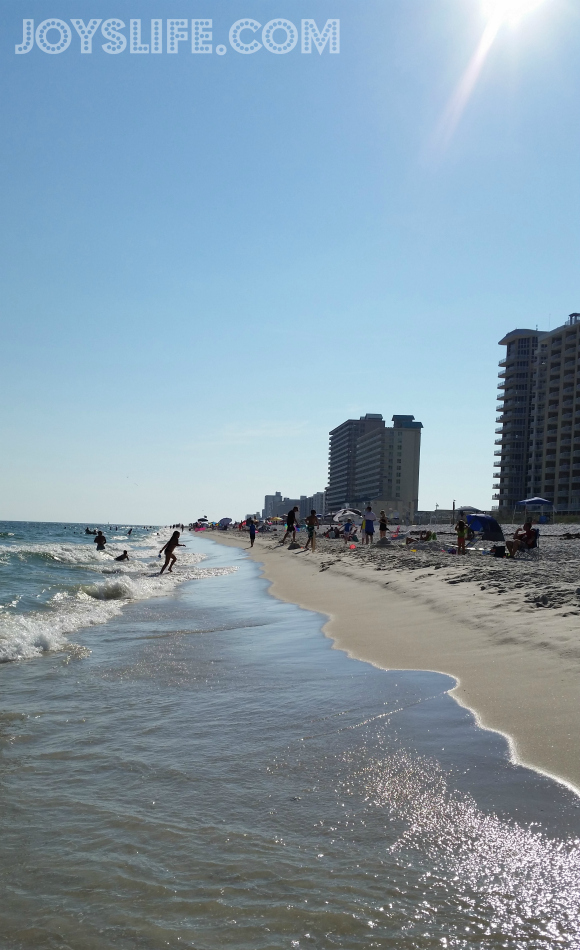 The next day we went to the beach in Gulf Shores where I was super THIS.  First we stopped for lunch at Lulu's.  Wait until you see what I ate.  Donuts were involved in the making of my meal.
I could say anything at all about this meal and it wouldn't matter because all anyone wants to know about is that Krispy Kreme Bread Pudding, right?  Here's what I have to say.  It's as over the top as you'd imagine.  You cannot (or at least should not) eat the whole thing by yourself or risk dropping dead from a sugar overdose right into the Intercoastal Waterway and getting scooped out by a bunch of pelicans.  All that being said, it IS good!  It was on my list of "must do's" and the waitress and I high fived about me getting to strike that off my list.  My daughter and I both liked it but after a few bites we called it done.  If you're like me, you HAVE to try it and you should.  By the way, those may have been the best fried oysters I've ever had.  The cook was a genius.  Light breading, flavorful but didn't mask the oysters.  Perfect.  Ditto on the shrimp.  It was my first time to Lulu's.  I give it a thumbs up.  If you're headed to Gulf Shores you should check LuLu's out.  BTW, she's Jimmy Buffett's sister.
Coming soon…our trip to New Orleans.
I hope your summer is going great!