Quick 4th of July Utensil Holder with Buttons & Glue Dots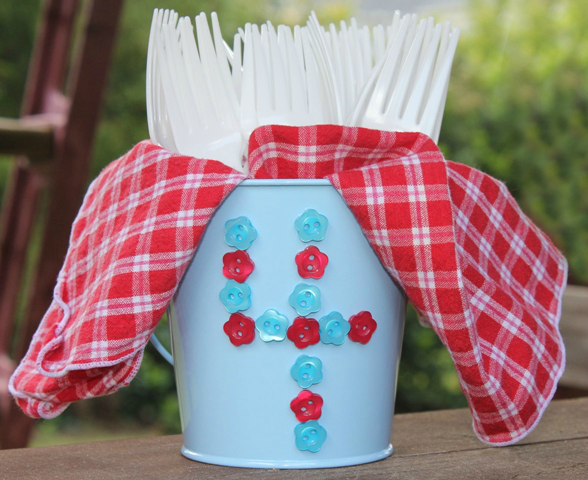 This was easy and fun…plus I finally got to use these cute buttons.
Do you need some fast, inexpensive decor for the 4th of July or other party? You do?! Well, this idea is right up your alley.
It's simple to create a festive 4th of July utensil holder using a few items that you probably already have on hand! I'm using a little pail that I got for Easter to hold forks for my 4th of July table. All it needed was a quick makeover. First, I went through my crafty stash of buttons and picked out all the red and blue ones that I had. I chose these small ones since my pail is small. I arranged them in the shape of the number four.
(Don't have a little pail? Use a plastic cup, mug or other jar you have sitting around. If you use a very light cup, weigh it down by adding some pennies or something weighty and covering them with a napkin or other cloth and then add your silverware.)
Next I used transfer tape, which is typically used for vinyl application to help hold the buttons in place while I stuck Glue Dots 3/16-Inch Mini Dots on each button.
Don't have transfer tape? Don't worry about it! Just stick a Glue Dot on the back of your buttons and apply them to your pail (or other holder) one at a time.
If you do use transfer tape, just be careful as you apply all your sticky buttons at once. Don't forget to press them in place for a good hold. Carefully peel off the transfer tape once you've got it all in place.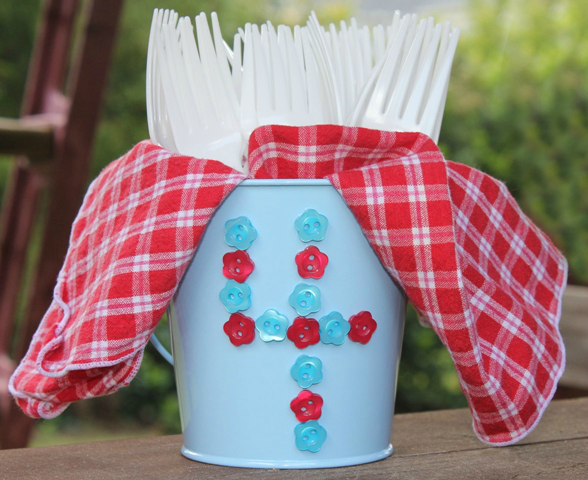 After you've got all of your buttons applied, you're done! Ta da! That was a fast, festive makeover, wasn't it?
I wrote this post while participating on the Glue Dots design team.
Wishing crafty fun in your direction!