Cricut Snowman Gift Bags 12 Days of Christmas DAY SIX GIVE AWAY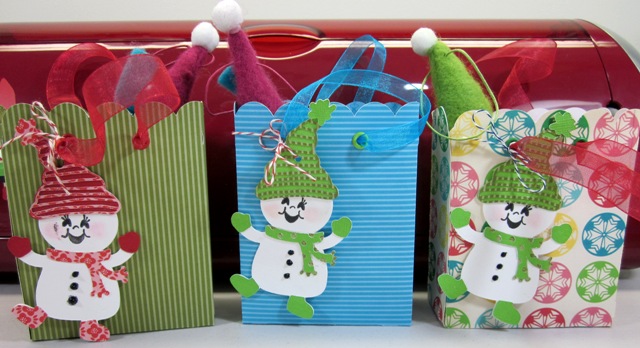 I made these bags using the Once Upon a Princess cartridge!
I had a great time making these bags and tags.  I've had the Once Upon a Princess cartridge for a while, but I haven't used it much.  I was thrilled to find that it had a great bag that fit some snowman ornaments I bought for my kids to give their teachers.  The tags are from last years Snow Friends seasonal Cricut cartridge.  This is the first time I've used that cart.  Shhh!  Don't tell anyone I waited a year! 😉
Yes, I did buy a Zhu Zhu pet. He's my new Joy's Life mascot. I've named him Zippy.
I decided to make 2 of the bags with some double sided paper I bought from Stampin' Up. The other sheet of paper (with the circle ornaments) I made using the Mr. Frosty cartridge and my Cricut Imagine. Let's take a look at the Imagine printing and cutting that out…and then I'll tell you something I learned.
On the bags I cut using my Cricut Expression AND the bag I cut using the Cricut Imagine I used the "Fit to Page" button. I used 12×12 paper on each cut. I learned that using "Fit to Page" on each machine does not result in the same size cuts. See the photo below.
Well, the 2 cuts are close using "Fit to Page" on 12×12 paper but not the same. The Imagine cut is slightly smaller than the one from the Expression.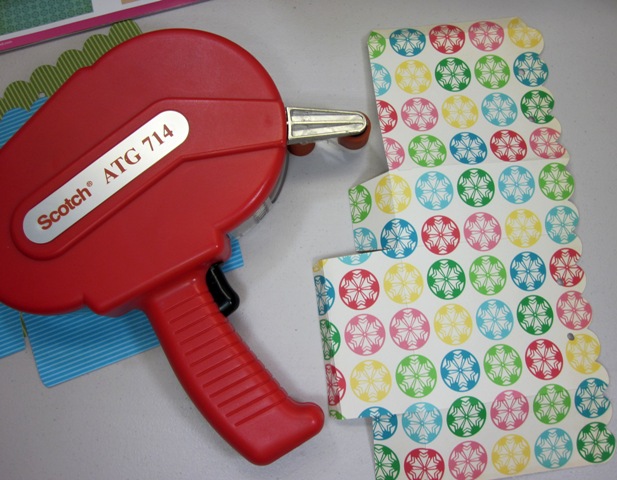 Now I've scored and folded all the pieces of the bag.  Time to glue everything together!  I used my ATG gun for that.  You don't have to use an ATG gun, I just like to use mine a lot. 😉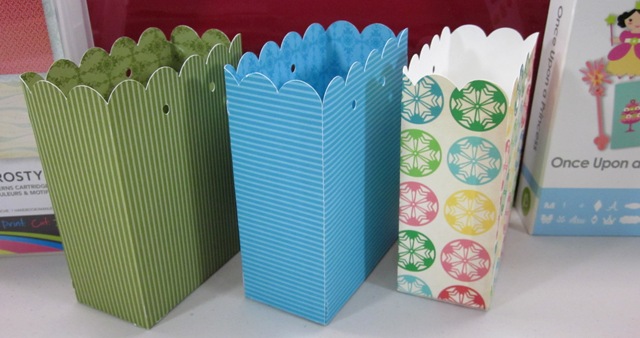 YAY!  The bags are all taped up and ready for some handles.  I'll apply eyelets to make the handles more sturdy.
This is the regular Crop A Dile.  I love this thing!  If you want to know the differences between the Crop a Dile and the Crop a Dile Big Bite you should watch this video I made comparing and contrasting the two of them. 😉  I used the Crop a Dile to help me set the eyelets.  Later I used it to punch holes in the snowman tags.  It's a very useful tool.
Woo hoo!  Houston, we have handles.
I used the To: and From: stamps from my All Around Sentiments stamp set.  I LOVE those!!  Ok, I know I made them, but one of the reasons I made them was because I needed them. 😀  I had in mind that I would use the To: and From: to create my own gift tags.
Awww…he's one happy little guy.  I used a Peachy Keen stamp to make the face.  I'm not very good at drawing faces.  I added a little chalk to his cheeks to give him a healthy glow.  Actually, he looks like he might need to come in out of the cold.  Hey little snowman come in and sit by the fire while I get you some hot cocoa.  Hey, where did he go?  What's this puddle doing here?  😛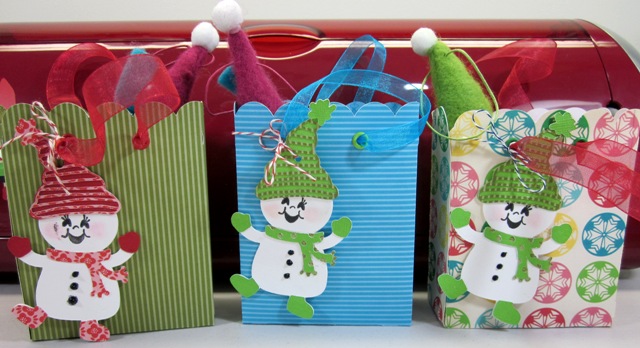 Aren't these bags cutie pies?  Wait until you see what's inside them.
Here's the ornament that's inside each bag.  I bought them at Target for $2 each!  They are so adorable!
I hope you enjoyed this post. I'm still thrilled that I finally used Snow Friends and the Once Upon a Princess cart to make these bags. 😀
TIME FOR A GIVE AWAY!!!
On the 6th Day of Christmas … Joy Gave To One Winner….
I'm giving away a set of my All Around Sentiments Stamps! To be eligible to win please leave a comment on this post. The winner will be chosen by Random.org on December 13.
SEE YOU TOMORROW FOR THE 7th Day of Christmas and a Crafty Post & Give Away!!