Give the Gift of Archery with a Genesis Bow & a Giveaway
This is a sponsored post written by me on behalf of Genesis Bows for IZEA. All opinions are 100% mine.
My son was super excited when his new Genesis bow arrived!  He had a great time on the Genesis Build-a-Bow because there you can actually design your own bow!  I thought he'd pick a lot of crazy colors, but he went with orange, red and black, with one white string.  It's awesome all of the choices they have.  I think that makes it an even more special gift because it's truly and uniquely yours!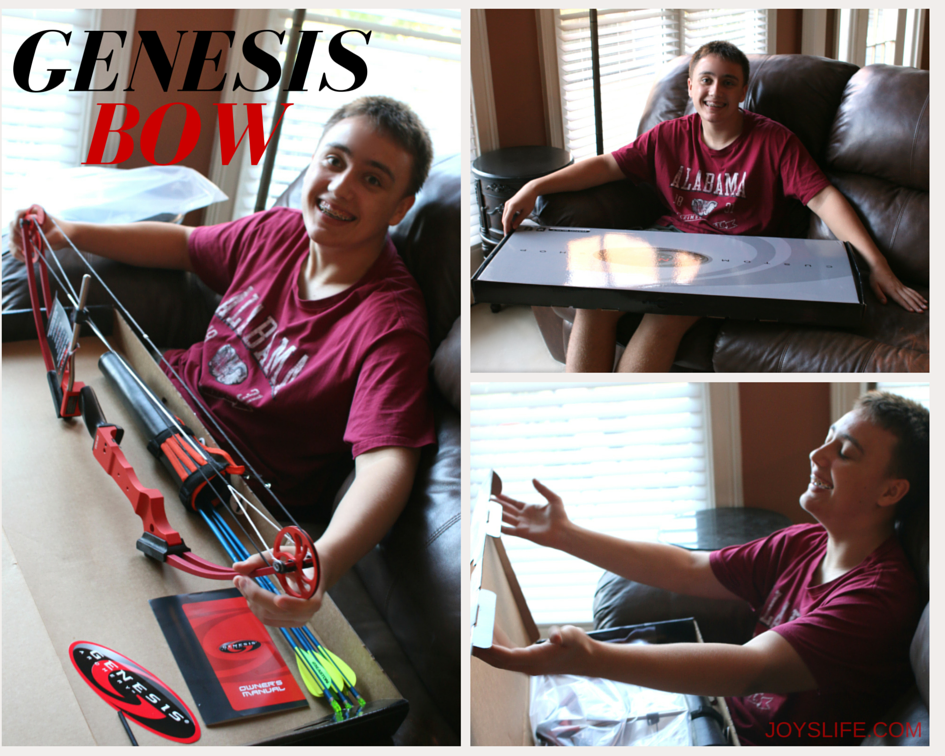 The idea behind Genesis® is simple: to help youth everywhere experience the thrill of drawing back a bow, taking aim, and sending an arrow flying straight to the center of a target.  Ok, practice makes perfect but for my son's first try, it went pretty well!
Your children may already be interacting with Genesis Bows at their schools. The Genesis Original is the official bow of the National Archery in the Schools (NASP®), and is used in over 13,000 schools by over 2 million youth across the U.S. annually. Since the organization was founded in 2002, NASP has made the sport or archery fun, engaging and extremely safe and has maintained a zero archery-related injury record.
Genesis bows are designed with zero let-off to accommodate draw lengths from 15" to 30", allowing archers of all ages, sizes and athletic abilities to shoot the same bow without adjustment.  Plus, beginning archers won't develop bad habits caused by an ill-fitting bow.  Another bonus?  Children can't outgrow it because there is no specific draw length.  So, they'll be able to enjoy this bow for a loooong time and so can you, everyone in the family can use this bow to shoot!
Not only is archery a cool looking sport, it also helps build confidence and teaches the value of focus, discipline and spending time outside.  You can easily assess your improvement by just looking where the arrows landed in the target…or in the grass.  LOL!
Archery also helps improve hand-eye coordination and balance.  I love that it's a sport where people of any age and athletic ability can participate.  I also like that the sport of archery is not about hunting.  While I appreciate and respect the need for certain hunting, it is not for me or my family.  Archery is more in line with bowling, you know, hitting a target!  Well, not always when I bowl, but again…practice!
Check out: Genesis Archery on YouTube
My son had such a good time shooting the target!  I give two thumbs up on this awesome gift and so does he!  How awesome is it that all of the Genesis bows can be customized using the Build-a-Bow tool on their website?  Um…so cool!  The kiddo and I both this it's a great gift this holiday season.  With city/county ordinances permitting you can even use it in your backyard, instead of having to visit a range.  Keep your target staked to the ground or against a fence or something solid.  That will help you keep it upright when you get a bullseye…and/or as you get closer!  LOL!
With a little more practice, I think that can be a bullseye!  The Genesis Original, Mini and Gen-X are available in convenient kits.
Genesis will send a voucher to purchase a Build-a-Bow for one lucky winner – enter below!
a Rafflecopter giveaway

May the odds be ever in your favor!