Silhouette Printable Material St. Patrick's Day Wall Hanging
In this tutorial, you'll learn how to create a St. Patrick's Day wall hanging using Silhouette Printable Material! It's an easy way to quickly decorate!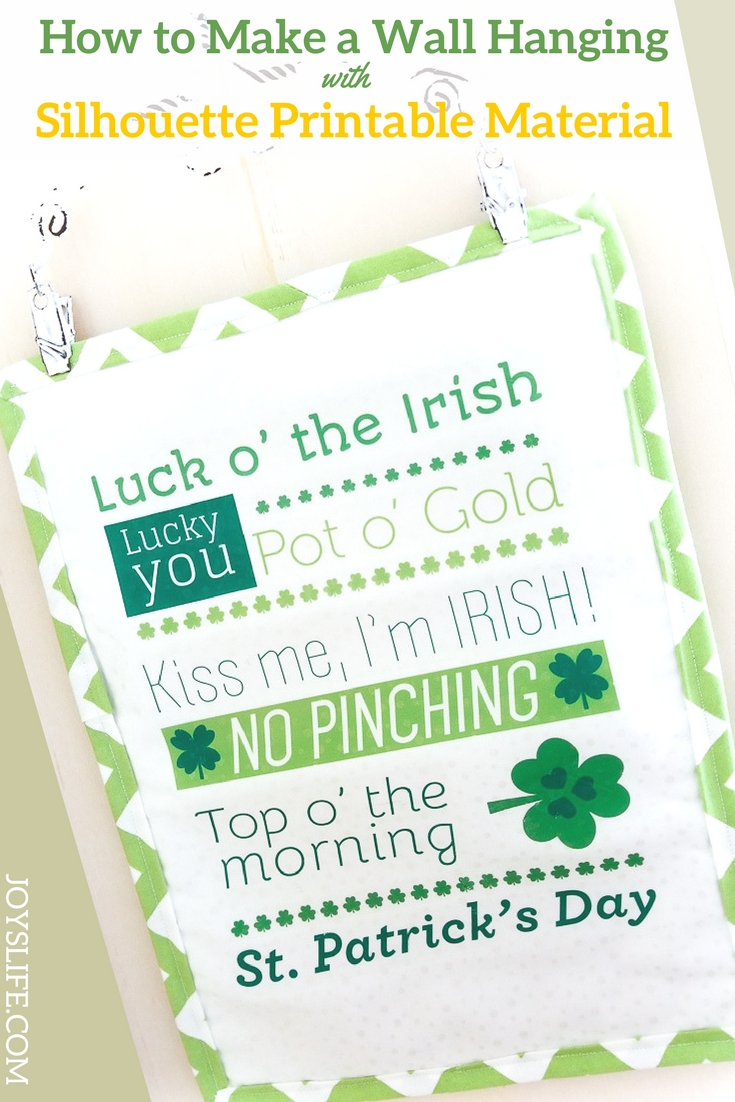 Hey friends!! I had a blast making this little St. Patrick's Day wall hanging and I'm going to show you how easy it was, right now!
First, gather your materials. You'll need fabric (front, back, binding), batting (I prefer the Warm Company batting), Silhouette Printable Heat Transfer Material, an inkjet printer (I have the printer that's two models before this one and I love it!), iron (I'm using the Rowenta DW7180), a sewing machine or needle and thread and a Silhouette Cameo. I'm using the Silhouette Cameo 3.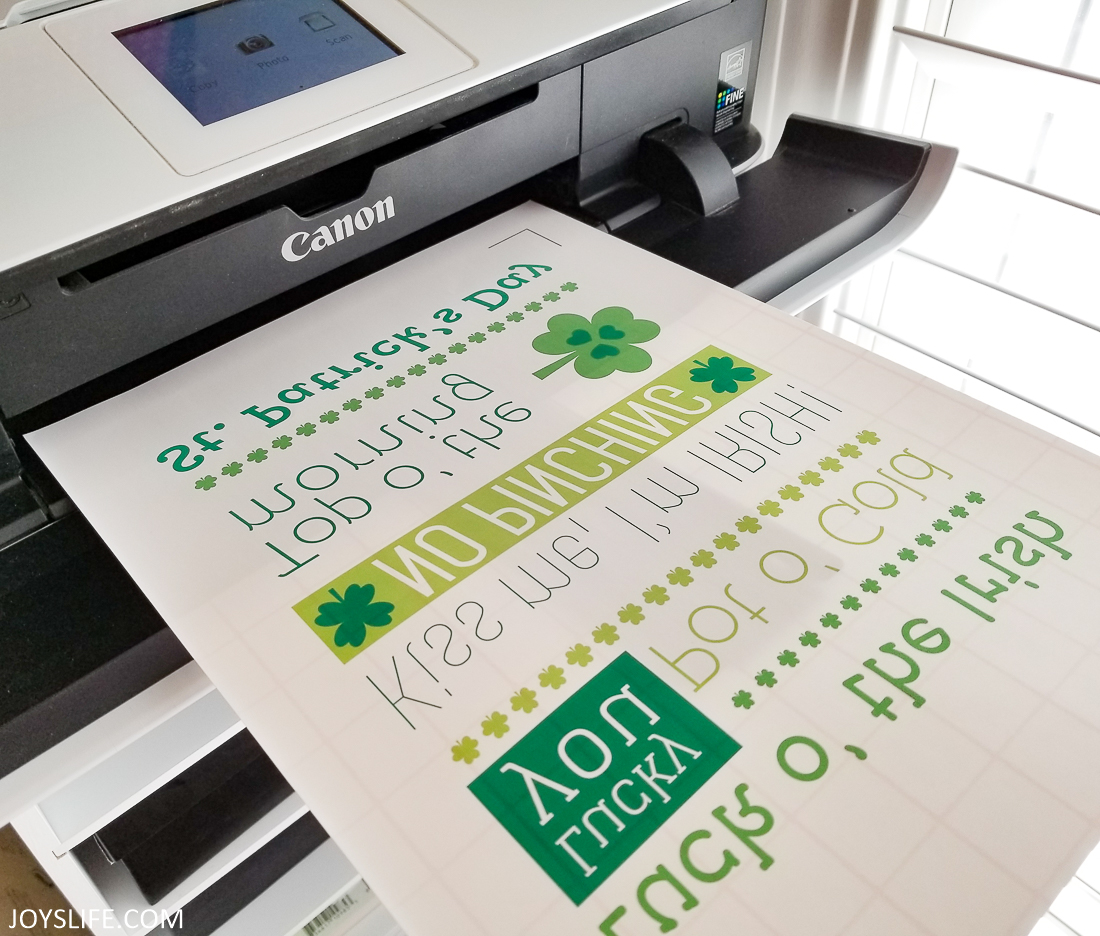 Follow these Steps to Prepare your Silhouette Printable Material:
Import the printable image (or text) that you want to use into the Silhouette Studio software. I'm using this Print & Cut image.
Before you print, MIRROR the image. This is SUPER IMPORTANT.
Add registration marks so your Silhouette can cut out the pieces that you don't want to use. (You can print this image and not cut it out, but it will leave a lot of the shiny material on the finished project. I created cut areas around each of the words.)
Print your project onto the Silhouette Printable heat transfer material using an inkjet printer. Make sure to print onto the plain white side!
Place the printed sheet on the mat. (I'm using a Cricut mat in my Silhouette because I think those Silhouette mats are horrible.)
Load the mat into Cameo.
From the Silhouette Studio software, choose "heat transfer material light (or dark) colors".
Send and cut.
Remove/weed the excess material from your design.
Place the design side face down on the fabric. The grid should be face up.
Cover the design with a teflon sheet or piece of material.
Iron for 30-40 seconds.
Let cool and remove backing.
Finished!
About the Silhouette Printable Heat Transfer Material
The Silhouette Printable material has some bad reviews on Amazon, and I think they're pretty accurate. Seriously, go check them out. Some people complain that the product cracks and peels when used on clothing, and some people love it. I decided to create a wall hanging with it. I say, keep it flat, don't wear it, and you're good. They sell the Silhouette Printable material for light fabrics and for dark fabrics, I'm using the light one.
Tips when Removing the Backing
If you notice that the letters or image are peeling up while you're lifting away the transfer sheet, just carefully lay it back down and press it with the iron again. Let it cool and try removing the sheet again, slowly.
Turn the Printed Fabric into a Wall Hanging
First, cut the material down to the size you want. Choose a coordinating piece of material for the back.
Add batting to the middle and sandwich the pieces together. Carefully pin around the edges, making sure not to pin the Silhouette Heat Transfer Material. Sew 1/4″ around the edges.
Trim the edges. I'm using a Creative Grids ruler. I love this one because it includes the 1/4″ inch mark. I lined that up on the 1/4″ that I had just sewn and trimmed off everything past that. Those Creative Grids rulers are awesome! This is the 6.5 x 24.5 ruler.
Bind your project!
I'm using 2.5″ strips to create my binding. There are lots of videos showing how to bind. If you need help with that check out this post. I've got several helpful videos in that post, one on binding. Speaking of that, I should have watched it myself, because I bound this thing like an idiot. Read on.
Did you ever try something new and wished you hadn't?
Well, that's me trying the suggestion to machine bind this on the back and then turn the binding to the front. It looks awful. Also, I followed a tip to trim off the corners…no. It made my corners curve, which I didn't want. I will not try those things again. Every time I look at it I want to kick myself, but I still kind of love the finished project so… I'll live with it…but still. By the way, those tips probably do work for some people…just not a bad binder like me. I'll probably improve in time (a lot of time…years…forever). LOL!
Feel free to judge my awful binding, I'm judging the heck out of it. #embarrassing Anyway, keeping it real and posting it. I will say that the finished project looks wonky in this shot, but really it's just a little waving of the fabric making it look that way. Yours will probably look MUCH BETTER than this. Next time, I won't take those tips that I mentioned above. Nonetheless, this is really cute and it was a really easy way to decorate! I will definitely use the Silhouette Printable Material again, I just won't be using it on clothing or things that move a lot. I think as long as I store this flat, I should be fine. I'm going to make another one of these for Easter. Woo hoo!
Save Your Scraps!!
One of my favorite things about this project was that I used SCRAPS to make it! The background fabric came from this XOXO Valentine's Day table runner project that I still haven't bound. You've seen my binding issues, so I guess you know why. HA HA HA!
This is part of my craft room. Check out that little mug rug! I made that in this post. Frankly, I love hanging that XOXO tablerunner next to my desk, I might leave it there forever!
Have you tried the Silhouette Printable Material? What do you think about it?