Father's Day Lori Whitlock 3D Shaker Box using Silhouette Cameo

YAY!  I'm all ready for Father's Day!  I used Lori Whitlock's shaker box file and This & That Charming paper she designed for Echo Park to create this manly shaker box.
Father's Day is soon … Sunday, June 17!
When I was creating the box, I ungrouped the images and drug them off the mat so I could cut things on different pieces of paper.  You can also open several windows and lay out each group of images instead of dragging them off of the mat.  "Ungroup" is a very useful element.  Try right clicking on your image to bring up the "ungroup" option in many kinds of design software and specifically in Silhouette Studio.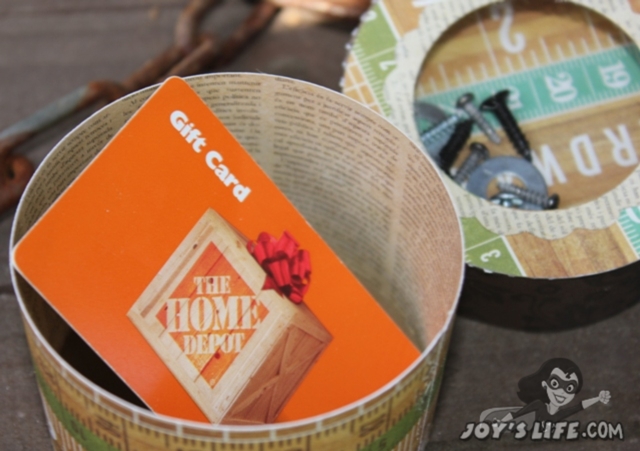 I added a few screws and washers to the shaker box lid to help pull together my hardware store theme.  Next, I placed a gift card for Home Depot inside.  Curious about what to use for the "clear" part of your lid?  I used the plastic packaging from the outside of Cricut cartridges.  I also use 12×12 Grafix Craft Plastic Sheets because I own a ton of them.  I bought them years ago when I thought I could cut them in the Cricut, but found out I could not.  So sad.  I'm going to try them out in the KNK Zing though, it's MUCH stronger than the Cameo, Cricut or my new favorite the Sizzix Eclips.
You can find Lori's shaker box file here.  If you need any help making it be sure to check out her video. I did!  🙂
I wrote this post while participating in the Lori Whitlock Design Team.
SEE THEM FIRST IF YOU'RE A NEWSLETTER SUBSCRIBER!

You can sign up for the Joy's Life Newsletter on the left hand side of this page where you see Super Joy reading the paper. 😉