How to Make a Paper Flower Bouquet with Measurements
I got so many requests asking how to make the beautiful paper floral bouquet that I received from Provo Craft's Design Team that I was persuaded to take one of the beautiful flowers apart so I can share its construction with you.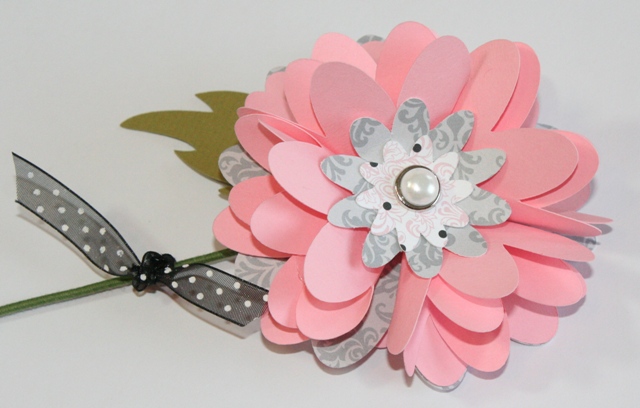 Here's a single flower up close. It is made out of paper. Glue dots and double sided tape are used as the adhesives. I was able to find the wire called "floral cloth wire" at Michael's in the floral department. In my store they cost $1.99 for 12 stems. The wire used in my bouquet is 18 gauge.
Here is the back of the pretty center of the flower.  Whatever embellishment you choose for the center it goes through the 2 top pieces.  A thick glue dot attaches it to the middle of the flower.
I removed this petal from the others and unfolded it. So, STEP ONE in creating the flower is to start with the flat petal.  Each of the three remaining pieces that you see attached to the floral gray piece of paper has begun as a flat piece like the one to the left.  There is a big piece of double sided tape under the four petals.  You can see it at the center of the flower where the stem is located.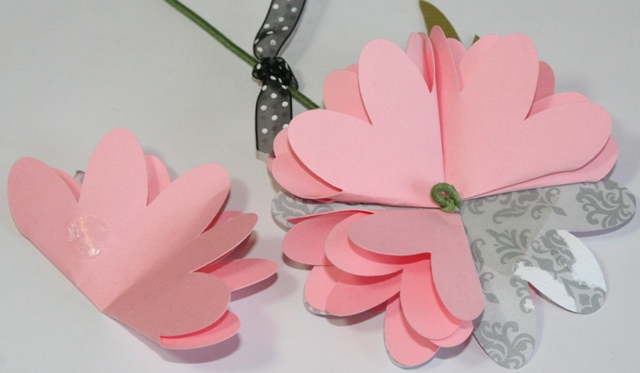 STEP TWO fold the piece in half.  Carefully placed glue dots will help secure the folded piece.
STEP THREE fold the petal again.
Each of the fluffy petals is created like the one made in the previous steps.  Then you glue them down as seen.
I even measured all the pieces for you!  You can create flowers like this from a variety of Cricut cartridges.  Certainly, the Mother's Day Bouquet Cricut cartridge would be an easy choice for floral variety.  If you don't have that one just look through your current cartridges.  I'm sure you can find a floral shape that will work for this project. You can also use Sizzix dies if you have those.
Here's how the bouquet started. 🙂 You can see more photos of it on THIS POST.
I hope you have fun making your floral bouquet!