3 Month FREE Membership in Cricut Circle from Provo Craft for YOU
I was so surprised and thrilled to receive this beautiful bouquet of flowers and sweet Mother's Day card all designed by the Provo Craft Design Team. It's so pretty!! Not only did they send me something, they sent something for me to give YOU! Read on… 😉
I knew my beautiful bouquet would feel right at home nestled among my Cricut Expression 2 and my Cricut Imagine. 😉  The cartridges to the right are ones I'm currently using.  I'm still getting moved into my new crafting space.
Here's the wonderful news! Along with each flower there is a gift for a FREE MEMBERSHIP in the CRICUT CIRCLE for THREE MONTHS for YOU! I have 7 left to give away, so if you're interested please leave a comment on this post. I'll announce the 7 winners on Mother's Day on this post. If you win, I'll email you the code you'll need for your 3 month membership. 😀
Now, let's see some more photos of this beautiful work!
These are even prettier in person!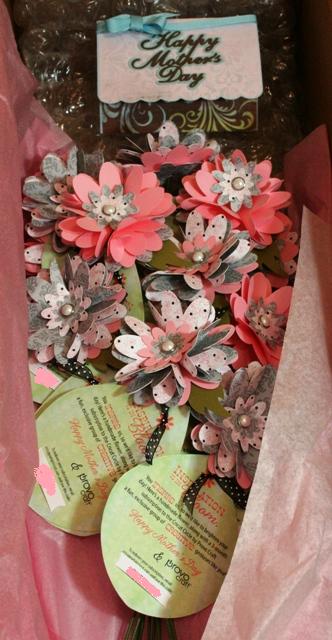 This is how they looked when I opened the box.
Isn't that a great bouquet? What a wonderful surprise!
If you're interested in trying out the Cricut Circle leave me a comment!  I've been a member since the beginning and have especially enjoyed extra savings and extra Cricut Rewards points when I shop through Cricut.com. I also recently attended my first ever crop via the Cricut Circle in Atlanta.  You can read about my experience by clicking HERE (it was FUN!) and also learn more about calling cards.
Come back tomorrow to learn more about the Cricut Expression 2.
AND THE WINNERS ARE:
PC509 Says:
May 5th, 2011 at 6:44 PM
I would love to win this for my wife. She is a ProvoCraft fanatic! She loves the Cricut!
Thanks for the chance, and Happy Mothers Day!
• Lauriejane Says:
May 5th, 2011 at 8:30 PM
OMG I would love to win this. It would be an awesome Mother's Day/Birthday gift! Thank you Joy (and thank you for all of the funny comments you post on your pictures. I love those!)
• 8upscrapin Says:
May 5th, 2011 at 9:56 PM
I love getting inspration from you and your site and provocraft is awseome , I would love a chance to try Cricut circle for 3 months , I own 3 bugs and the gypsy , the latest to join the family was the imagine .Thx for the chance .
• NecieBear Says:
May 6th, 2011 at 2:23 AM
Hi Joy, This would be a great Mother's Day gift to ME! I love your creations and your great sense of humor. I would love to try the Cricut Circle for free for three months. I love to create and I can't always afford a new cart. It has been a long time since I was able to get one. I love new inspiration to keep me going. Have a Happy Mother's Day! I am one of your BIG FANS…if you had a fan club. LOL!!
• Sheryl Kemper Says:
May 5th, 2011 at 5:31 PM
How lucky are you, Joy, to have received such an awesome gift. If I win, I will give the code to a friend of mine who has been there for me when I needed her after a surgery and to watch my kids…when she, herself, had health problems of her own. She loves crafting and could NEVER afford to join the circle…so this would be a great gift for my best friend
# Melissa Perry Says:
May 5th, 2011 at 5:11 PM
ME ME ME!!!…OOOO PLEASE!!!….THANKS SUPER JOY AND PROVO CRAFT!!…

• estherwheat Says:
May 5th, 2011 at 7:27 PM
Wow, what a neat surprise. I would love to win the 3 Month Cricut Circle! I met you at the Atlanta Crop when I attended with my friend (oops didn't realize it was Circle Members only, so I just audited!) We were table mates and I really enjoyed meeting you and learning some of your vinyl tricks! What an awesome day that was!
EARLY HAPPY MOTHER'S DAY FRIENDS!!