Cricut Life's a Party Spooky Halloween Treat Coffin
Today I pre-purchased tickets for me and SuperDaughter to go see the first daytime showing of  Breaking Dawn Part 1, the fourth movie in the Twilight series.  We're both really looking forward to it!  To get in Twilight mode I bought the Scene It? Twilight Saga Deluxe game and surprised SuperKid with it last weekend.  We sat together playing it and laughing, neither of us caring who won. 🙂  We had a lot of fun!
When I read Twilight back when it first came out, I emailed Stephenie Meyer to tell her how much I liked it. She wrote me back! She told me she was working on her next novel, which ended up being New Moon. That was back when her direct email was on her website. Nice lady!
Today's post is inspired by vampire movies. I haven't missed one since Lost Boys came out. LOL!
I like the Life's a Party Cricut cartridge. It has a wide variety of things on it from cupcake wrappers to cards and 3D items.  I thought the "Best Fiends for Eternity" sentiment stamp from Joy's Life Halloween Puns was perfect on this.
I used my Cricut Expression 2 to cut out the coffin.  I cut it at 6 1/2″.
Now that it's all cut out, I'm holding it up to a light to show you (and me) all the score marks. You need to fold the paper at all those little marks. You can use a scoring tool to get a crisp fold, but I just used my fingers.
The acrylic block I'm using is permanently stained from different inks I've used. I figured I'd show you one of my much loved blocks, that way if your blocks look pretty loved, you'd know I have some like that too. We're twins!
I punched the sentiment out using this pretty Ek Punch glued all the tabs together using Zig 2 Way glue pen and inked the edges of the tag using a black Color Box chalk.
Here's the coffin with all the little pieces glued that needed to be glued.  You can put some thin candy in here or use it as a spooky decoration.
Here's another coffin I made last year using the Happy Hauntings Cricut cartridge.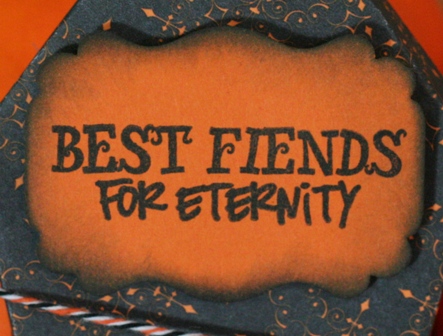 I'm using this coffin as decoration.  I love the Halloween sentiments.  They're good all year for a Twilight fan!
I hope your day is Fang-tastic!