Silhouette 3D Pencil Smencil Treat Holder
I hope that you enjoy this project because I designed the whole thing!  I used my Silhouette Cameo to create this 3D design.
Here's part of my creation.  I had such a good time making it.  Being able to create my own designs is one of the big draws for me to the Silhouette Cameo.  I decided I wanted to create a holder for the Peppermint Smencils (Smencils = pencils that have a smell) that I have.  My kids wanted to give some to their friends, so I created this fun way to deliver them.
I cut everything out and stamped "a tree-t for you" from the Joy's Life Yummy Puns stamp set.
Every time I can create something out of a single sheet of paper, I'm impressed. Don't you love doing that? This whole project uses less than one sheet of 12×12 paper for one creation.
If I'd planned ahead I could have scored these in the Silhouette software.  Oh well.  You know what else works?  A scoring board! LOL!  I pulled out my Fiskars Trimmer & Scorer and did my best to score those trees down the middle. Using a score board more like the Martha Stewart Score Board
would have been better for this small work because it was hard to hold the trees in place under the Fiskars' holding area.Long story short…score the trees down the middle and stick their sides together using Glue Dots.  That makes a 3D tree!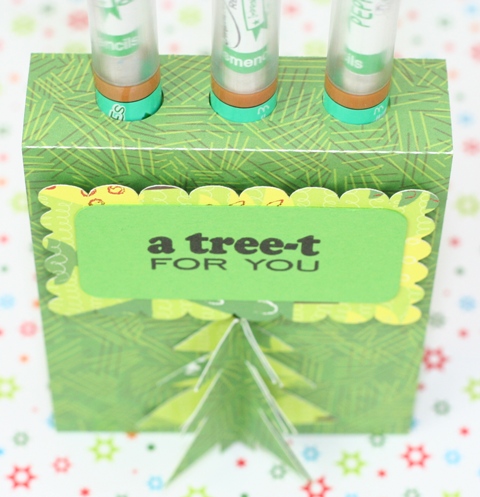 I think this would make a nice teacher gift too!
What a great prize!!!  I have only the best things to say about Madeline at the The Shabby Vanity.  She did my entire website makeover earlier this year and was such a pleasure to work with.  She's TERRIFIC!!
To be entered for a chance to win this great Blog Design Package
AND THE WINNER IS:
SherriC.
Submitted on 2011/12/15 at 2:06 PM
what a GREAT project!!!!!!!!
and Fabulous prize, I would LOVE a blog makeover!!!!!
Thank you so much Joy, for all you do!!!!!
See You Tomorrow for Day 4 of the 2 Million Hits Celebration!