10 Halloween Home Decor Projects You Can Make
Happy October everyone!  I love the Fall.  I enjoy the cool air (mixed with a warm jacket), the turning of the leaves, hearty fall cooking and a touch of spooky!  Here are my favorite REUSEABLE spookified things that I've made over the years.  I still pull these things out every year.  They have lasted and have provided me with years of enjoyment.  Yay to that!
Black Flower Arrangements
Click to learn how I made these Black Flower Arrangements for Halloween.
I love these!  I've got them in my craft room right now sitting on a shelf.  I should migrate them to another part of the house but I love them in here!  Plus, why shouldn't the craft room get it's spooky on?
Dollar Store Foam Pumpkin Makeover
Learn how to create this twine pumpkin here.
Worth the twine and effort!  This pumpkin is currently living on my mantel in the den!
Creepy Halloween Potion Bottles
Learn how I made these creepy bottles here.
These bottles have been around for 3 years now and they still looking their spooky best!
Trick or Treat Painted Canvas
Here's how I made the Trick or Treat painted canvas.
This one has only been around a year but it still looks great!  I hang seasonal art on nails/picture hangers on the inside of a closet.  It protects the art from temperature changes (if you kept it in an attic or garage) and keeps it off the ground.  I used vinyl in the creation of this project.  Here's a video about using vinyl as a resist.
Bloody Candle!
Here's how to create your own bloody candle decor.
I had a fun time making this bloody candle.  It's so easy!  You only need 3 things to make it.
How to Carve and Monogram a Craft Pumpkin
Carve your own craft pumpkin.  You know you want to!  Here's a link to the original post.
3D Spooky Tree
Here's how I made this cool 3D tree.
This 3D chipboard tree has been around for 4 years now and still looks good!  It's currently living on a floating shelf above the TV in my craft room.  I love looking at it and it puts out some spooky tree shadows when the light is right.  Awesome!  Don't forget that you can use cereal boxes instead of chipboard in your die cutting machines.  How to cut cereal boxes in the Cricut.  How to cut cereal boxes in the Silhouette Cameo.
Make Your Own Tiny Witches Broom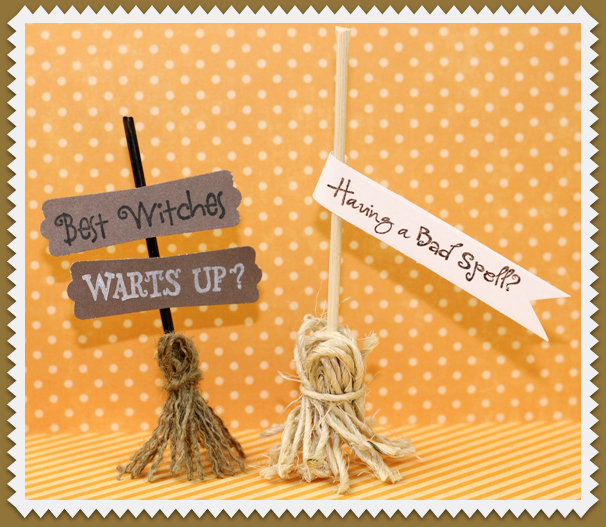 Here's how to make a witches brook from twine.
I made these last year and they're still a sweeping hit.  Bah ha ha.  Hey, I even used that joke last year.  LOL!  Anyway, these still look great and they're easy to make.  I'm displaying this in my craft room too.  I think they're so cute!
Halloween Potion Test Tubes
Learn How to Make Your Own Clear Sticker Sentiments from Craft Stamps
This is a super fun project to try!  You can use this to give candy or a display.  I'm using Joy's Life Halloween Puns stamps for all these cute sayings.
Skeleton Halloween Tree Covered in Bling
Here's How to Make this Skeleton Tree
To make this an even #10 of my favorite reusable Halloween decor crafts, I'm adding in one I just made.  I LOVE this and it's holding up great!  Well, one skeleton fell off when I moved it down the stairs from my craft room and my English Mastiff puppy grabbed it for me.  Read that as…covered it with dog slobber.  However, it did survive!  The skeleton on the right has a more "rustic" look now.  LOL!
**Gosh, where to cut off my favorites?  I have to add this one in as a bonus #11!
I made this from a lamp shade and some hideous Teletubbie fabric!  Check it out here.
Now go get spookified!