Create A Critter – Rabbit & Carrots
Everything pictured is from the Create a Critter Cricut Cartridge
DS#2 is going to a little disappointed that I'm posting this cutie rabbit without the accompanying video we made.  Poor thing.  Well, it's all my fault.  He and I began a video together.  (He was so cute!)  It was about him asking me to make this very rabbit with a basket and one carrot.  The problem?  It was the day before Easter.  I don't know WHAT I was thinking.  I thought I could make this rabbit, film it, edit it and get it up on my site really quickly.   It could have worked…had I not run out of time and only half filmed the making of the rabbit.  Finally, I thought…tomorrow's Easter!!  Whip this thing out for the kiddo!  So, that's what I did.  I didn't bother narrating my actions or filming the construction, embossing or assembly.  You know what I did do?  I finished it up and had it stuck to the kiddo's bedroom door so that on Easter morning it was there.  He loved it!  So…YAY!  That's good enough for me.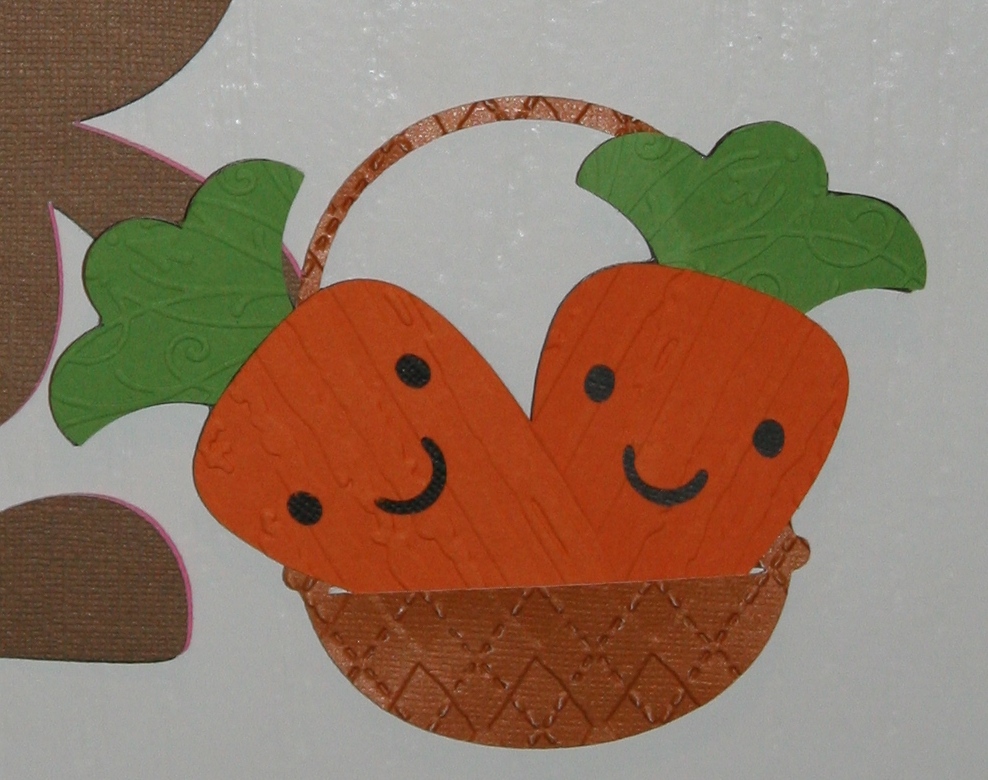 I decided to make 2 carrots instead of the requested one. Hey, "artistic license" ok?!
I tell you what, I need to own stock in that brown paper I used for the basket.  I love that stuff!  I think it's from a DCWV stack from last year.  I found it in my scraps.  I used it to make an ice cream cone too and it was PERFECT for that!    The brown paper on the rabbit is from one of my new favorites, The Paper Studio – Textured Cardstock (Darks).  I know it's been around a long time, but I'd never used it.  Now, I'm in love with it.
I used the Houndstooth Cuttlebug Folder on the basket, Distressed Stripes Cuttlebug folder
on the carrot bodies and Emily's Bouquet on the green leafy parts. 😉
Mister Rabbit is as big as I could get him on 12×12 paper.  You can just use the Cricut "Fit to Page" button if you have a Create or Expression.  I used my Gypsy and am not sure of his exact measurements.  Want to know a little secret?  I used my ATG gun to stick this dude and his carrot pals to DS#2's door.  Between you and me…I'm a tad concerned about getting it off. 😐  Do you think having the rabbit on the door on the 4th of  July is pushing it a bit?  What about Christmas? 😀