Butterfly & Flower Candy Gifts for Spring with Skittles and Starburst
I am a member of the Collective Bias®  Social Fabric® Community.  This shop has been compensated as part of a social shopper amplification for #CollectiveBias and its advertiser. #VIPFruitFlavors
I'm thrilled that when I look outside I'm starting to see flowers and trees beginning to bloom.  Woo hoo!  After that long Winter, we finally made it to Spring!  With Spring also comes team and classroom parties, Easter celebrations and more.  So, it's time to create awesome gifts for groups and big celebrations.  Let's get our craft on making some colorful, tasty and fun gifts using Skittles and Starburst candies!
You'll need some plastic craft tubes, cardstock butterflies and flower shapes, Glue Dots or a hot glue gun, snack bags, string and several bags of Skittles and Starbursts.  I used my Silhouette Cameo to cut out the flowers and butterflies.  Here are some other projects I've done with my Silhouette Cameo.  Need help with yours?  Check out these tutorials!
First, separate the candy colors.  To make the center of a flower, I added yellow Skittles to a plastic snack bag, twisted it to the size I wanted it and tied it with bakers twine.  I used Pop Up Glue Dots to stick the flower center down.  A hot glue glue is also a good choice for this craft.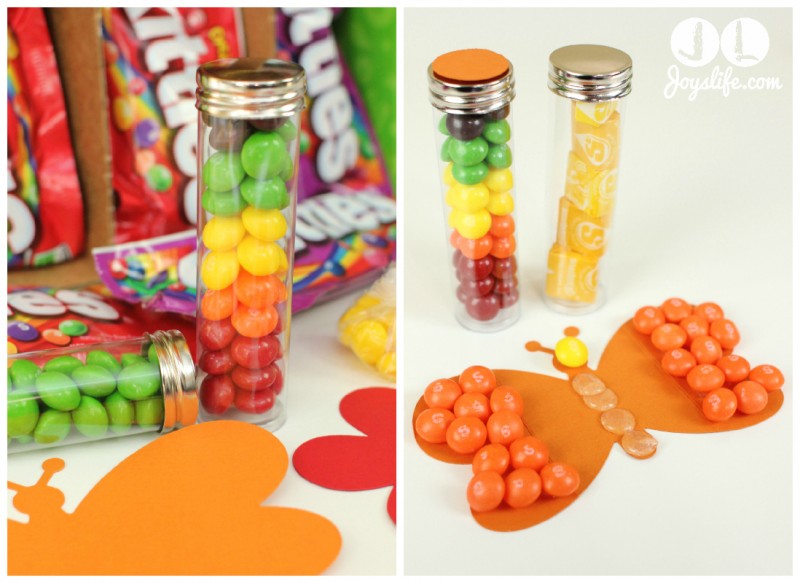 I bent the butterfly wings at the body so it would fit around the tube.  Pop Up Glue Dots are holding the body to the tube.  Use a hot glue gun or Glue Dots to stick the Skittles to the butterfly.  Bend the wings outward to give the illusion of flying.  Fill the tubes with a variety of Skittles and Starbursts.
I bought my Skittles & Starburst 30 Pack from Sam's Club.  While I was there, I had the coolest experience getting a free sample.  They had a big machine that was giving out dishwasher soap samples.  All I had to do was swipe my Sam's card and the sample shot out.  I thought that was super cool.  Does that make me a nerd?  I actually can't wait to see if they have a different sample next time.  Wait.  THAT definitely makes me a nerd.  LOL!  The sample worked great too.  SCORE!  See you soon, sample machine.
What a yummy and fun flower!  This sort of reminds me of Mario Bros.  Cute!
Just think of the great party you could have with these as treats to all the guests!  You could even let kids make these themselves as part of the fun.  The butterfly wings could be made from all the different colors and everyone's could be different!  So cool!
Happy Spring and Happy Crafting!