Cricut Snowflake Ornament Jingle Jangle Blog Hop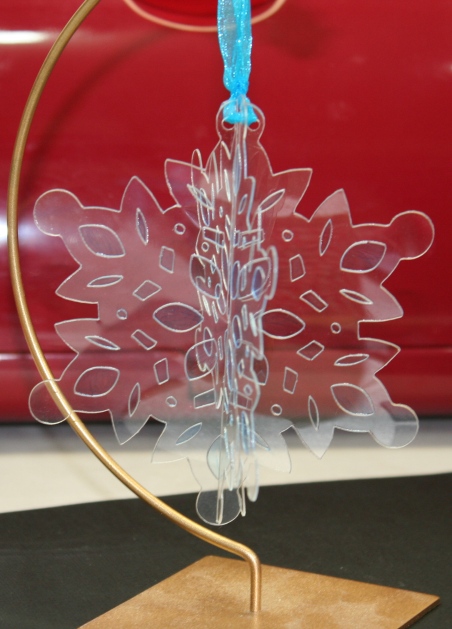 This 3D snowflake was made using the Winter Lace Seasonal Cricut cartridge and acrylic sheets.
I put the thin acrylic sheet directly onto a fairly sticky Cricut mat.  Using the deep cut blade, I cut the acrylic at speed 5, pressure 5, blade 6 and multi cut 4.  The snowflake is cut at 4-3/4″.
Even though I used the max settings and multi-cut 4, I still couldn't get the Cricut to cut the acrylic all the way through. It did do a beautiful job scoring it though! I cut the 2 pieces apart because I had decided to cut the flakes out by hand if necessary.
My hand is stained pink from some Copic markers I used earlier. LOL!
I was able to snip a few places in the acrylic and then tear it away from the edges.  This method would not work for the insides, but I think they look pretty scored too.
I LOVE my Tim Holtz Scissors! Those scissors can cut tough things like this acrylic and then snip ribbon nicely right afterward.  That speaks volumes about this product.
It's beginning to look a lot like ornament…everywhere I go.
I used that Bic Mark-It marker to color in some of those "embossed" parts of the snowflake. I hadn't tried those markers on acrylic before, but they work beautifully!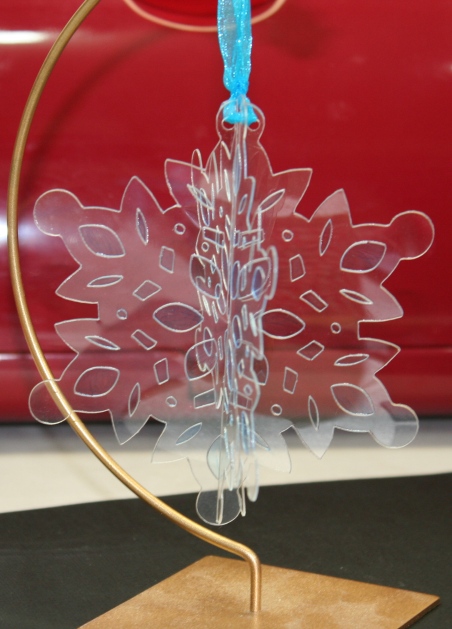 I used a hole punch to make some holes in the ornament so I could hang it up.  TA DA!!  All done.  One thing I will say…it's very difficult to take a picture of clear acrylic.  LOL!
Leave a comment to be eligible to win the very hard to find Lace Tree Cuttlebug Embossing Folder:
And the Winner IS:
# melraycourt Says:
December 19th, 2010 at 10:50 AM e
I love this website!!! I'm fairly new, so just learning! I would LOVE to win!!! Thank you for sharing your talents and ideas with all of us!!!! Merry Christmas!!!
The folder the winner will receive is sealed in clear plastic from Provo Craft, but doesn't have the cardboard. 😉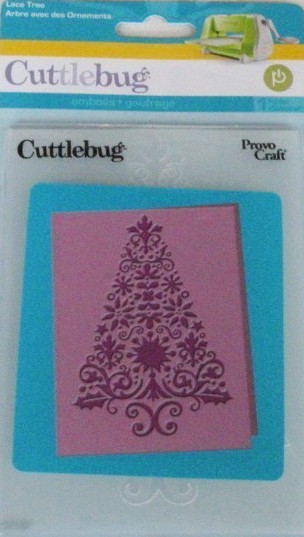 The Next Blog on the Hop is the great Momo!!
Here's the list of everyone who is in the blog hop:
Gale http://www.thehappystamper.com
Ruthie http://septemberninth.blogspot.com
Felisa http://felisa21.blogspot.com
Debi http://dizzylizzyscreations.blogspot.com
Evelyn http://evinadas.blogspot.com
Janie http://www.typicalscrapbooker.blogspot.com
Joy https://joyslife.com YOU'RE HERE!!
Mari (Momo) http://madebymomo.blogspot.com
Meredith http://www.meredithscraps.com
Nicole http://primpedinpaper.wordpress.com
Raven http://love4stamps.blogspot.com
Theresa http://www.thescrapbookingqueen.com
Tracy http://www.craftjunkietoo.com
Yolanda http://yoliebean.blogspot.com
Merry Christmas & Happy Holidays to You!