Cricut Cartridge Checklist App & Printable List Updated
Cricut Cartridge Checklist & App – No Longer Available
Thanks so much for your support of the Checklist and App over the years! In 2019, we decided to stop updating the app and checklist due to time constraints and technology changes. Plus, Cricut has a very good online presence (which they did not have in the past), and with so many digital purchases happening via their site, you can find them in your Cricut account. Thank you again sweet Cricut friends! Happy Crafting!!
The Cricut Cartridge Checklist App & Printable List are Updated! Check this list to see the recent additions!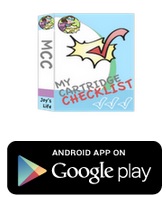 Hey Cricut friends! I updated the Cricut Cartridge Checklist App with the below cartridge releases, so be sure to update your app!  The APP includes EVERY CARTRIDGE so be sure to use your MENU button to sync your APP to make sure it has all the new carts on it!  Don't forget, if you need a printable checklist, I've got you covered there too!
Need help understanding how to use Cricut's universal overlay?  Check out this helpful video post.
Here are the Cartridges Recently Added to the App and List
All Occasion Box Cards (Lori Whitlock)
Anna's Christmas Cards & Embellishments
Anna's Decorative Monograms
Anna's Flourish Cards & Embellishments
Anna's Garden Cards & Embellishments
Anna's Lace Cards & Embellishments
Anna's Lovely Layered Cards
Be Prepared for Boy Scouts
Classically Modern Cards
Creepy Critters
Decorate! Celebrate!
Dimensional Paper Art
Disney Frozen
Do Your Best for Cub Scouts
Four Seasons Home Decor
Home Organization
Intricate Cut Quotes
Mondo Fonts
Monogram Motifs
Simple Pop Up Cards
Spring Fling
Summer Love
Did you notice that new All Occasion Box Cards cartridge by Lori Whitlock?  She's one of my favorite designers!  I used to be on her Design Team and am still a fan of her work.  I've used her designs since 2011, but on my various Silhouette machines.  I'm sure that this cartridge will be a good one!