52: Episode 13: How to Print & Cut Using the Silhouette Cameo
In this episode of the "52 Craft Series", you'll be learning how to print and cut using the Silhouette Cameo.  If you already know how to do that, skip to minute 6:29 and you can begin watching how I add elements to the cards.  I hope you enjoy this!  Click here to watch all of the "52 Craft Series" videos.
To make these cards I used: Lettering Delights Modern Desk Caddy graphics and Joy's Life "Sweet Popsicle Puns" and "Tag You're It Two" stamps, found in the Joy's Life Store.
I also used: Mini banner Punches, EK Success Photo Labels punch, Versafine Onyx black ink, Tiny Attacher mini stapler, Art Glitter Glue, Rhinestones, Washi tape and I printed using my Canon Pixma Pro 9000 Mark II printer.
Here's What We're Making in this Video: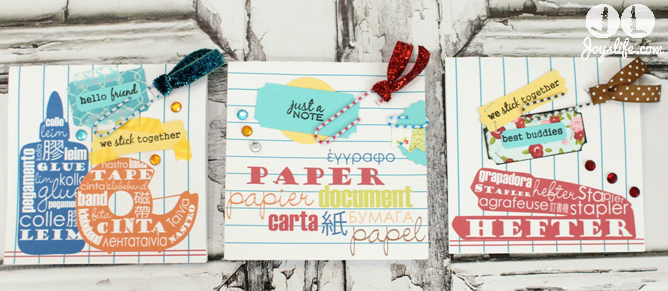 Lettering Delights Modern Desk Caddy graphics made the lined paper, glue, tape, stapler and the words that say paper.  All tags are made with Joy's Life stamps.
Here's how to make those cute paper clips!
I hope you enjoyed this video and that it was a help to you.  If you have more questions about the Silhouette Cameo check out my tutorials here.  Check out my Silhouette and Lettering Delights Pinterest boards!
Have a Crafty Day!