Silhouette Cameo Party Banner – Glue Dots Design Team Post
What?!  Where did Christmas go?  Well, that was fast!  Time to welcome in 2012 with a PARTY…well, at least a party banner.
I used this great banner file from Silhouette and just typed PARTY into the software so I could add that lettering.
To make your banner simple to assemble, I say stick with just a few colors. Completely assemble one pennant (piece of the banner) and use it as a template so you don't forget what you're doing. Now, just reverse the colors for the next pennant piece.
Yes, I did use the ink embossing technique again.  When I don't use it for a while and then I get back to it, it makes me want to ink emboss everything.  LOL!  If you'd like to know more about this technique check out this post or this link to my video about ink embossing.
 I'm using Glue Dots® 1/2-Inch Pop Up Dots
 to give the letters a raised look.  I'm also using Glue Dots® Ultra Thin and Mini adhesives to assemble the other parts of the pennants for the banner.
 So, how do you hang the banner?  I used my Crop-A-Dile
 to punch holes in the corners of each banner.  Then I stung tulle (available at Michael's and other craft stores in a roll…check the wedding area) through the holes.  This banner isn't very heavy, but if yours is very long consider the weight for hanging.  Push pens work well for many banners.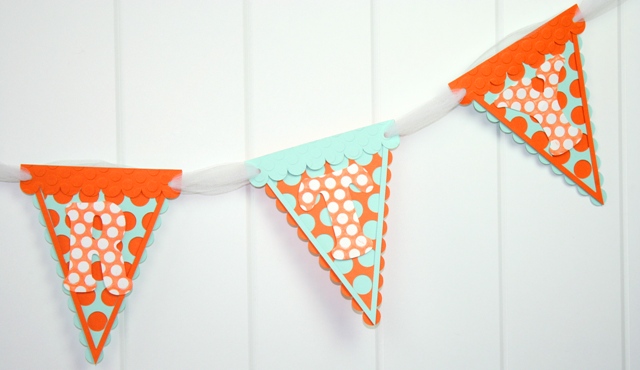 Ok, you still have time to throw a party for New Years Eve! So get your party started!
I wrote this blog post while participating on the Glue Dots® design team.