Silhouette Cameo Batman Gift Tags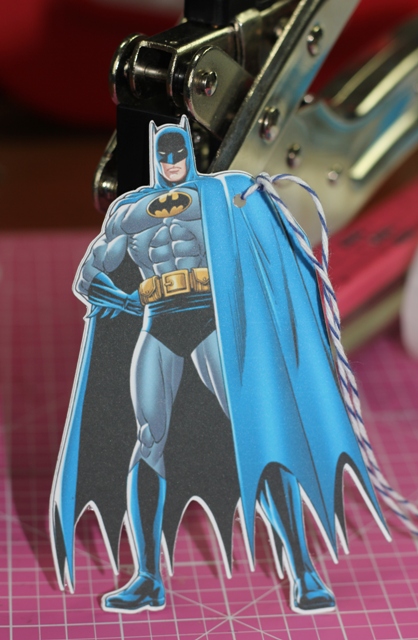 Did you see that Silhouette recently added Batman to their print and cut download offerings? If you haven't used the print and cut function of your Cameo, you should give it a try. I think it's a fun way to make something quick, like this! TA DA! Was that fast? I thought that was fast.
First, I downloaded that cool Batman image from the Silhouette store. Next, I clicked on Batman then selected the "Replicate" button (found at the top right of the software, looks like a wonky flower or mutated butterfly) once you click that button a window will open on the right. I chose "Mirror Right" to create another Batman but one that faced the opposite way. I did that to create a back for the tag. I clicked on the mirrored image of Batman, right clicked on my mouse and chose "ungroup". You can also chose the "Object" tab on the top left of the software and locate "ungroup" there. I filled the mirror image of Batman with a solid color and deleted the highlighted Batman you see in the screenshot.
You can learn how to fill objects with patterns and color on this post.
Using the text and box drawing features, I made these backs for my tags. If you make your tag backs like I made mine, make sure you highlight the box and text areas and select "no cut" or your tags will be a shredded mess. Well, not really shredded but probably not what you had in mind. 😉
Want to make Batman things but use a Cricut?  No problem.  There's a Batman cartridge.  I used it here.
I get a lot of email asking me if the Cameo can print.  It's a very good question.  Yes and no.  It can talk to your printer and tell it to print what is on the virtual mat of your Silhouette software but it can't print directly from the Silhouette machine.  To print on 12×12 paper, I use this awesome Canon printer that my husband gave me for Christmas.  He knows me so well.  I was thrilled to get this!  It's the Canon PIXMA Pro9000 Mark II Inkjet Photo Printer.  There's a rebate on it right now.  I'm considering buying an additional one for my craft room.  I'm in the office in this photo.
When I printed the Batman tags, I made sure to choose "Show Registration Marks" so the Silhouette could use it's laser eye to find where to cut.
Like character print and cut things?  Here's one I made of Marvin the Martian using my Silhouette SD.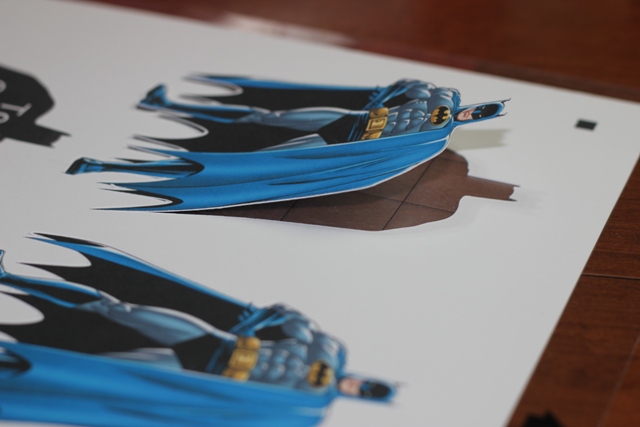 All cut out and ready to be removed from the mat.
I ran Batman through my Xyron to make him sticky on one side.  Then I stuck him to the name tag backing that I made.  Ta Da!!  A tag!
(Yes, that's my coffee cup on the right. It's got strawberries on it.)
Now to punch a hole so that Batman becomes more than just a useful crime fighter… instead he's … a useful gift tag!  I'm using the Crop-A-Dile Big Bite to punch the hole.
Want to know more about Crop a Diles?  Here's a video about how to use them.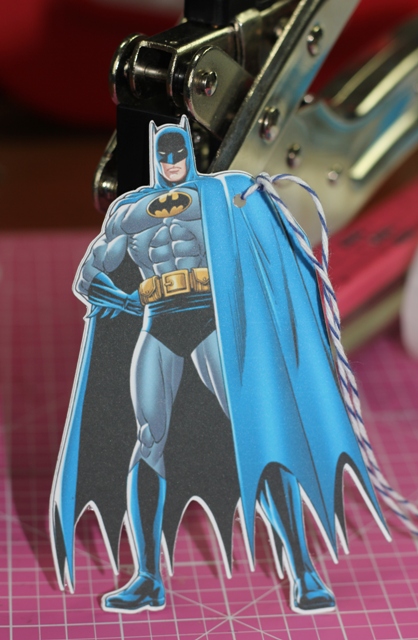 And now…to the Craft Cave!