Back to School Note Holder Teacher Gift with Epiphany Crafts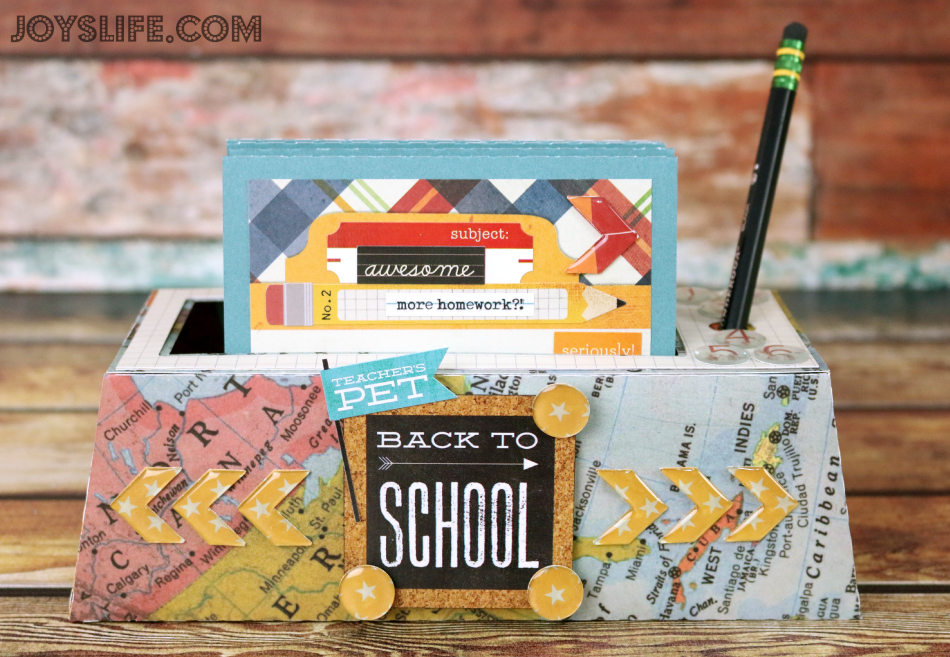 How great would it be to get a gift for your desk that already had note cards in it?  I think that would be awesome!  This Back to the Books SVG Kit by SVGCuts has 4 cards PLUS envelopes AND this whole box in one file.  Nice!  I cut everything out with my trusty Silhouette Cameo.
I'm using the Xyron Mega Runner to adhere all of my pieces today.  Can we just take a moment to be amazed that these few pieces make the entire note holder?  Astounding!  It's just a simple matter of bending on the perforated lines and gluing.  I decided to change out the star paper you see to a piece that looked like graph paper.  I thought that looked better.
The tool on the left is the Epiphany Crafts Shape Studio Chevron 25 tool.  I'm using it with the matching bubble caps to make a chevron piece that I'm sticking to the "School Day's" card.  I'm so in love with the paper and stickers from the Simple Stories Smarty Pants collection that I'm using them again!  I also used them to make this backpack and this pencil holder.  Check them out!
Besides the Epiphany Crafts Chevron 25 tool, I also used their Round 14 and Oval 25 tools and matching bubble caps.  Look how cute those "read" and "learning" ovals are on the shoe…and that A+ in the apple in "School Days" =so awesome!
I made all of the cards using paper and stickers from the Smarty Pants paper pack and creating embellishments using the Epiphany Crafts tools.  I had a blast making these simple cards!  (The blue cardstock came from my stash.)
I love the chevron tool.  Really, I love them all.  I really want to get the pennant tool and the hearts next!
I used a liquid adhesive to attach the chevrons and foam dots to pop up the round star shapes.
Yes!  The Round 14 tool helped me make that cool number area.  I thought it looked like a keypad or hopscotch.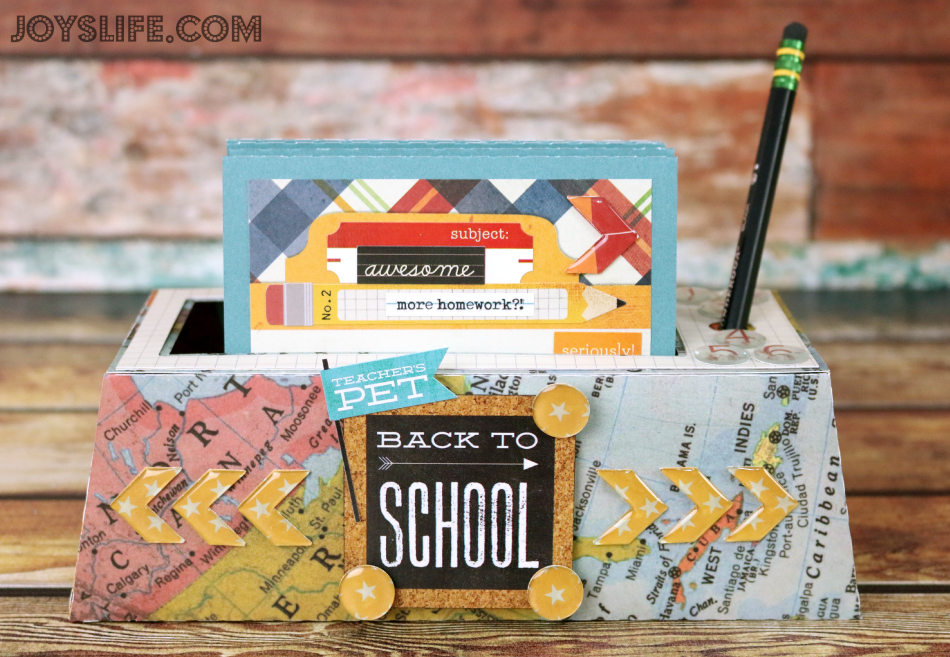 I created this project and received Epiphany products while Guest Designing for Epiphany Crafts.  My opinions of their product's awesomeness are 100% my own.