Square1 Printable Adhesive Fabric Marvin the Martian Laptop using Silhouette SD + GIVE AWAY
DON'T MISS THE GIVE AWAY AT THE BOTTOM OF THIS POST!
Silhouette just came out with some Looney Toons characters that work with their print and cut function.  When I saw Marvin was one of them, I just had to spend a big .99 and download him.  He cracks me up.  Do you know why he's always trying to destroy Earth?  It obstructs his view of Venus.  LOL!!  You're right.  That's not funny at all.  He's very evil.  However, he's also very amusing since his schemes are always foiled by Bugs Bunny AND he's wearing a broom on his head.  He should consult his people for a makeover if he ever wants to be taken seriously.
Here's the Silhouette software in action. Well, in stop action. I imported Marvin as is, but I also spent .99 to get some speech bubbles. (I was a spending fool. We're at $1.98 thus far.) I typed in what DH (Dear Husband) wanted Marvin to be saying. Basically, that's stuff Marvin always says. Yes, this is for DH. We're nerding up decorating his laptop.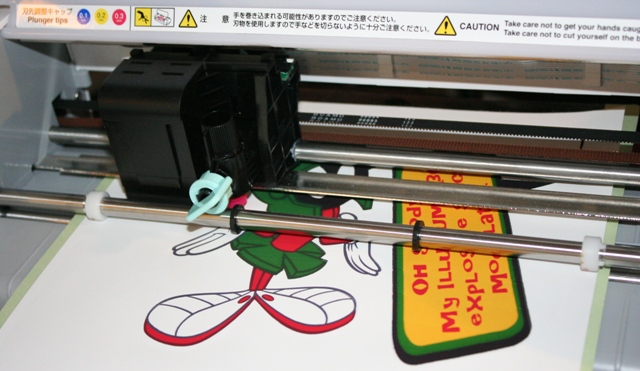 Here the Silhouette SD is cutting out what I've printed.
First, I printed Marvin out on my new but increasingly irritating printer that is giving me fits and making me consider using crayons using Square1 Printable AND RESTICKABLE material.  Then I put it in my Silhouette SD, had it read the registration marks (little lines at the top and bottom) and cut out Marv and the speech bubble.
This Post-It saved the day! I used it to cover one of the registration lines because I made a mistake because my printer is evil and ended up running my printable material through my printer twice. When it was finished, the registration marks were all messed up! I was so mad! 🙁 Well, it happens. So, I figured I'd try covering the messiest mark the machine had to read with a Post-It note. It WORKED! It read the lines just fine. Whew. (It uses a laser to find the marks and know where to cut, so they are pretty important.)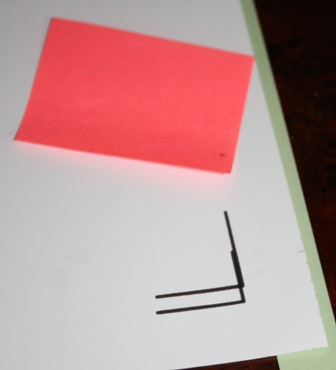 See how messed up it was?  I was so happy and surprised when the Post-It note saved the day.  Try it if this happens to you!

Peel and Stick – This is the peel part.
Now that Marvin is printed and all cut out you just peel the back of the Square1 printable material off and stick Marvin, or whatever you've created to whatever you want to stick it to. Cool thing? You can then peel it off and stick it somewhere else!!
Time for a GIVE AWAY!!!!
Want to nerd something up decorate something?  You can use this printable material with your Silhouette, Cricut Imagine or just your printer alone.  Want to try it out?  Square1 is offering 3 sheet sample packs of this awesome printable material for FIVE WINNERS!!  Just leave me a comment telling me what you would use this printable material for and I'll choose FIVE winners on August 29!!
Also, don't forget to sign up for my weekly newsletter! Sign up is on the Left side of this page. 😉
CONGRATULATIONS TO THE WINNERS!!
creativepatti August 23rd, 2011 at 4:34 AM
Loved your post, took me back…. We use to call my dad Marvin the Marion. LOL!!! Never used this material before, looks like a lot of fun. I would so use it to make my daughter a sling across tote bag she has been wanting. I would be able to print out some puppies or dog and her ATM logo for her Aggie… She wants to be a Vet when she grows up and already know where she wants to go study… Thank you for the chance to win.
babytigger22 Says: August 23rd, 2011 at 2:59 PM
OMG! i would love to win some of this awesome paper to customize everything on my 4 little ones school supplies. you know with kids they love something one day and the next they hate it! this would be awesome to be changing along with their interests!!
Joni A Says: August 24th, 2011 at 8:13 PM
Wow! Fantastic project!!! I have not heard of this material before and I'm excited to use it. For my daughter, I would totally nerd out her computer…she would love that! My son would like some thing for his dorm room door…and for my hubby I would do anything Army…he just retired! Thanks for the opportunity! hugs, joni
scrapper69 Says: August 25th, 2011 at 11:38 PM
I LOVE Martin the Martian! What a cute idea to add some pizazz to a computer! This stuff looks pretty neat! I would love to try some in my new scrap storage room! YES! I said scrap storage room! I have a scraproom and I needed a place for more storage and to host all my machines…. thus the scrap storage room! Hubby is working on a large 8? table for me so this would be neat to place on the walls using my IMAGINE! ohhhh the ideas!!!   Theresa
julied Says: August 26th, 2011 at 9:07 PM
I would make a lion to go on my son's wall. He has a jungle decal set on his bedroom walls and one morning I came in and he showed me the cute little lion decal crunched into a ball. "Look Mama I smushed the lion!" This time I would stick it up higher on the wall! Lol