Always Be Batman Wooden Painted Vinyl Sign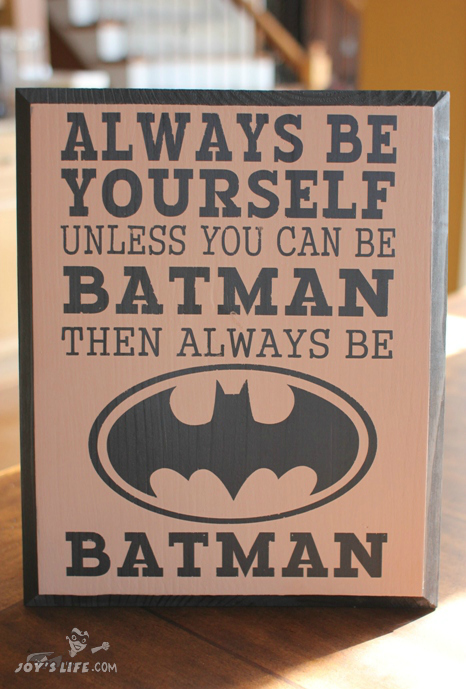 I saw this saying/sign shared on Facebook the other day and knew it was perfect for my son's b'day!  He is a huge fan of Batman.  Remember when Batman did our vacuuming?  Check out this post…the top middle photo.  Yeah…vacuuming in a Batman cowl.  Okaaaayyyy…. LOL!
We had some left over wood in our garage.  Where we keep leftover everything.  DH was a super help and cut and routed this wood for me.  You can also use wood plaques that you can buy at your local craft store.  I bought some at WalMart once and they were awesome.  See a project using those here and here.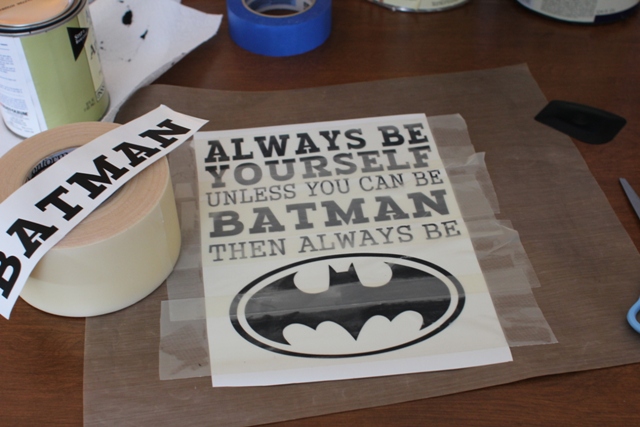 I made the lettering using my Silhouette Cameo and some fonts that I had on my computer.  I'll try to remember to come back and list the specific ones I used.  I can't remember and am on a different computer.  Ack!  Well, there are a lot of fonts that would look good with this.  I got the Batman logo from the Silhouette store.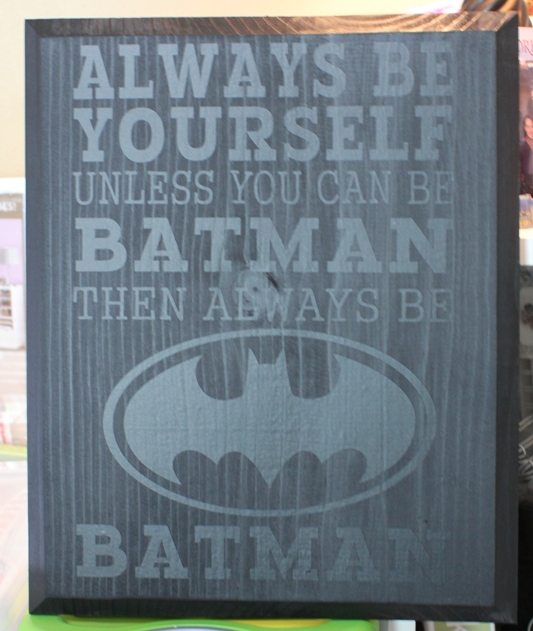 I covered the sign with my vinyl. I used black vinyl because it's easy to replace locally if I run out and need it right away. Most craft stores carry black vinyl.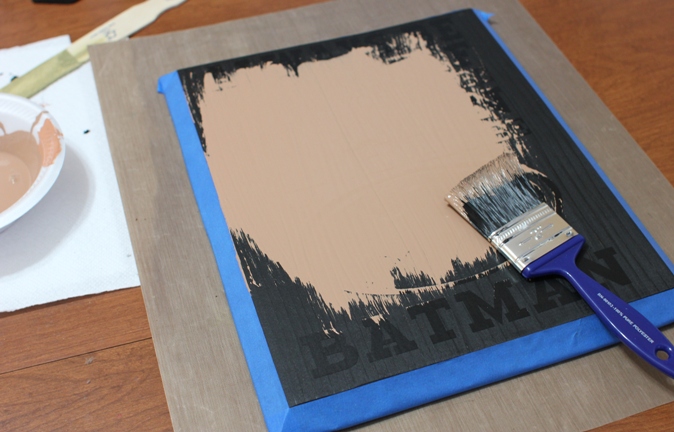 Earlier, I covered the whole board in black paint. I didn't want this tan paint to get on the sides, so I covered them in blue painters tape. The black vinyl saying is on top of the black paint and now I'm covering that with the tan colored paint. In this project, the vinyl is acting as a "resist" and won't be part of the finished project.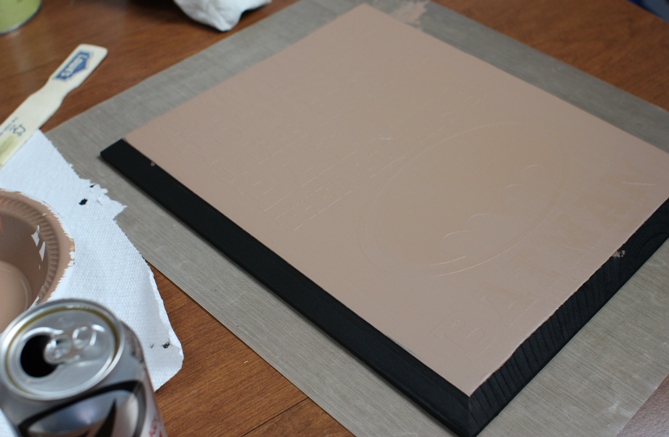 The paint is dry and now it's time to remove the vinyl. I got some paint on the edges so I'll touch that up with black paint when I'm finished.
I used a hook/pick tool to help me remove my letters.  I use a hook tool by Cricut.  Normally, I use a Fiskars Craft Knife but that was digging into the wood too much to use for this project.  The pick/hook tool ended up being the best choice for me this time.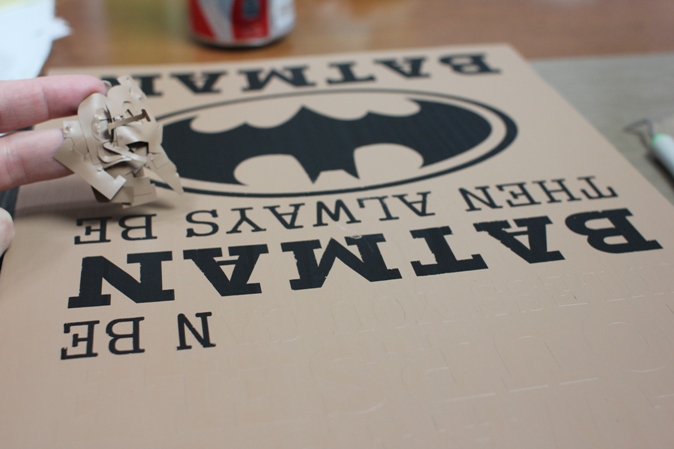 I stick vinyl to my hand until I get a big ball of it.  Then I stick it somewhere until I'm completely finished and can find the garbage can.  Oh, you have to see my garbage can.  I decorated it with vinyl (even fuzzy vinyl) years ago and I still use it.  I love it!  That sounds weird to say about a garbage can, doesn't it?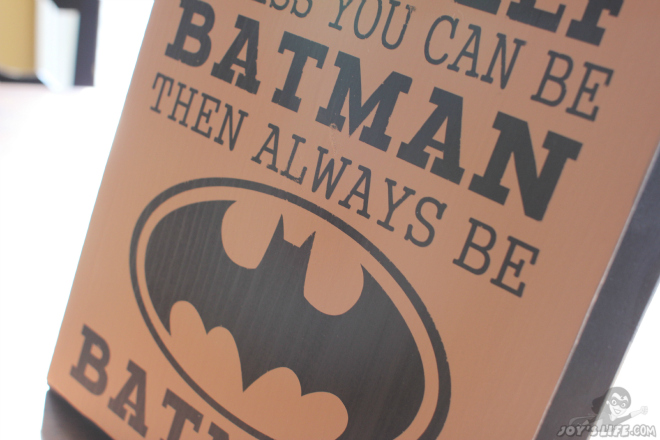 Is it perfect? No. I think that's one of the things I like about it though. I was going to do a whole distressed thing to it but my son likes it just like it is. YAY! I'm so glad he likes it! He wants to hang it on his door but I'm not too sure about how to do that without damaging the door. Hmmm. I was thinking…wall.
I'm going to add a matte polyurethane to it for protection. I wanted to find out if my son wanted me to distress it or not first. I think it looks slightly distressed as is.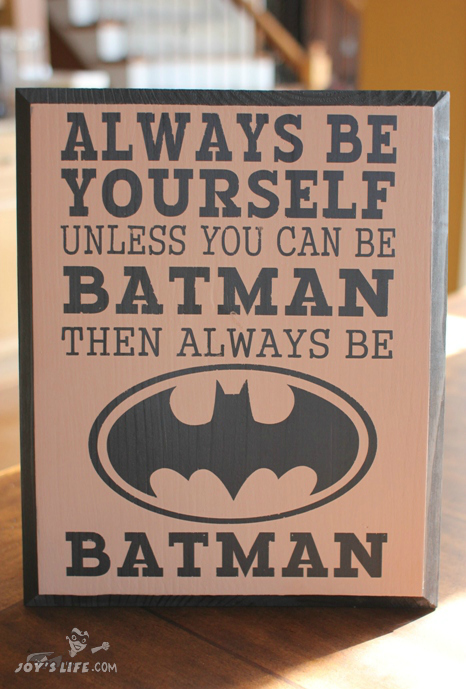 I'm so glad he likes it!
Go Vinyl and Paint something!