Cricut Expression 2 Vinyl Garbage Can Project Part 1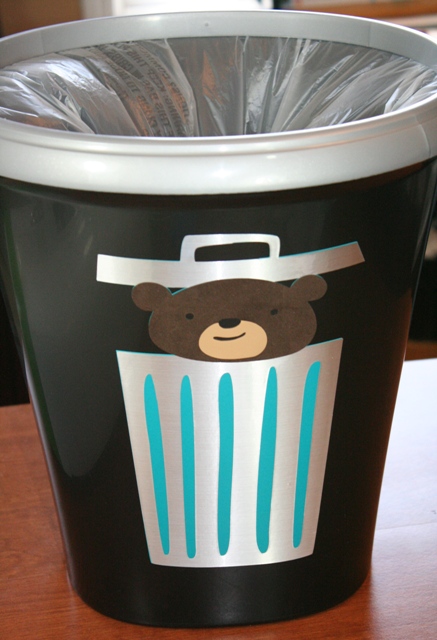 Oh my goodness. I LOVE this bad little bear! He is so cute! However, I DID NOT LOVE whatever got into my garbage this morning and drug it all over our front lawn. THAT was GROSS. Nevertheless, I decided to go ahead with my idea of decorating my craft room garbage can using my Cricut Expression 2 and vinyl.
I'm using the Give a Hoot Cricut cartridge.
This is the very first project I've done with my new CE2. It performed very well for this project although, I didn't stick with the vinyl settings programmed into the machine. Nope. They're wrong! The settings I talk about in my Cricut Vinylology DVD still work for the CE2. YAY!
Guess what? I've got some funky vinyl there. The brown one is Fuzzy vinyl by Silhouette (look for flocked vinyl), the teal is regular Silhouette vinyl, the tan is Cricut vinyl and the silver? Guess!! Ok, I'll tell you…it's silver Contact paper!
I really like that the CE2 shows you exactly where it's going to cut. NICE!
In my Cricut Vinylology DVD I teach you how to use vinyl (indoor, outdoor, fuzzy, heat transfer, chalkboard) as well as Contact paper. So, yes. You can use Contact paper as a vinyl substitute, but I do prefer real vinyl. Just sayin'.
I cut these out at 9″. Next I'll layer these things so we'll have some awesome dimension. I always have an Exacto knife on hand when I am working with vinyl. That's what I used when I worked in a sign shop and I still do with my home and crafting use. It's super handy.
Here you can sort of see how that fuzzy vinyl really looks. It looks…fuzzy. 😉 It feels fuzzy too.
BEFORE. Ho hum.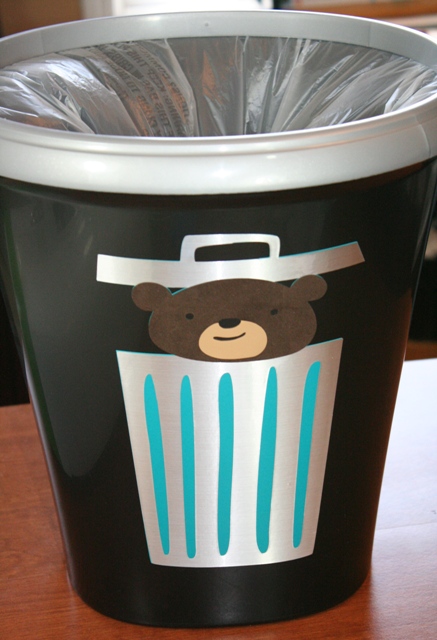 AFTER. The cutest garbage can in my whole craft room. LOL! 😉
Here's PART 2 of my Garbage Can project.
Want to learn how to GLASS ETCH using vinyl? Make Vinyl t-shirts & gifts using Heat Transfer Vinyl? Create layered vinyl projects and wall vinyl decor? Check out my Cricut Vinylology DVD! You'll learn all that and MORE!