How to Use Fill Color in the Silhouette Software
Using "Fill Color" in the Silhouette Software opens up so many unique options for you!  You can change the color of almost anything that you have.  Here's how… (this works for the Silhouette Cameo and other Silhouette models too)
 Here I've imported a clover from the Luck of the Irish set from Lettering Delights.  To change the color of the clover from green to red, I opened up the "Fill Color" window by clicking on the spilled paint can icon.  I selected the clover on the right, which was originally green like the one on the left.  Next, I clicked on red from the paint palette on the right.  TA DA!  A red clover!
Great, Joy, but what if your design is more complex, how do you change just a few colors among the many?  Glad you asked!  Scroll down and let's talk about that next.
How cute is this cow from the Lettering Delights Cowabunga cut it set?  Answer: Very. 😉  Ok, so I've imported that cute cow.  If I just try to change his colors, like we did above, he turns a solid color.  Hmmm…not what I was going for.  To change a single part of this complex image: Select the cow, right click and choose "UNGROUP".  You can also go to the top of the screen to "Object" and then choose "Ungroup".
Problem.  Does your image have a big square around it?  That's so annoying, isn't it?  Even more annoying?  You have to make "cut lines" for it.  After you do that you can fill it.  Here's how to make cut lines.
Now that we've got the cow ungrouped, we can proceed with changing his colors just like we did when we turned the clover red.  The original cow is at the bottom.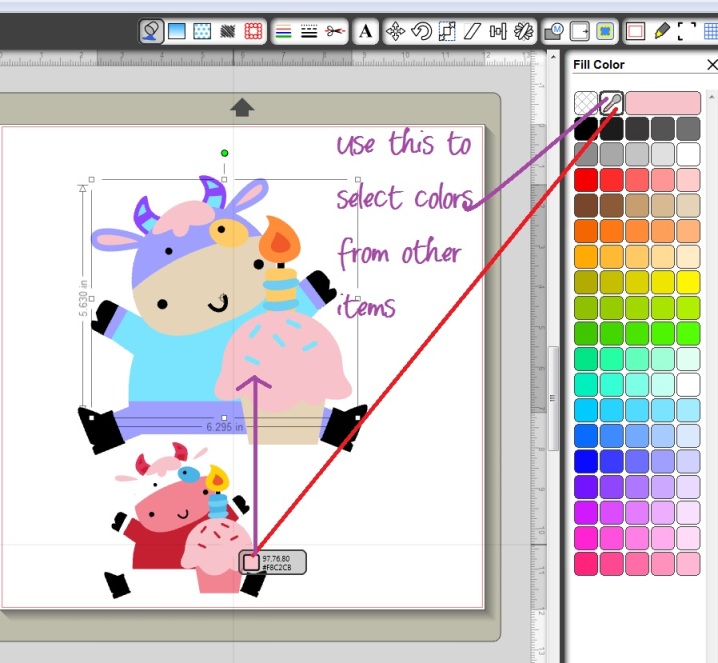 Want to match colors from another part of your project?  This is helpful when you want everything to have a cohesive look and flow.  Easy!  Simply select the color item you want to change, then choose the "Color Picker" (it looks like a medicine dropper).  Using the "Color Picker", select a color from any object on your virtual mat.  I chose a color from the cupcake on the small cow at the bottom which turned all of my selections on the big cow that pink color.  Cool!
Last But Not Least…Advanced Options…
It's time to get all advanced on ya.  Well, actually this is pretty simple.  Click the advanced options link to open the screen you see on the right.  Then you can really get specific about your color choices!  Use this option the same way you've used the others.  Select the item to be changed and then make your color choices.
Have more Silhouette Questions?  Check out these FAQ's.
Here are things I've made with my Silhouette Cameo and Silhouette SD.
Now Go Color Something!