Cricut Circle, New Bird Cartridge, New Cricut Companions, Gypsy Update

Have you seen the Cricut Circle promos and wondered what they were?  First it was a strange Cricut head, then it circled a ladies head and now …  some pictures and new Cricut Circle EXCLUSIVE content?!  Yep.  I long speculated that this would be a membership based club where you could possibly download exclusive images, fonts and content and I think that's exactly the direction this is moving.  Check out the link and see what you think.  CRICUT CIRCLE
In the meantime…just know that there will be "French Manor" content and unless you're in the Circle…you're outta the loop.  😉
Give Me the Bird … LOL!
There's been talk for a few months about a bird cartridge coming out where you can dress up the bird.  I don't know if that's something I really need, do you?  If it looks like all the other birds they've put out, I'll pass.  I'm hopeful that it's really unusual, but based on recent carts like Create a Critter, I'm sure it will be super cute.  I'll probably end up needing it anyway. 😉
More New Cricut Companions…more cartridges?
I was browsing a store online and look what I found!  3 new Cuttlebug Cricut Companions!  Does that mean 3 new cartridges?  Hard to have a Cricut Companion if they don't go with some carts.  To be fair, these Companions really could go with things that are already out, but the other Companions that have previously been announced have names that exactly match the cartridges.  So, it leads one to believe that these specific carts are on their way! 😉  If not, they need to start grouping them a little differently.  Here are the new Cricut Cuttlebug Companion folders:
ANIMAL PRINT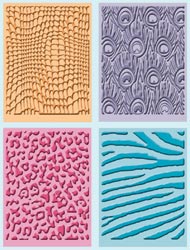 ART DECO
RETRO KITCHEN
Pretty cool things are happening aren't they?  All this plus the recent Gypsy update makes for a very cool start to the summer, I think!
I hope you have a "crafty" day!