Runner Jogger Side Stair Step Card Tutorial – Inspired by Blog Hop

This blog hop focuses on creating a project from an inspirational photo.  Don't forget to hop over to the other blogs at the end of this post!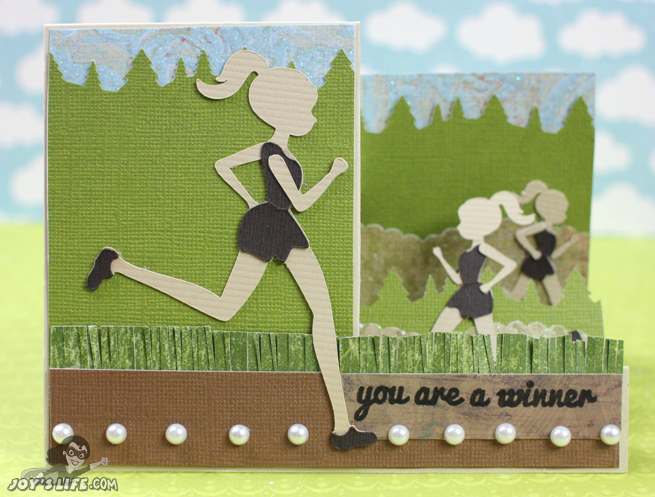 The stamp I used is from one of my new sets "My Hero"!
Inspiration can come from so many places that it can be difficult to narrow down to a single source.  I believe that religion, nature, the arts, books and people can all be sources of inspiring moments of small, medium and/or life changing impact.  I find myself deeply inspired by daffodils every year when they break through the late winter earth and announce that spring, with all its hopefulness, is just around the corner.  I had every intention of doing a project about daffodils.  Then I realized that I had lost the photo that I'd taken and all our daffodils have come and gone.  Then I saw this photo of Amanda and knew I wanted to use it as my "Inspired by" creation.
Amanda used to be on the Joy's Life Design Team, that's how I met her.   I've seen her go from just a little run to longer runs and competition.  There seems to be such freedom and joy in strapping on a pair of shoes and taking off.  You can certainly see that freedom, power and glee in this photo.  To me this photo says, "You can do it."  I don't know if Amanda won her mud run, but she sure looks like a winner to me.  You go girl!  Stay inspired!  You can visit Amanda at her blog here.
This is part of my crafty process:
How to Make a Side Stair Step Card
Isn't this card cool?  I love fun folds!  Here's how you make it:
Use a 4-1/4″ x 5-1/2″ piece of paper (cut an 8-1/2″ x 11″ paper in half)
Cut a line starting 3″ in from a 5-1/2″ long side of the paper.  Start the cut at 2″ and cut to 7-1/2″.
Score at 4-1/4″ on the widest (3″) side to the cut line
On the more narrow side score from the cut line at 2″, 4″, 5-1/4″, 6-1/2″ and 7-1/2″.
Fold the 4-1/4″ score mark out, to form a mountain
Fold the 2″ mark out like a mountain, 4″ mark in like a valley, 5-1/4″ mountain fold, 6-1/2″ valley fold and 7-1/2″ mountain fold.
One thing about side stair step cards is that you can easily change that big area, where I have the tallest runner, simply by making your cut line as near or far from the edge as you'd like it.  It doesn't affect the card at all.  So, make that part fit your needs.
Here are some other card fold tutorial posts.
Free Runner .SVG
Would you like to use that awesome runner svg that I used?  No problemo.  I got it for free from SVGCuts.com.  You can too.  Click here for the free runner.
Now Hop on Over and See what these lovely ladies have created:
Joy: YOU ARE HERE!  Howdy!
Maria: http://joyfulstamper.blogspot.com
Patty: http://craftykitten1.blogspot.com
June: http://simplyelegantpapercrafts.blogspot.com
Jenny: http://jennyplace26.blogspot.ca
Staci: http://preciousmem.blogspot.com
Megan: http://thoughtsoftraveling.blogspot.com
Kimberly: http://hellocutiecrafts.blogspot.com
Laura: http://www.laurascraftsandmore.com
Debbie: http://bugjuiced.blogspot.com
Lori: http://got2bcrafting.blogspot.com
Cyndy: http://arcyscraps.blogspot.com
TIME FOR A GIVEAWAY
Be sure to check out the three newly announced sets of stamps here!  Don't miss the great bundle deals for money savings!
Have a great day!